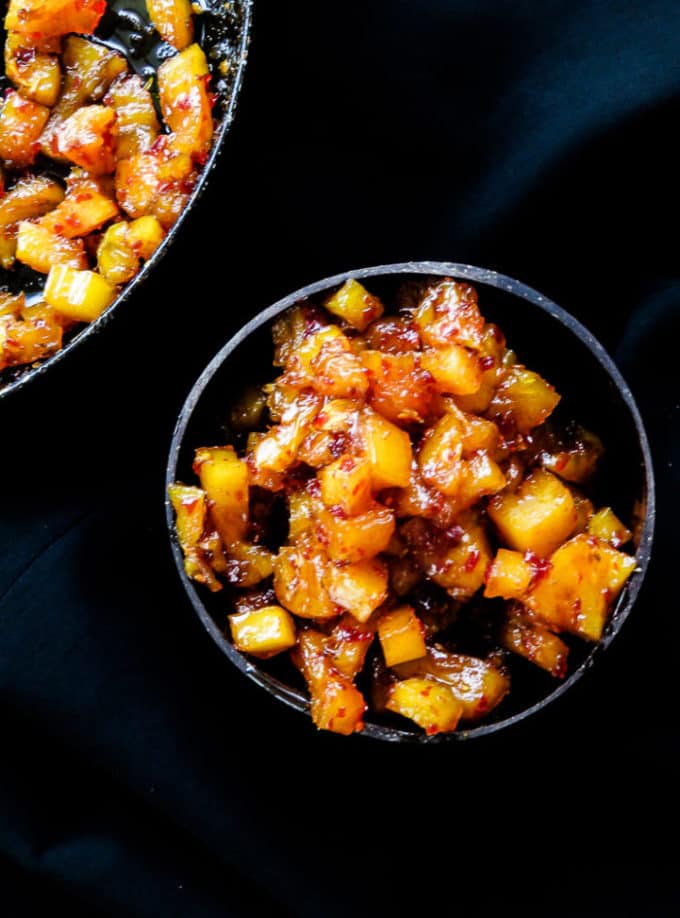 This Sri Lankan pineapple chutney is what we call a "rice puller", meaning the more chutney the more you'll want to eat.  you can even include them in your burgers or tacos, it's versatile that way.
There I was in the middle of my grocery shopping, checking my list, glancing at the cart making sure I've bought everything. On the fruit section, what do I notice but rows of my favorite fruit, Pineapples.
The best way to enjoy ?
Cut them into thick wedges, sprinkle some Salt and chilli powder, that's all you need to satisfy your street food craving.
I love using Pineapples in recipes, it's available almost all year round in my country but the best season to have it, is in the dry season when it's especially sweeter than in the rainy season, this I learnt from a gentleman who was working in a restaurant and gushing on about how sweet the Pineapples tasted.
Here's another recipe you might like, my Pineapple brownie cake.
Now if you are looking for something really different and versatile, then you have got to try this Pineapple chutney, It's sweet, spicy and can be used with any type of meal as a side dish.
It's a very straight-forward recipe, how much sweetness and heat can be adjusted according to your preference but I would recommend that you try the recipe with the given quantities first.
Make sure to read the recipe at least once before trying it, this way you can avoid mistakes.
I usually cook a Sri lankan yellow rice or my easy chicken pot Biryani to go with the chutney.
What you will need
1 large Pineapple 
1/2 a cup of Sugar

1 and 1/2 a cup of water
1/2 teaspoon salt 
1 tablespoon Chilli flecks 
1/2 teaspoon turmeric
1/2 a piece of a Cinnamon stick

4 pods of Cardamom
Curry leaves(optional)
3 Tablespoons of oil
Method
Clean and dice the pineapple into cubes.
In a pan, on medium heat, cook the Curry leaves, Chilli Flecks, turmeric and Cardamom pods in oil. cook for a minute, constantly stirring to avoid the chilli flecks from burning.
Add the water and Sugar to the tempered mixture and let it simmer for 5 to 10 minutes.
Add the diced Pineapple and Salt to taste. leave the pineapples to cook until the syrup is reduced and thickens while the Pineapples become tender and almost golden in color.

Let it cool and transfer into an air tight container preferably glass, you can leave it out or store it in the fridge but please make sure to always use a dry spoon to keep the chutney fresh.
[mpprecipe-recipe:5]