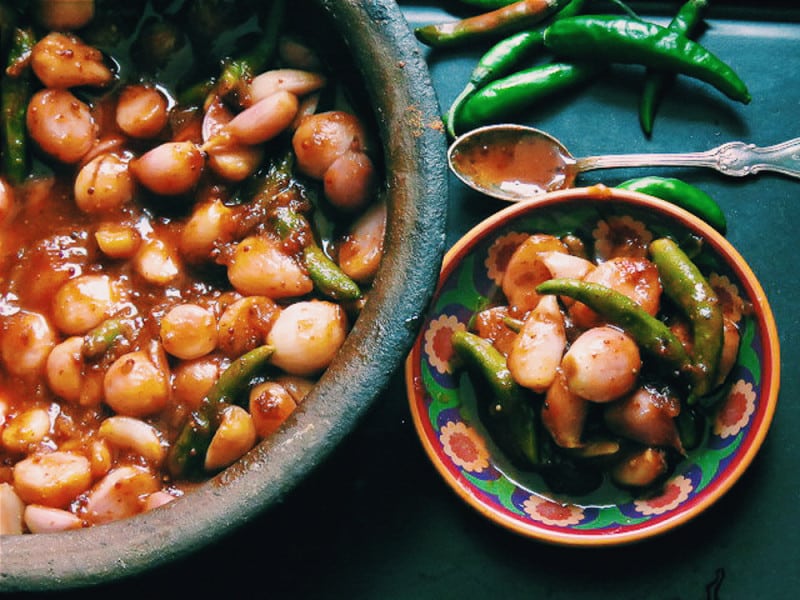 Sri Lankan Malay pickle.
A Srilankan specialty, a meal is not complete without a spoonful of this tasty pickle, there's chillies, Dates, Shallots.
if you love chillies and shallots this one's for you, let me show you how its made.
Scroll down to Recipe time should you wish to avoid thoughts and life in general by Mama to the terrible four or you can read on.
Sunday was a perfect day(almost), the terrible four were getting along just fine, there were spurts of bickering in manageable levels.
For once, the T.V was off, there wasn't a need to shout "Volume down!"
Having to spend a Sunday indoors can drive anyone nuts, My son, Nadeem seem to catch the disease "bored" often.
When this happens, anyone is a target for his amusement especially his big sister who loves her personal space and is happiest when left alone.
Combine the bored and like to be left alone, it's spontaneous combustion waiting to happen.
Fortunately, they got their hands on Monopoly.
The game is about money and smart investing. I like the game because it keeps them occupied for hours and since they hate losing to each other, there's a lot of three-ways, under the table transactions happening.(cheating is allowed just because it's fun getting caught).
As for me, I get to see them negotiate, talk their way out of tight spots, get the banker to lend some money and see them loose cash and property without a backup plan(this one's my favorite).
I also got to experience how boredom could make Nadeem (14) spoil a 100-year-old game because he wanted to make it interesting.
He had found a few expired promotional cards and a way to use them. He had his brother convinced that it's o.k to buy property using credit cards.
Credit cards, I tell you!
I just stood there, speechless, flash forward to the future and I see them pulling out their wallet and handing over plastic money.
A confession of a shopaholic situation only this time, the real-time stars were my boys.
The good news is, I was able to catch them young and after the lecture they received(30 minutes of the worst scenarios), they will never ever play Monopoly using credit cards again.
I just need to remind myself to repeat the lecture in another five years, should they forget.


Recipe time.
Before you begin, please make sure to read the complete recipe at least once.
Malay pickle, so many variations, the interesting thing I learned while making it was, how different cultures living in a tiny island could influence the same recipe.
I have two versions of this pickle, one from my MIL and the other is my mom's.
The sweetness that comes from using dates makes me wonder if they became an extra addition to the pickle when we started trading goods with the middle east( and there goes my imagination running wild or could I be right, we certainly didn't have date trees growing way back then).
As you read the recipe, you might notice I've left out the Carrots and Capsicum, if you should want to stay true to the authentic Malay pickle, you can add them, as for me I prefer not to crowd the pickle with an overload of Flavours and ingredients(my choice).
I'll be posting my mom's recipe in a later post, so stay tuned.
What you will need
500 g of Shallots, cleaned
1 tablespoon finely ground Mustard seeds
Half a bottle of Coconut vinegar
1 and 1/2 cup of Dates
100g green chillies
1 and 1/2 tablespoon of chilli powder
5-7 pieces of sliced Ginger
3-4 tablespoons of Sugar
Salt to taste.
Cooking
Clean and drain the Shallots.
Add the green chillies and the Dates to the shallots.
In a separate pan combine ground Mustard, Sugar, Chilli Powder and Ginger slices.
Add the Vinegar and let it simmer for 5-8 minutes on low fire, let it cool and then gently add the Shallots, Dates and green chillies.
Make sure you add enough salt to taste.
Mix well every two hours. If you find the pickle a bit bitter at the beginning, don't worry too much about it, add an extra tablespoon of sugar and let the dates gradually dissolves in the pickle, it balances the bitterness.
Use a glass jar to store the pickle and keep refrigerated for freshness.
[mpprecipe-recipe:14]

Each recipe on this blog has been written with great care and love to the best of my ability with you in mind.
It's free and on the blog, for you to try anytime.
All I ask is that you do not save it on any apps, recipe boxes or online groups which will affect me as a food blogger and the growth of this blog. I would appreciate if you only share the link rather than the full recipe.
All images and text on this website are protected by copyright.