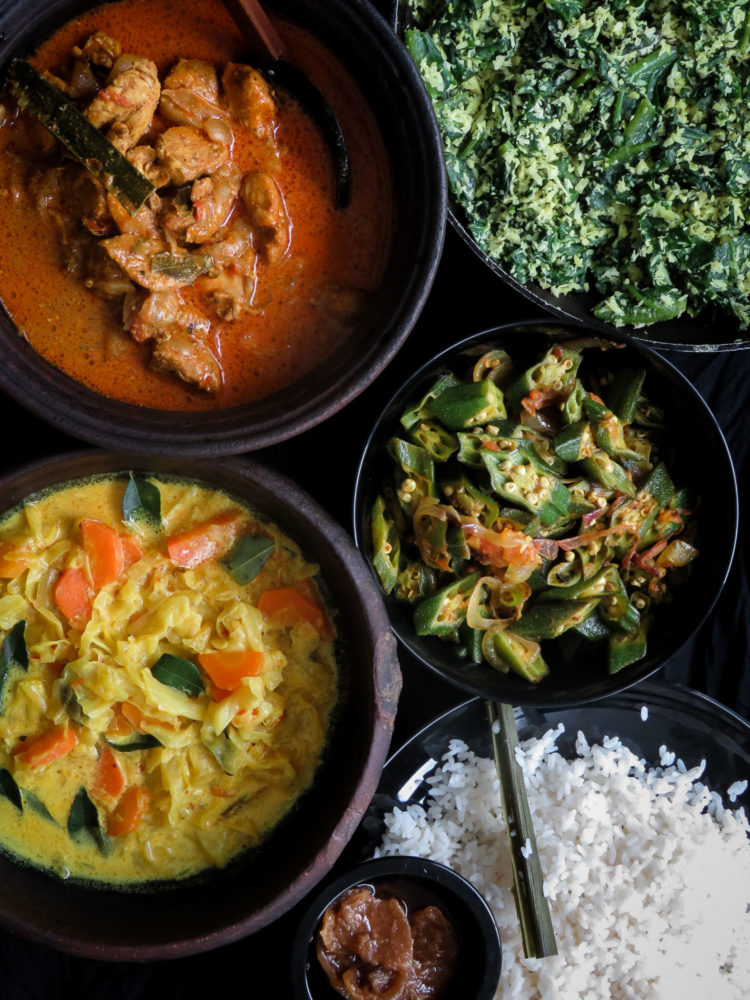 Sri Lankan meal plan 3- Spicy Chicken curry cooked with Srilankan spices, a creamy, coconut milk based cabbage and carrot curry, spicy stir-fried okra, a spinach- coconut mallung
 with lime pickle completes this easy menu.
Continuing with my meal plan theme, let me introduce you to my third menu which is not a big spread or fancy but simple yet has all the flavors you'll expect in a Sri Lankan meal. 
Rice can be your regular white rice or if you are really looking for a healthy alternative, replace it with red rice.
As usual, try to start with the most time-consuming dish which in this menu will be the Sri Lankan chicken curry. 
Sri Lankan lunch meal plan-3
The chicken curry is made with coriander-cumin-turmeric-chili powder together with a few more ingredient giving the dish its beautiful color and aroma.
The tamarind balances off the curry powder in the chicken while the regular coconut milk will give you a thick, spicy gravy that is best suited to our Sri Lankan palate. you can find the Sri Lankan chicken curry recipe HERE.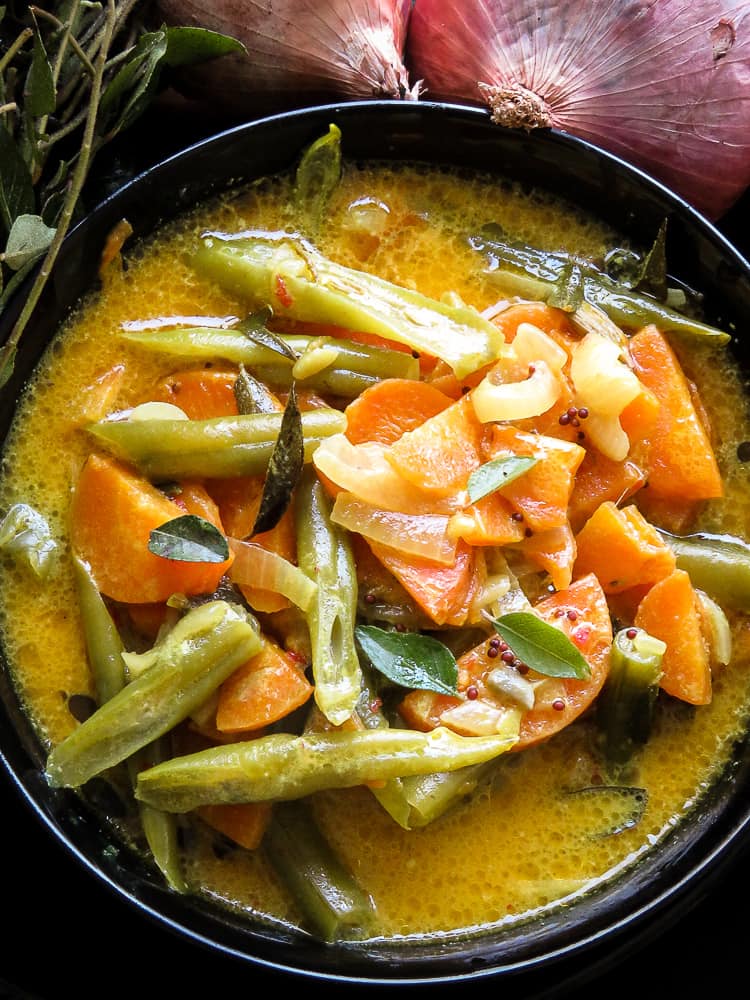 Although my menu includes a cabbage and carrot curry, you can replace the dish by cooking up a carrot and bean curry as they both use the same cooking method. Find the recipe HERE.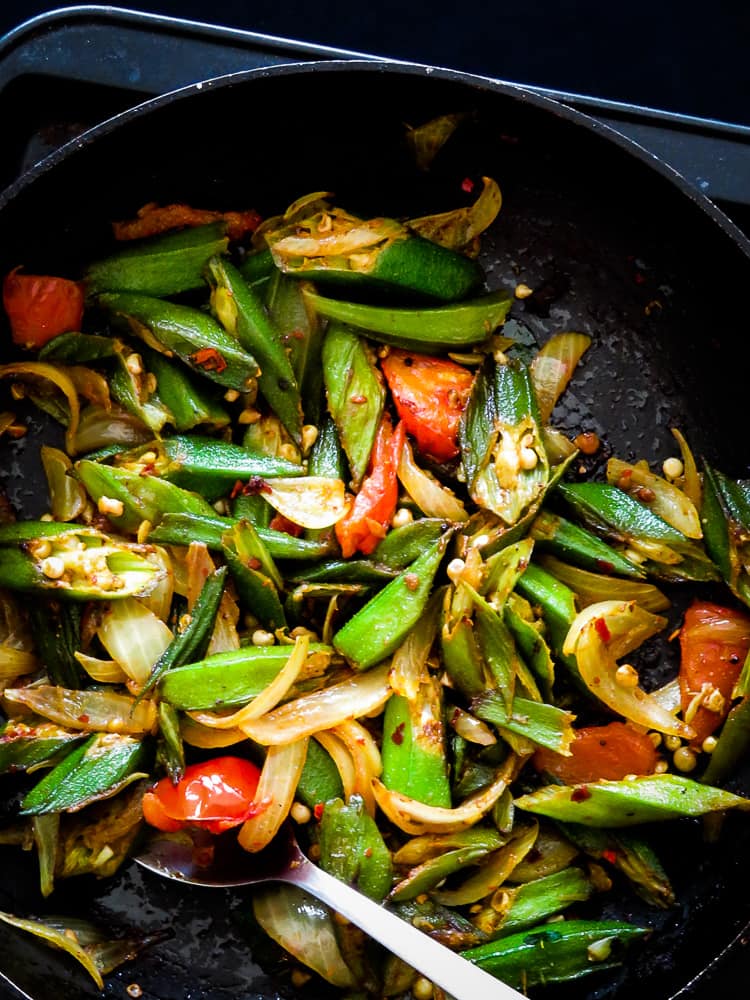 If you have the carrots, beans and carrot, you can essentially cook both the curry and stir-fry together. find the recipe for stir-fried okra HERE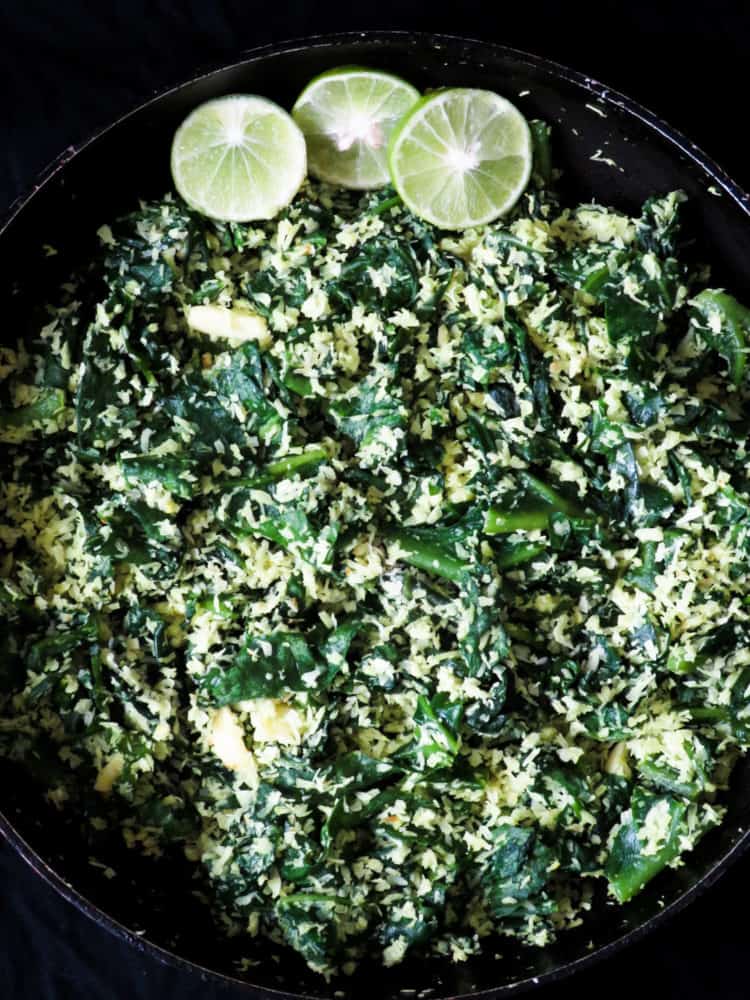 A simple spinach and coconut mallung completes the meal, of course, you can add a few pieces of lime or poppadom to the meal. find the recipe for mallung HERE
Before you move on to the recipe, a note to the reader, 
Hi there, thank you for stopping by, I hope you make this recipe for your family. if you enjoyed it, please let me know, if you feel the recipe needs a few tweaks, even then, drop me a message. 
I am on almost all the social media you are in and you can find me, on Facebook, Twitter, Instagram and Pinterest. You can keep track of new recipes by liking or following the blog social media profiles but life happens and I do forget to update them sometimes.
If you've found the recipes posted here helpful in any way, then please subscribe to the blog, this is the only reliable way that I can keep in touch with you. Thank you again for your time and don't forget, Subscribe for new recipe updates!