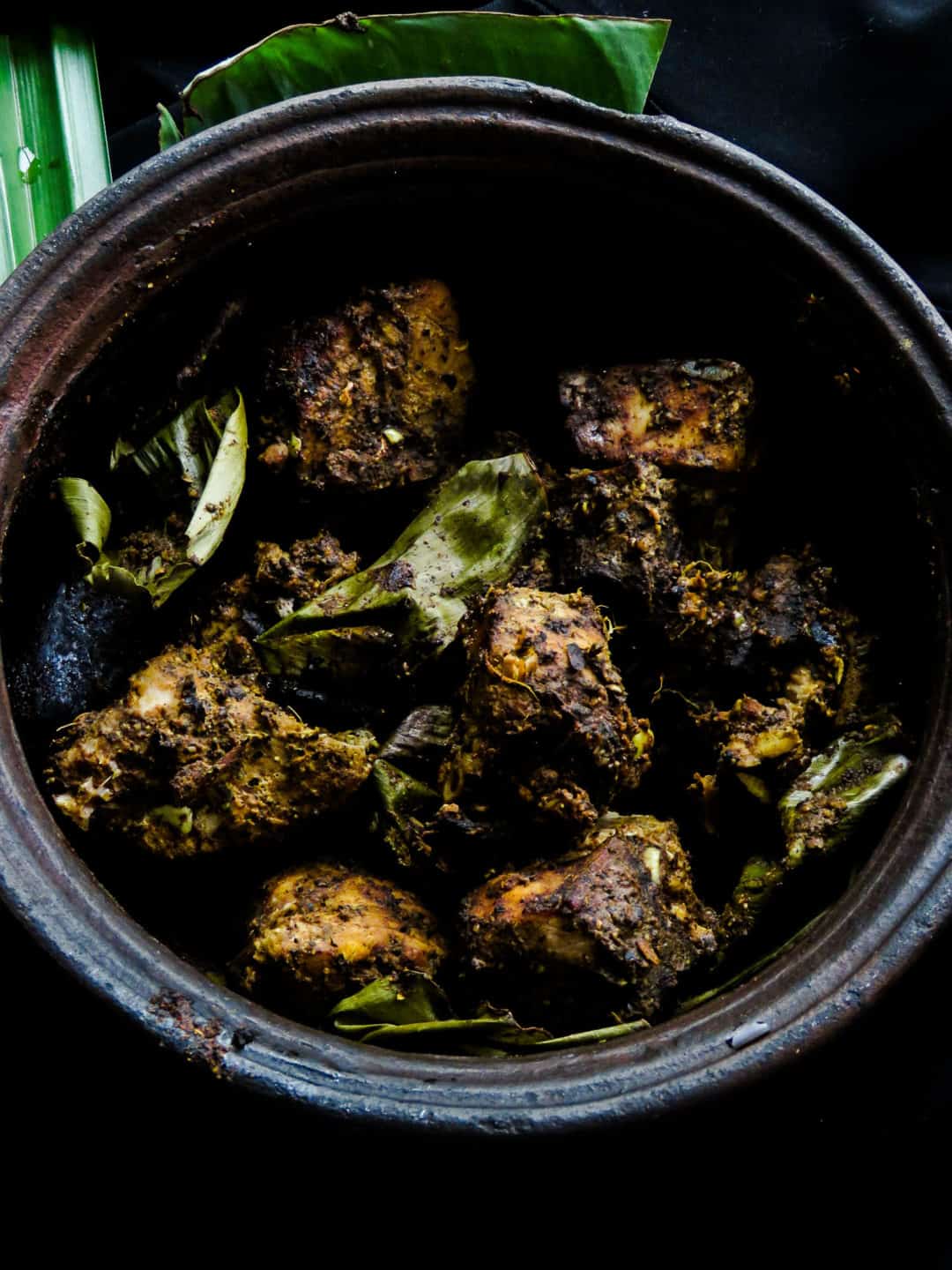 Sri Lankan ambul thiyal(sour fish curry).
A must-try Sri Lankan dish.
Made with goraka and black pepper not only gives the fish curry a unique taste but is also a method of preserving the fish curry.
I had Ambul thiyal at an almsgiving and let me tell you something, I simply relished every single morsel of the blackened fish.
I couldn't understand why no one was going gaga except me, whoever made the Ambulthiyal that day really knew how to cook it.
Wherever the recipe originated on the island, you have to admit.
Ambul thiyal is a unique dish to Sri Lanka.
It's definitely Sri Lankan but is what I would like to categorize as a Sinhalese dish.
Everything about this dish, Ambul thiyal fascinates me.
Why?
Because not only is the fish cooked in a way to last long without refrigeration or freezing but has a perfect blend of sourness and spice which gives the fish curry its unforgettable taste.
I can't help but think about the origins of the recipe.
Forget about the recipe for a minute and let's journey back in time.
Call me silly but every time I sat down to write this recipe, I've been taking short trips to the past, imagining the simple life centred on, hearth and home.
I'm just thankful that it's not lost to time, that someone's, someone's grandmother or daughter passed on the recipe until we now have this dish to enjoy.
So let's go back in time, let's imagine the origins of this recipe.
Imagine if you will of times gone by, to a simpler way of life in the island, there is no modern equipment, no way to refrigerate food that can spoil easily, you have the hot sun beating down on you which doesn't help matters with preserving food.
When all the household work is done, the ladies of that time didn't have entertainment that involves screens and remote controls, they didn't have google or mobiles to keep them occupied.
They had to actually meet each other to have a conversation, maybe over a cup of tea or just a gathering in someone's kitchen.
They begin talking about family issues, their husbands and then they obviously ask each other what they cooked that day(still hasn't changed).
And so begins the exchange of ideas and tips to cook a better dish(just like we share recipes and ideas on facebook etc).
Someone in the forum remark on how difficult it is to keep cooked fish longer especially when the men bring more than what is needed for a meal.
Can you imagine the conversation?
Did a group of these ladies get together and create the dish?
How did they know what ingredients to use?
How did they know the blend of spices to use?
The spice blend definitely would have been the first, they would have had to come up with and then to cook in it a way the fish doesn't burn while letting the fish cook for a long time.
What does "Ambul thiyal" mean?
Ambulthiyal is the Sinhalese word for a very distinct fish curry. It's cooked using a spice blend that turns the outer part of the fish black in colour.

"Ambul" actually means sour hence the name"sour fish".
The types of fish to make the
blackened fish.
Any type of firm fish would do.
kelewella(yellowfin tuna).
Balaya(skipjack tuna).
Talapath(sailfish).
I'm using yellowfin tuna.
What is"goraka"?
It's also known as Brindleberry,
Indian tamarind and in Sinhalese,"goraka".
The key taste it brings to the dish is a subtle sourness.
Unlike Tamarind which gives off the same taste but is sourer and better suited for chicken and Beef.
A substitute ingredient I can use
instead of goraka with the same
results?
You can substitute "goraka" with tamarind paste but you need to be careful with the tamarind as it has a sharper sour taste than "goraka" which in turn might make the fish too sour.
Do I need banana leaves to make
ambul thiyal?
There's a reason why some foods are cooked, eaten or wrapped in banana leaves.
One reason is that it adds a subtle flavour to the dish.
When it comes to Fish Ambul thiyal, it prevents the fish from charring too much, although a bit of charring does add flavour to it.
So yes, if you are going to stick to the original recipe, you'll need banana leaves for this Sri Lankan fish recipe.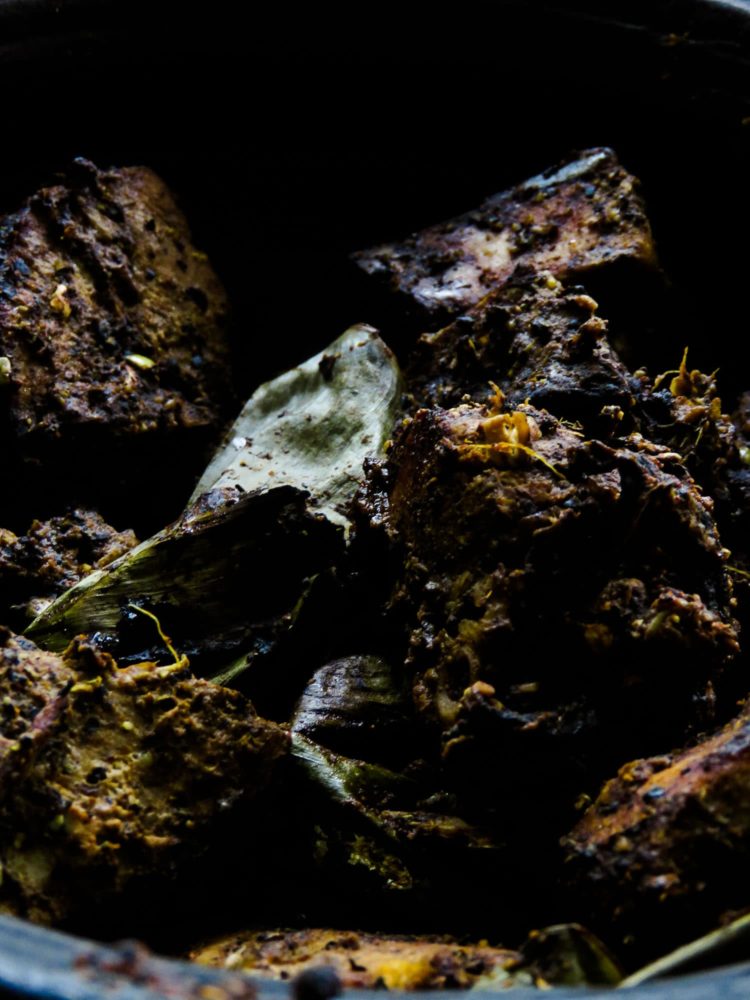 Hi there,
Thank you for stopping by, I hope you make this recipe for your family. if you enjoyed it, please let me know, if you feel the recipe needs a few tweaks, even then, drop me a message.
I am on almost all the social media you are in and you can find me, on Facebook, Twitter, Instagram and Pinterest.
You can keep track of new recipes by liking or following the blog social media profiles but life happens and I do forget to update them sometimes.
If you've found the recipes posted here are helpful in any way, then please subscribe to the blog, this is the only reliable way that I can keep in touch with you.
Thank you again for your time and don't forget, Subscribe for new recipe updates!
Save the recipe to your favourite Pinterest board!

Tips for making Ambul thiyal at home.
There are a few things you'll need before thinking of making the dish,
First, a large clay pot that won't crowd the fish so that when you have to move them a bit, you don't end up breaking the fish into smaller pieces.
You will also need an ingredient called"goraka"(garciniagummi gutta, Garcinia cambogia, brindleberry)which gives the Ambulthiyal its distinct sourness.
(see notes above)
Last, some banana leaves to spread at the bottom of the clay pot.
The banana leaves prevent the fish from charring too much and sticking to the bottom of the pan.
It's a slow process so make sure you have all the ingredients ready and take your time to cook the Ambul thiyal.
Sri Lankan
ambul thiyal
(sour fish dry curry).
Please make sure to read the recipe instructions carefully to avoid mistakes.
Ingredients
Ingredients mentioned below use standard measuring cups and spoons.
500g of firm fish(kelewella, balaya,talapath would be ideal, see notes above)
5 pieces of goraka soaked for 5 minutes and then pounded to form a fine paste.
3 tablespoons of good quality black pepper
1 tablespoon of minced/grated ginger
4 garlic cloves minced/grated
3 cardamom pods slightly bruised
2-inch pandan leaves
Sprig of curry leaves(5-8 leaves)
3 cloves
1 teaspoon chilli powder
1/4 teaspoon turmeric powder
Salt to season
Method
Cut the fish into required size, they should fit the pan while not crowding within the pan.
Soak the goraka pieces for 5 minutes and then grind it into a fine paste.
Grind and make a paste using garlic, ginger, pepper, cloves, curry leaves, pandan leaves, cardamom, chilli, turmeric.
Once you have a fine paste of goraka as well as the other ingredients mentioned above, combine both the pastes, check for seasoning, add salt and more pepper if necessary.
Add the paste to a large bowl with the fish pieces and mix well, set aside for 10-15 minutes while you prepare the clay pot to cook the fish.
Cut the banana leaf in a way you can layer the bottom of the clay pot, either in rectangular pieces or one in the shape of a disk.
Once you place the banana leaf in the bottom of the pan, give the fish the last mix and add them to the clay pot, try not to crowd the fish or stacking them one over the other too much as you want all the pieces of fish to cook evenly and intact.
If there is leftover marinade in the bowl, add 1 cup water to it, collect the marinade and pour the water over the fish.
Check if the water just about covers the fish, if not add a little more.
Place the pan over low fire, let it simmer until water evaporates completely, do not mix or use a spoon on the dish at any point of the cooking process, if you really want to move the pieces, hold the pan from both sides and give a little shake for the fish to settle.
Once the fish takes on a blackish tinge while slightly charring on the bottom, remove from fire let it cool. then gently pry the fish pieces so they come off the pan easily.
Made this recipe?
Please don't forget to rate the recipe on the recipe card so other readers find it helpful and show me your recipe by tagging me #islandsmile178 on Instagram.
Yield: 4
Sri Lankan ambul thiyal(sour fish curry).
SRI LANKAN AMBUL THIYAL(SOUR FISH CURRY).
A MUST-TRY SRI LANKAN DISH.
MADE WITH GORAKA AND BLACK PEPPER NOT ONLY GIVES THE FISH CURRY A UNIQUE TASTE BUT IS ALSO A METHOD OF PRESERVING THE FISH CURRY.
Ingredients
Ingredients mentioned below use standard measuring cups and spoons.
500g of firm fish(kelewella, balaya,talapath would be ideal, see notes above)
5 pieces of goraka soaked for 5 minutes and then pounded to form a fine paste.
3 tablespoons of good quality black pepper
1 tablespoon of minced/grated ginger
4 garlic cloves minced/grated
3 cardamom pods slightly bruised
2-inch pandan leaves
Sprig of curry leaves(5-8 leaves)
3 cloves
1 teaspoon chilli powder
1/4 teaspoon turmeric powder
Salt to season
Each recipe on this blog has been written with great care and love to the best of my ability with you in mind.
It's free and on the blog, for you to try anytime.
All I ask is that you do not save it on any apps, recipe boxes or online groups which will affect me as a food blogger and the growth of this blog. I would appreciate if you only share the link rather than the full recipe.
All images and text on this website are protected by copyright.