Let's make a batch of Stovetop Naan bread( Indian Naan bread) for the family to enjoy. They are easy to make and done on the stovetop. Butter, Garlic and cheesy are some of the variations you can try.
Making Naan bread at home is not so difficult as it seems, the original recipe requires a tandoor which is a clay oven that can generate high heat(close to 400c)which is ideal for baking Naan breads but really, even without this clay oven you can easily recreate a restaurant worthy Naan right at home.
You can bake the Naan bread in your normal oven but I prefer to use the stovetop method, this allows me to multi-task while making the naans. I say multi-tasking because you need to shape the dough while cooking the bread and constantly brushing the shaped dough with ghee or oil to give it that distinct flavor we have come to love in a naan bread. sounds too much for one person to do?

It isn't actually, once you start making them and get into the rhythm of shaping, brushing and cooking the loaves, it becomes quite easy, I'll also suggest having the music on just to make it a bit fun as you'll be standing in front of the stove for at least 30 minutes, might as well make it a fun by bringing on your favorite songs.
There's a quite lot of information of the Origin of the Naan out there, here are a few,

Keep in mind , the following words are not my own but come from various sites from which, I have included their links for further reading.
"Other than etymology, the "naan" as is synonymous today originates from South Asia with influence from the Middle-East. The most familiar and readily available varieties of naan in Western countries are the South Asian varieties. In Iran, from which the word ultimately originated,[8] nān (نان) does not carry any special significance, as it is merely the generic word for any kind of bread, as well as in other West Asian nations or ethnic groups in the region," quoted from wikipedia, go here for further reading https://en.wikipedia.org/wiki/Naan
"Its first recorded history can be found in the notes of the Indo-Persian poet Amir Kushrau in 1300 AD. It was originally cooked at the Imperial Court in Delhi as naan-e-tunuk (light bread) and naan-e-tanuri (cooked in a tandoor oven). During the Mughal era in India from around 1526, Naan accompanied by keema or kebab was a popular breakfast food of the royals." quoted from http://www.desiblitz.com/content/history-of-the-naan
Recipe time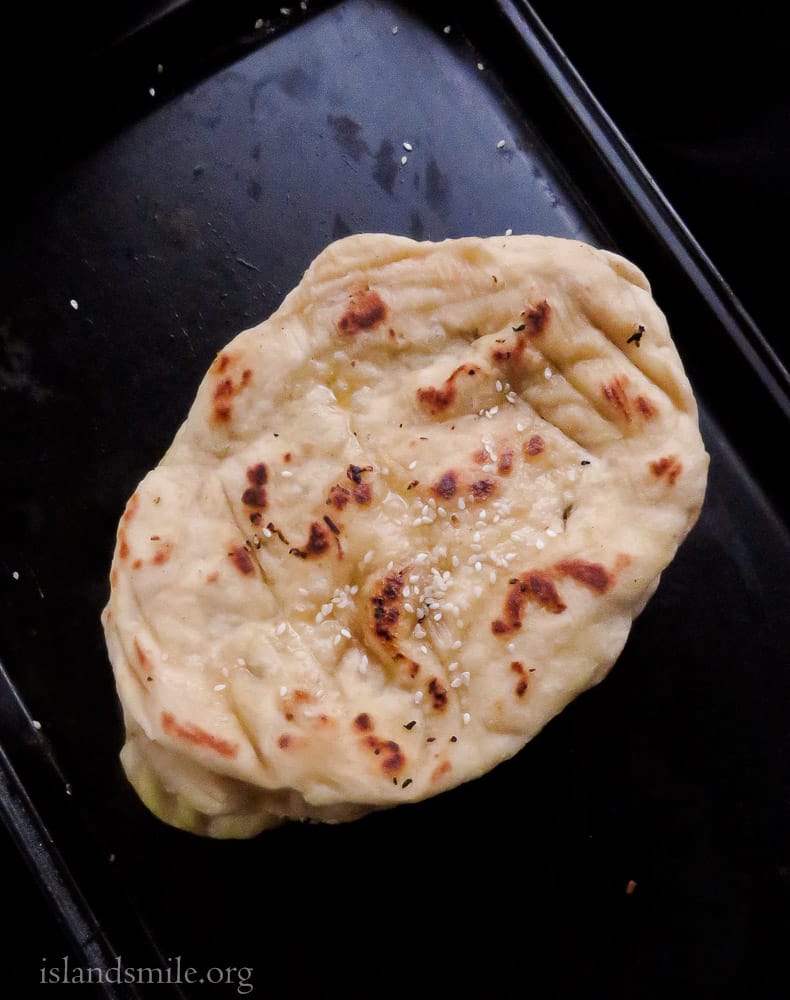 Weeknight dinners can become easy if you can make these Naan breads at home, It's universally loved and enjoyed and If you are thinking of an indian food night, you need to learn to make these in a rush.
As I mentioned earlier with my work flow of making Naan, you can use a frying pan but when it comes to the heat you need to first let the pan heat to its maximum and then keep it moderately high without the pan smoking.
The best part of making these Naan, for me is that I don't need to shape them into perfect circles but I love the rustic look of these flat breads as you can see from the image. I went free style with the shaping.
The reason for this is as I mentioned on my soft roti , I'm terrible at making perfect circles, mine tend to be ovals or squares because of this reason, I think the only time I've achieved the perfect circles is when I had to do the above mentioned soft tortilla rotis. these had to be almost perfectly round, only because they were ending up on the blog and they had to look, well flawless.
Without further writing, let's move on to the recipe.
Please make sure to read the recipe at least once to avoid mistakes.
What you will need
2 teaspoons of dried yeast
1 cup of water (3/4 lukewarm water for the yeast and 1/2 a cup for the dough)

2 teaspoons of Sugar
1/4 cup of Yoghurt(4 tablespoons)
1 egg
1/2 cup of Ghee or butter
3 cups of flour
Note
If you are making Naan bread for the first time, I would suggest using the yeast on the given quantity or a little bit less just to learn how the yeast reacts with the given quantity of flour. By trial and error, I have found out that the bread becomes quite yeasty both in fragrance and taste if the ratio of yeast to flour is wrong and it's important to make sure you have a good quality yeast as well.

Method
Preparing the yeast
In a cup or bowl, pour in the yeast followed by a quarter cup of warm water. sprinkle the Sugar and stir. Cover and leave the yeast to ferment for five minutes. the end product should be a frothy substance that has risen.
The dough
In a medium bowl, pour in the wet ingredients, yogurt, egg, half a cup of water, ghee, salt and stir.
In a larger bowl, add the flour, make a well in the middle of the flour and add the wet ingredients followed by the yeast. Start gently incorporating the ingredients together and then knead. at first, you'll get a sticky dough that gradually changes into a smooth dough.

Knead for at least 10 to 15 minutes with a push and pull action to bring out the elasticity.
Once the dough is ready, place it on a greased bowl, cover and leave it in a warm place to rise. I usually let the microwave run for 10 seconds and then place the dough in it.
leave it to rise and double in size.
Once the dough has risen, punch it down and divide the into 10 balls. leave it to rest for a few minutes.
Here is where you need to be prepared to multitask. have the 1/2 cup of melted ghee and brush ready. move closer to the stove, start shaping the dough balls into a rough circle and then pulling one side of it to form a teardrop shape, brush the melted ghee.
Heat up the pan and place the loaf on the frying pan, let it cook on one side for 1 minute on high heat then turn onto the other side( meanwhile start shaping another ball )brush oil and press on it with the spatula so the bread rises slightly. remember to keep the pan hot but not smoking hot. this I did my keeping it on high heat to cook one side and once I flip the naan over I reduced the heat, alternating the heat but keeping it steady.
When you are done, you can serve the naan with a kheema curry or any type of meat dish.


Save
Save
Save
Save
Save
Save
Save