Don't discard the odd, vegetables you find by the end of the week but make a wholesome soup of it, like this Leftover Pumpkin, Sweet potato soup with Thyme. It's gluten-free, vegetarian and vegan.

On my previous recipe post of Spicy chilli Cabbage stir fry, I briefly wrote about trying to teach kids the value of balancing the type of food they eat and I find myself unconsciously moving into introducing more vegetables to their diet. I thought there might be a lot of whining but they sure did surprise me.
She(16) loved the Sweet Potato dish I made a few days ago and keeps asking me to make it more often, shockingly, he(14)told me he liked the Snake gourd curry cooked in Coconut milk. As for the two youngest, their favorites are beans and carrots but they'll try anything as long as the eldest ones give it a try first and like it.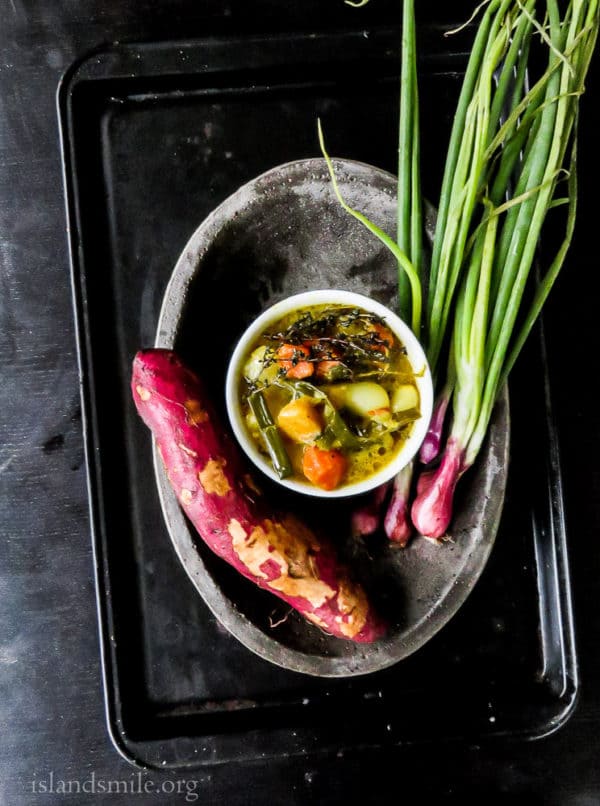 So tell me how do you do your marketing?
Is it daily, once a week or do you have a routine you follow when you go shopping?
Do you have a weekly budget you keep to or just go buy whatever takes your fancy?
If you had asked me these questions a few years back, I would say I was a terrible grocery shopper, no lists, I was prone to impulse buying,"hmm, maybe I'll try making something out of this"and I'll buy and then it ends up spoiling, especially vegetables.
Now don't go judging me, with the terrible four around, the least of my worry was planning a weekly menu, sticking to a budget OR food wastage, I'll like to think this was my learning and adapting period. I still don't plan weekly menus but I do a rough grocery list and try very hard not to waste.
For all the humor, Funny man hates wasting food because as he tells the kids often enough,"think of all the people who can't afford to eat three meals a day or die in hunger, be thankful for everything that is on your plate".
In terms of buying food for the family, my biggest fault was buying vegetables more than was necessary, Even after cooking these vegetables through the week there will be a few left that end up in the garbage.
I thought that since there were six of us, I'll need to buy more, I was wrong, I didn't take into account the quantity each one of my kids under the age of sixteen would consume per meal.
A little wiser but still a work in progress, I've managed to cut down the waste of vegetables by 70%, I'll say. here are a few things I keep in mind when buying perishable items as this is where most of the waste happens. Since root vegetables can be kept longer(carrots, potatoes, beets, onions), I buy a kilo of them each to last me through the week but when it comes to vegetables that are fleshy, leafy, like the pumpkins, beans, okra, tomatoes, Cabbage etc, I stick to 500g, this is for six individuals and cooked at least in two different variation within the week.
That's basically the rules I stick to and so far it's working for me.
This recipe came about when I was looking at the last bit of vegetables before buying the next lot.I had a slice of Pumpkin, two whole sweet Potatoes, as you can see on the image, one in the soup and one gracing as a prop which I later made into a Sweet Pumpking curry and the Spring onions were also used in a meat dish. But going back to this Leftover Pumpkin, Sweet potato soup with Thyme, I had no meats or poultry to enhance the flavors so my next option was to use herbs.
My choice of herb was Thyme, I needed only two or three sprigs of it but had to buy a box.
What did I do with the extra Thyme?
Well, I didn't have an empty bottle and I wanted the Thyme to be readily available so I poured a cup of Olive oil in a zip lock bag(I used two to avoid leakage) and submerged the herbs in it, now I have Thyme infused oil to add to my dishes anytime.

Thyme makes a difference in this simple leftover ingredient soup, with the herb, this soup changed beyond my expectation. if you prefer to add meat you can also add a few shredded pieces of left over chicken for added taste but the simple flavors in this soup is more than adequate to satisfy my family.
Since I made this for a quick, light dinner, you can easily serve it with bread or just have the soup, either way its quite filling and healthy. I hope you find this recipe helpful in making a conscious decision in reducing the waste of food.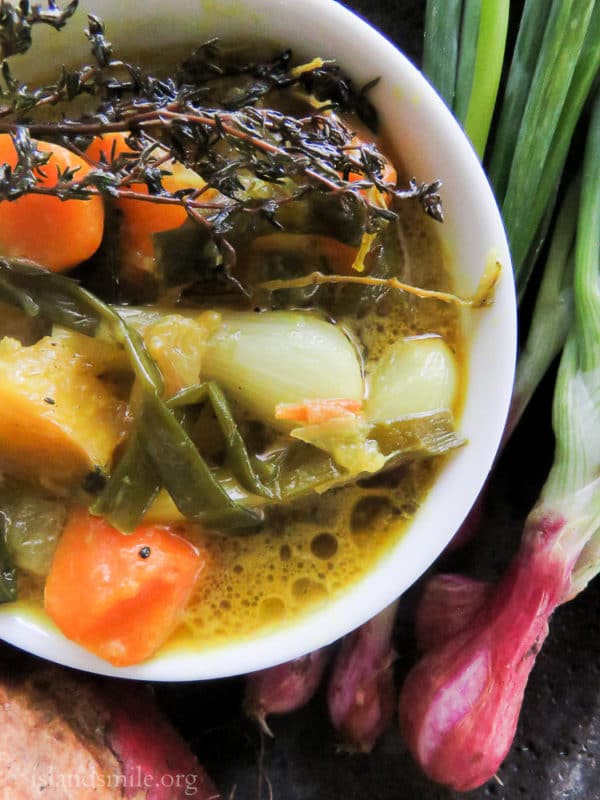 Please make sure to read the recipe at least once before making it.
Recipe time
Leftover Pumpkin, Sweet potato soup with Thyme
For reference purposes, I have written the number of Vegetables to be used but this recipe came about with the left over vegetables so I would suggest you try using any type of leftovers in your fridge and be inventive, the goal is to use, recycle and come up with your own budget-friendly recipe.
Ingredients
5 table spoons of oil
2 large Onions
3-4 pods of Garlic
2-3 Green chillies(optional)
1/2 a teaspoon of Turmeric
1 cup of water or vegetable broth
2-3 Sweet Potatoes
1-2 Carrot
Left over Spring Onions or Scallions
250g of Pumpkin
1/2 a cup of thin Coconut milk( if you are using the powder, this would mean one tablespoon mixed in warm water)
2-3 Sprigs of Thyme
1/2 a teaspoon of Peppercorns
Method
Roughly clean, chop the Sweet potatoes and Carrots into medium cubes, take off the skin of the Pumpkin and chop it as well, Slice the Onions, scallions Garlic and set aside.
Set a large pan on medium, heat and pour in the oil.
Add the sliced Onions, Garlic, Turmeric and cook until they turn soft.
Gradually add the Carrots, Sweet potatoes and Pumpkin, Sautee for less than five minutes.
Pour in the Water or vegetable broth into the pan and let it simmer for 10 minutes

Add the Thyme sprigs, Salt, Pepper corns and leave it to cook on medium heat.
Once the water reduces half way add the thin coconut milk, I would suggest adding spoonfuls until you reach your preferred consistency of the soup and leave it to simmer for another 10 minutes.
As the soup simmer, you will find the Pumpkin become soft and dissolve, making the soup thicker in consistency, cook for another few minutes and remove the pan from the heat.
You can add or reduce the liquid as per your need but make sure the flavor of the Thyme comes through.