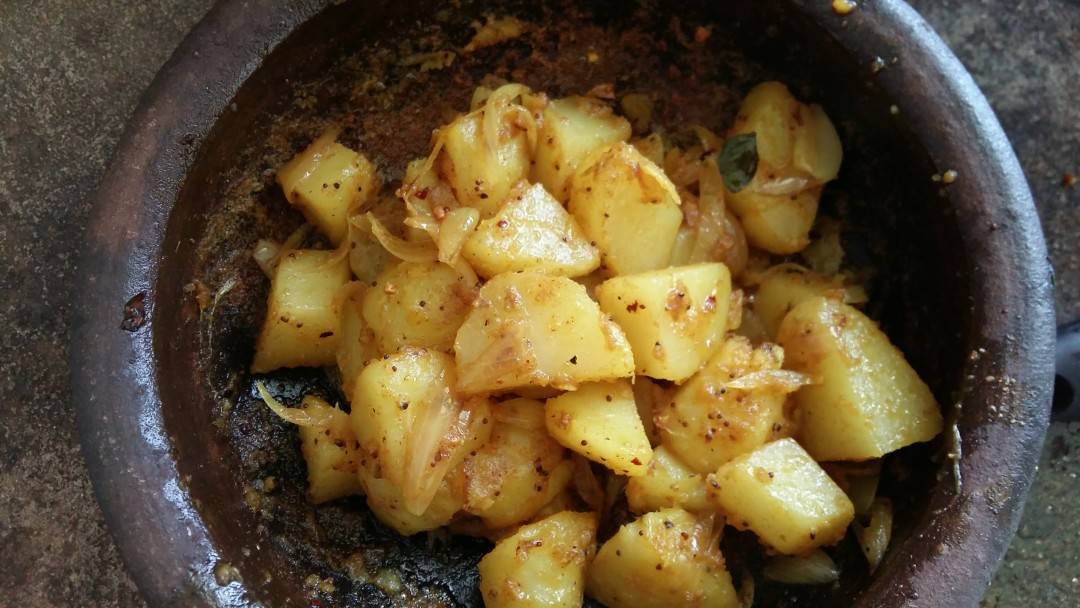 I'm basically a gravy girl, I need to have gravy in anything that comes out of my kitchen.
when I have a plate of rice, it's usually swimming in gravy of some kind. 
Making this Spicy Dry Potato Curry was a breeze but I was continuously tempted to add a little you know what .
You can make the potatoes as spicy as you like it, since the kids will be eating some, I just added one Tablespoon of Chilli Flakes.
Please keep in mind that The potatoes  need to be boiled not par boiled .,
You will need 
250g potatoes boiled, peeled and cut into cubes 
1 large onions 
1/2 teaspoon chilli flecks 
1 teaspoon chilli powder
1 teaspoon cumin powder
4 or 5 curry leaves
1/2 teaspoon dill seeds
1/2 teaspoon mustard seeds
6 tablespoons of oil
 Cooking Method
Using medium heat, dry roast the Chilli flakes, Cumin powder, Dill seeds and Mustard seeds.
Once the spices have been dry roasted, add the oil , let it heat and then gradually add the onions and curry leaves, saute until the onions turn golden.
Once the onions turn golden brown, add the potatoes salt and mix all the ingredients together while cooking on medium heat.
 And that's it. A real authentic, Sri lankan Dry Potato curry.
But the gravy girl, noticed all that  spices stuck around the clay pot and she imagined all the juicy goodness in that  gravy
So…  
Guilty of messing with a perfect Dry curry .