Deviled fish(Sri Lankan, spicy fried fish stir-fry).
Deviled fish, deep-fried fish chunks combined with a spicy sauce.
Also mixed into this are wedges of onion, capsicum and tomatoes, giving this seafood recipe extra crunch.
If you are looking for a good seafood appetizer or as we call it bites then you can give this deviled(devilled)fish a try.
Not only is it a great side dish but this spicy fish stir-fry with a sweet and spicy sauce makes it easy to serve simple weekend lunches as well.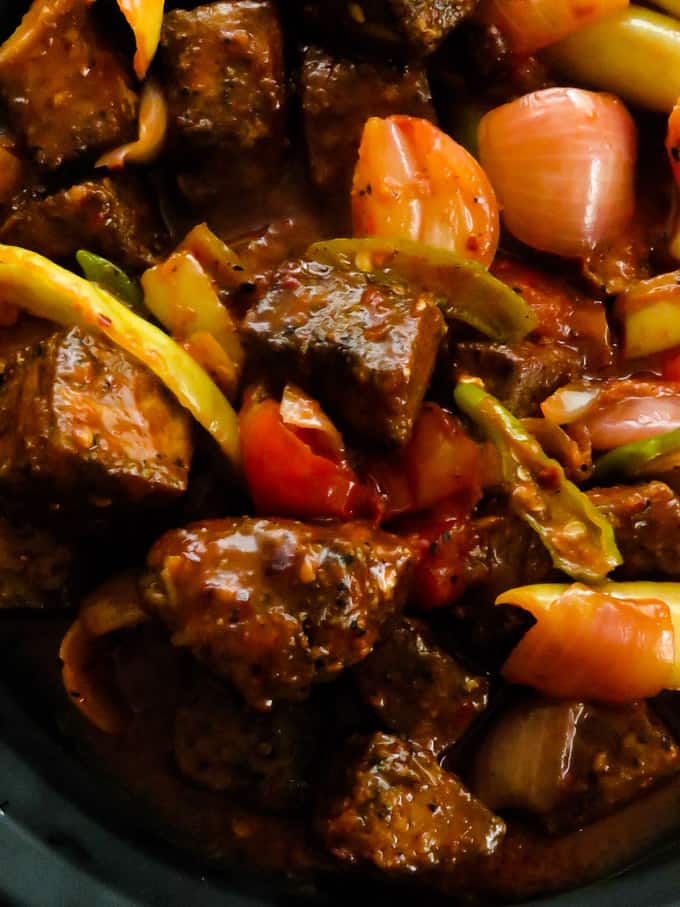 Meal ideas with deviled Fish.
You can serve as a dinner option with pol roti, naan or godamba roti. make sure to make the extra saucy gravy to go with the flat breads.
Make the devil fish a little dry by reducing the sauce and you can stuff it in tortillas or parathas to make quick wraps.
Do not to take it to work though, the wraps will be a little messy to eat at your workplace but home sweet home, who cares right?

Save the recipe to your favorite Pinterest board!
Utensils and appliances needed.
Chopping board/knife
Two Medium-sized bowls
Kitchen paper towels.
Deep frying pan to fry the fish.
Medium-sized wok to make the fish stir-fry.
Beginner's tips on making devil fish.
Type of fish to use– use firm fish cubes that will not break into pieces as they are tossed around. I am using tuna cubes.
The sweet and spicy sauce- adjust the sauce to suit your taste.
you can make it extremely spicy by adding extra green chillies, red chilli flakes.
I make the devil fish a little sweet as the kids love the sweet and spicy combo.
Type of sauce to use- I am using regular tomato sauce also known as ketchup which makes a great base. you can vary the type of sauce(garlic tomato sauce, chilli garlic sauce, etc to suit your need as well.
Making the saucy gravy- I like making extra sauce to mix with the rice.
For this purpose, I used some thick coconut milk to make the sauce thicker and creamier.
If you are unable to find coconut milk, substitute with cooking cream or a little cornflour mixed into water.
Ways to fry the fish for the devilled fish.
Deep frying- you would need a lot of oil, might not be the healthiest way to fry the fish.
Shallow frying the fish chunks– when you use this method of frying, there is less oil used.


The downside of this method of frying is that you have to constantly turn the fish chunks to give each side an even golden fry which also takes more time than deep frying as well as hovering over the pan so that one side doesn't fry too much than the other sides.
Air fryer– for a healthier option you can air-fry the fish chunks.
More devilled recipes!
Storing-use glass containers or an old container to refrigerate as ingredients will leave stains on new containers.
Use within 48 hours. please be aware that the longer you keep the fried devil fish, they tend to become hard in texture.
Reheating- can be reheated over a stovetop or microwave. make sure to use a microwave cover to avoid splattering.
Freezing- not advisable to freeze.
Stop food waste by- only make as much as you need. there are never any leftovers when I make this devilled fish but if there is, it will probably be over the next day.
This recipe is given the above rating for the below reasons.
Minimum and easy to ingredients to find.
Can be assembled in a wok.
How to make
Sri Lankan
devilled fish.
Please make sure to read the recipe instructions carefully to avoid mistakes.
Ingredients.
Ingredients mentioned below use standard measuring cups and spoons.
500g fish chunks(yellowfin tuna or sailfish also known as thalapath are ideal)
2 cups of oil to deep fry the fish(less oil is needed if you choose shallow frying(1/2 cup). read notes above for other ways to fry the fish)
To marinate fish
1 tablespoon pepper
2 teaspoon of chillie powder(increase or decrease as per your need)
Salt to season
To make the devil fish sauce
3 tablespoons of oil
2 medium-sized onions cut into thick wedges
1 tablespoon of minced garlic(about 3 cloves of garlic)
1 tablespoon of minced ginger(a 2″ inch piece to be grated or chopped)
4 capsicums cut lengthwise or sliced in two(substitute with bell peppers if you are unable to find these green peppers)
3 medium-sized tomatoes cut into thick wedges
2 green chilies split
2 tablespoons of vinegar(any type of white vinegar, do not use apple cider vinegar)
1 tablespoon of chili flakes( increase or decrease as per your need, reduce if serving for kids as well).
1/4 cup tomato sauce(also known as ketchup, read beginner's notes above for options).
1/4 cup thick coconut milk(substitute with cornflour mixed water or cooking cream).
1 tablespoon sugar(optional, I use it to give the deviled fish a little sweet and spicy kick, you might need to use a little more if the dish is too spicy)
Method
Have all the ingredients you need ready.
Preparing and marinating
the fish.
Cut the tuna into cubes(500g), if you are unable to do this, you can get them precut from fish stores or your fishmonger.
Place in a bowl, add a 1/2 teaspoon of salt and a pinch of turmeric.
Mix well and rinse the fish twice. drain any excess water completely. the tuna cubes need to be dry.
Place the fish cubes in a bowl. add pepper(1 tbs), red chilies powder(2 tsp), salt to season(1/2 tsp should do).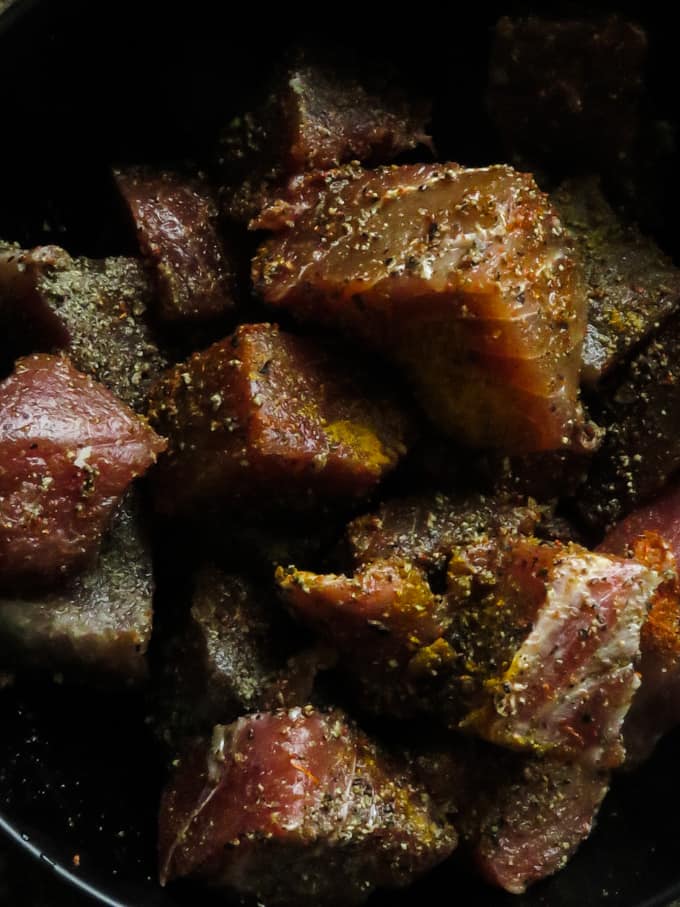 How to fry the fish cubes.
As mentioned earlier on the post, you can either deep fry, shallow fry or use an air fryer for a healthier option. deep fry to a golden brown.
Pour oil(2 cups)into a deep frying pan and gradually bring the oil to low-medium heat. avoid oil from smoking. fry the marinated fish in small batches. you might also want to keep your windows open or the exhaust fan over your stove top on high.
I chose this method. a longer time was needed as I had to constantly turn the fish pieces individually to give all of them an even fry.
Follow instructions given on the appliance.
Place the fried fish over some paper towels to absorb any excess oil.
Making the devil fish sauce

.
Have all the ingredients cut as mentioned on the ingredients list.
Onions(2 medium), tomatoes(3 medium), capsicum(4, substitute with bell peppers)need to be cut into thick pieces.
Place wok over low-medium fire. add oil(2 tablespoons), add garlic(1 tbs) and ginger(1 tbs), green chillies(2). cook for a few seconds until they release their aroma.
Add the green peppers, cook for 3 minutes and then add the onion and tomato wedges.
Cook over medium heat for 2-3 minutes until they soften.
Reduce heat to low and add the red chilies flakes(1 tbs) and vinegar(2 tbs, any type of white vinegar, not apple cider vinegar). cook for 2 minutes.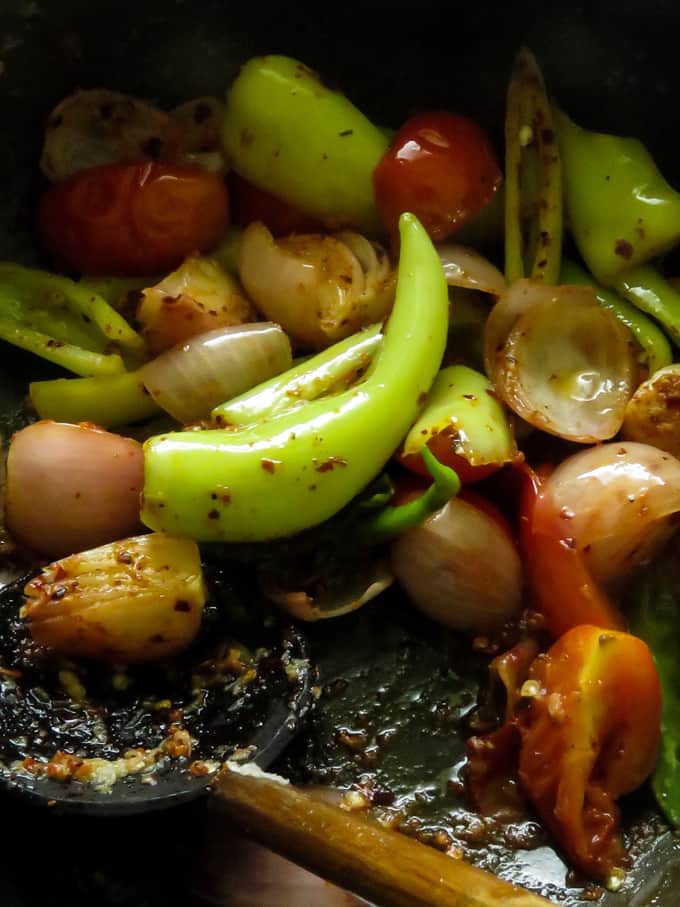 Add tomato sauce(1/4 cup),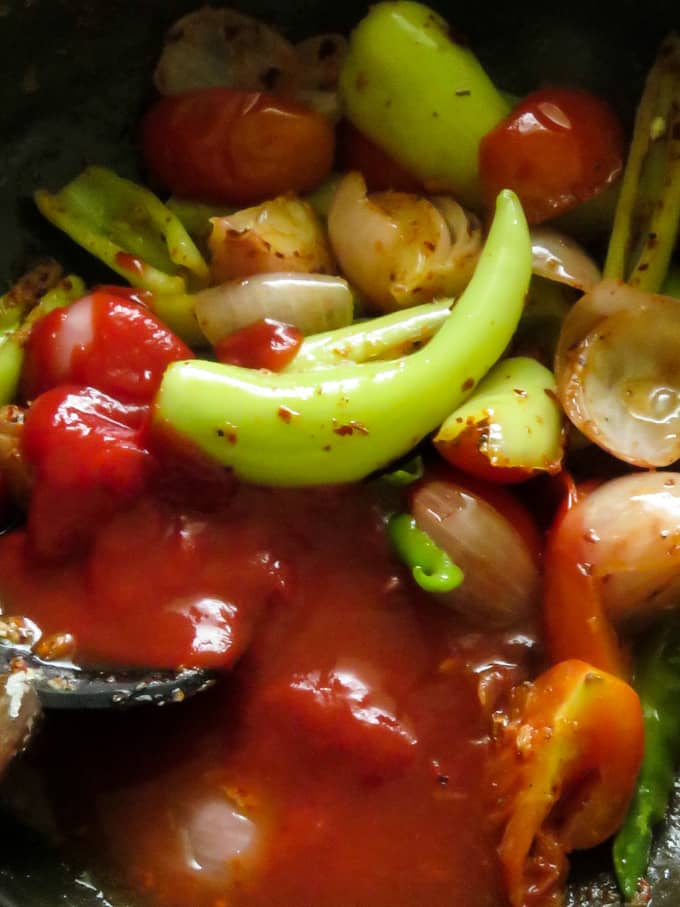 Followed by thick coconut milk(1/4 cup, substitute as given on ingredient list).Cook for 2 minutes over low medium heat.
This is your spicy sauce that would coat the fish.
taste and adjust the seasoning as per your need.
This could mean adding more tomato sauce, more red chilies flakes, salt or sugar to make it a sweet and spicy variation.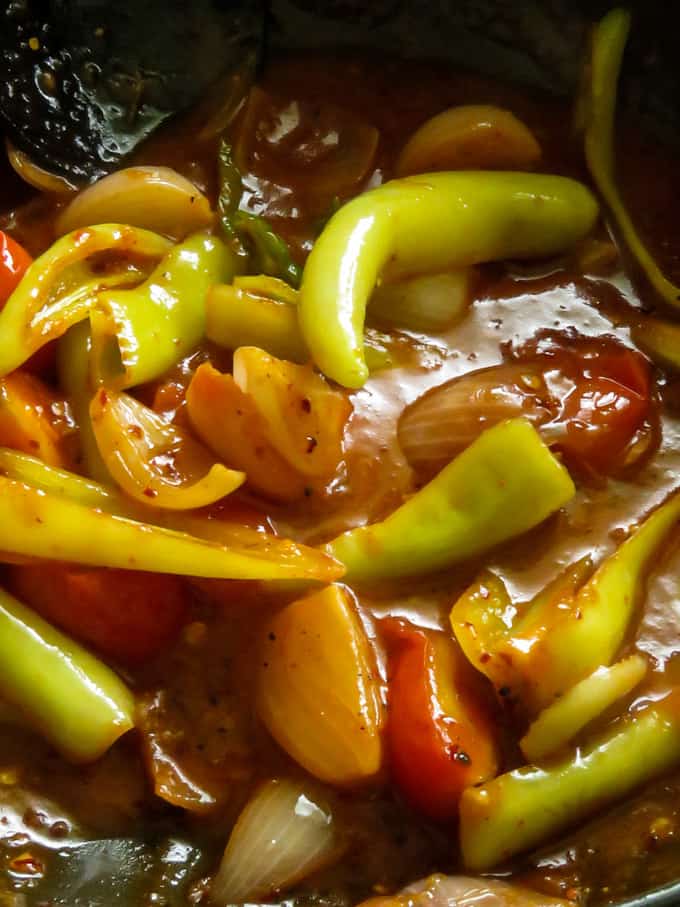 Once you have the deviled fish sauce ready. add in fried fish to the sauce.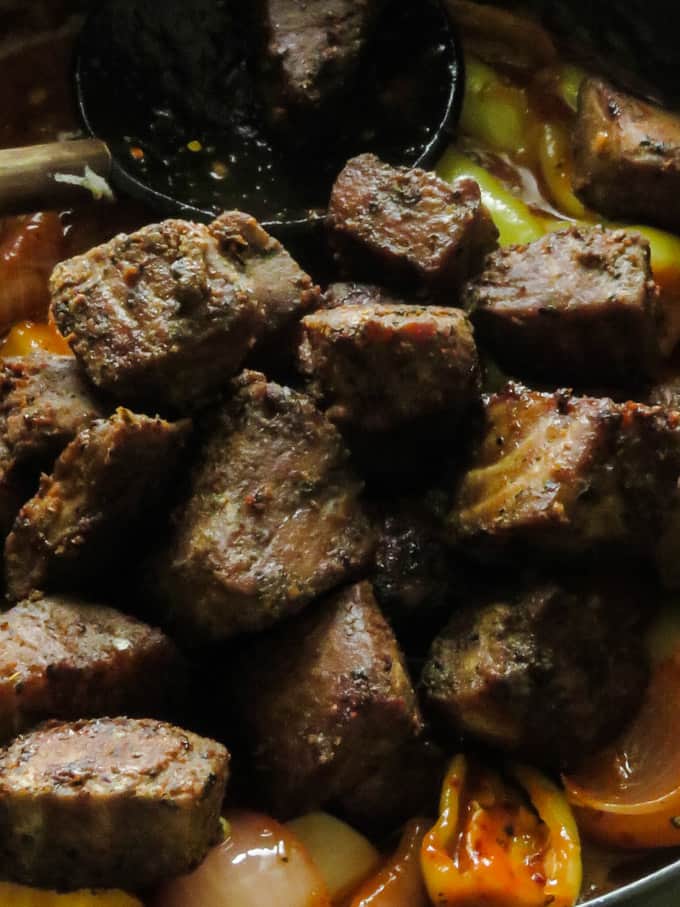 Gently combine the sauce with the fish and cook over low heat for 2-3 minutes.
Serve warm.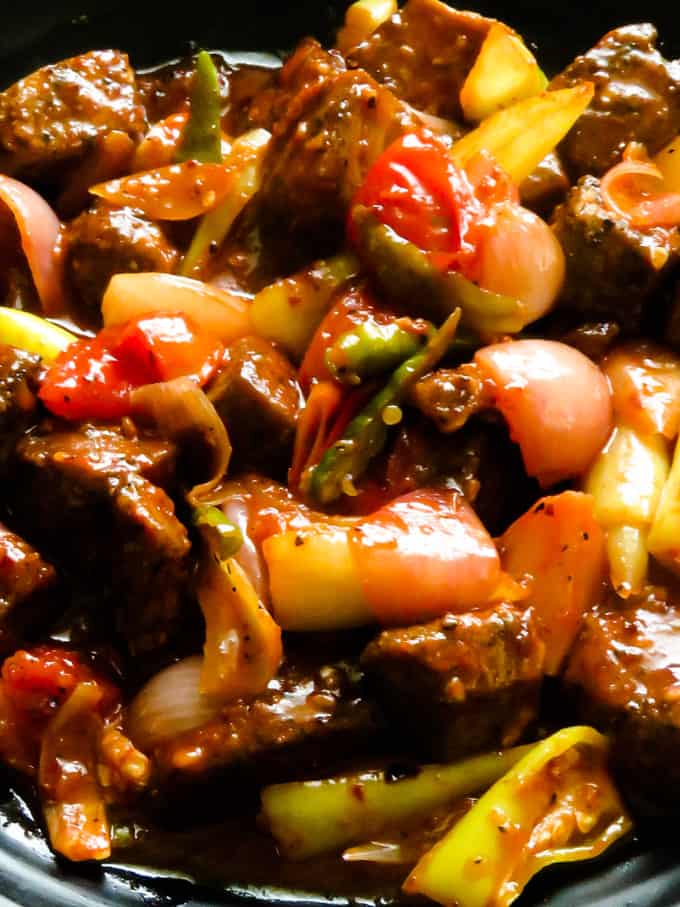 Each recipe on this blog has been written with great care and love to the best of my ability with you in mind.
It's free and on the blog, for you to try anytime.
All I ask is that you do not save it on any apps, recipe boxes, or online groups which will affect me as a food blogger and the growth of this blog. I would appreciate it if you only share the link rather than the full recipe.
All images and text on this website are protected by copyright.