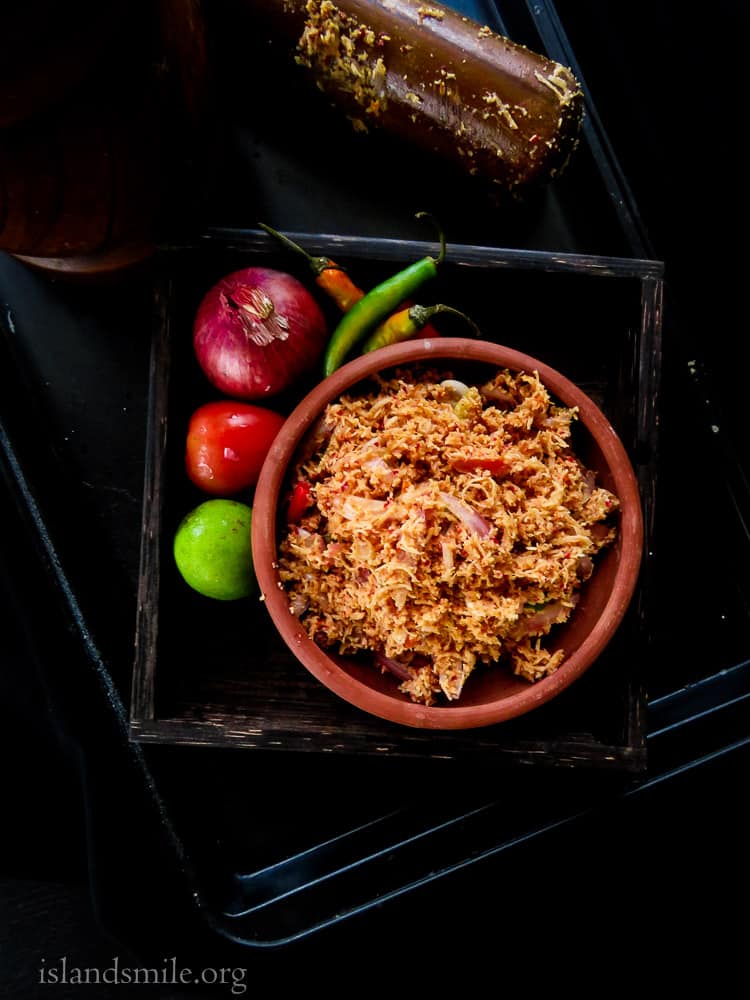 Sri Lankan Coconut sambol(Pol sambol), a dish made with freshly scraped coconut, shallots, green chillies as key ingredients. gluten-free, vegan and vegetarian.



It amazes me how the use of coconut in all its form has become popular in mainstream cooking programmes, it's a trendy ingredient and they are in everything from savories to sweets not to mention a great substitute. But while the world is discovering the health benefits of adding Coconut to our daily meals, for many Asians like me, it has been a part of our daily cooking, all our lives.

Now let's talk about Coconuts, tell me, is Coconut a fruit, vegetable or a nut?
There's a bit of confusion around which group it belongs to, definitely not a vegetable but because of the hard casing surrounding the flesh of the Coconut, many assume it's a nut but it's not. The coconut belongs to the palm tree family and is actually a drupe.
What is a drupe?
It's a fruit with a hard stony covering enclosing the seed, this makes sense as the Coconut is actually the seed from which the tree grows. I would also suggest reading about the health benefits of cooking with it, meanwhile here are a few that I find worth quoting,
"It's a high source of fiber and improves digestion, there is 0 % trans fat, gluten-free and there is no toxic substance in it".

"It's an antibacterial with healing properties. Coconut oil is loaded with saturated fats, which actually do not harm the blood lipid profile like previously thought.Saturated fats raise HDL (the good) cholesterol and change the LDL cholesterol".

I remember a few years back when Coconut milk and its oil suddenly became an ingredient that was linked to heart conditions and high cholesterol, the claim was, it was full of bad fat which in turn caused high Cholesterol, literally overnight Coconut oil was replaced with  vegetable oil, palm oil or corn oil but with new research, Coconut milk and oil are coming back and I'm one glad home cook because this one ingredient is so versatile and makes every curry so deliciously creamy. just try adding a bit of freshly scraped coconut into your cooked rice and see how a bowl of rice transforms.

If you were ever invited to a Sri Lankan meal or had the opportunity to visit this country, the minute you fly over and look down through the window, you'll see the sight of these tall trees dotting the island.
The rising price of a Coconut is not a laughing matter to grandmothers and moms who rule the kitchen, there's a lot of grumbling when this happens and if they had their way, I think Coconut will be free to all ingredient, come to think of it I don't know why we have to pay for it in the first place when we are one of the largest coconut producing countries. I think every home should have at least one tree in their garden. what do you think?
As for me, I must mention that because of time constraints, I'm one of those who use the powdered or liquid form available in supermarkets.
Scraping, blending and then squeezing the milk out is just too much work, I know I'm choosing convenience over flavor but I simply refuse to put in the labor every day and commend anyone who still uses this method because even if you were a fast cook, it still takes about 20 to 30 minutes to get a bowl of freshly squeezed Coconut milk.
The times I do need it for a spicy coconut sambol like this, I just get it from a shop that sells them scraped and frozen.

Difference between scraped coconut and desiccated coconut.
Keep in mind, scraped coconut is different to desiccated coconut because there is a difference in flavor and texture, the latter is hydrated and quite dry whereas the first has a wet consistency and is much creamier in flavor.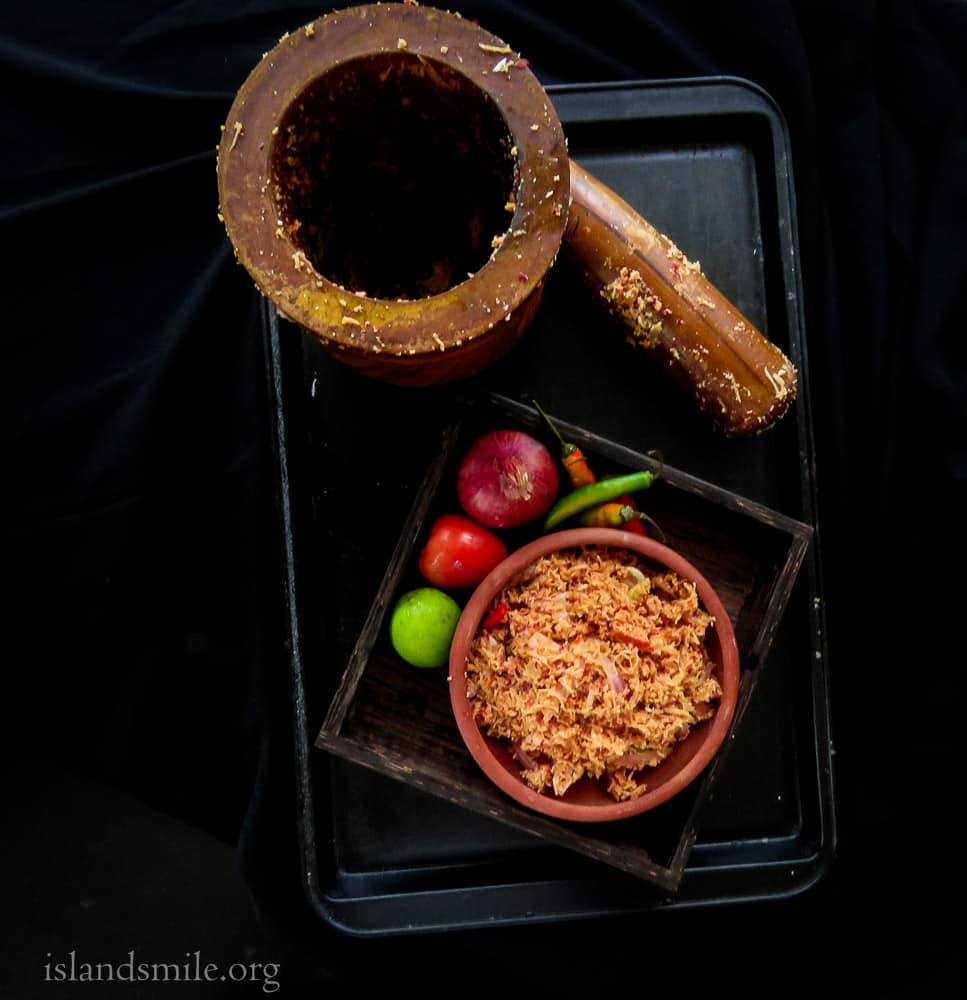 As I mentioned earlier, this Sri lankan Coconut sambol recipe is a versatile dish and popular from roadside restaurants to five-star hotels to my own spread at home. For starters, sandwich the sambol between two buttered slices of bread or try it with a dish of Dhal curry and a Srilankan chicken curry.

Keep in mind, this is a raw sambol, unless the left over is refrigerated the Sambol can spoil easily. For best results, I recommend using a mortar and pestle to grind all the ingredients but if you're unable to find one, use your hand to mix the ingredient, since there's quite a bit chilli involved make sure to wear a glove or add the chillies once the mixing is done.
Hi there, thank you for stopping by, I hope you make this recipe for your family. if you enjoyed it, please let me know, if you feel the recipe needs a few tweaks, even then, drop me a message. 
I am on almost all the social media you are in and you can find me, on Facebook, Twitter, Instagram and Pinterest. You can keep track of new recipes by liking or following the blog social media profiles but life happens and I do forget to update them sometimes.
 If you've found the recipes posted here are helpful in any way, then please subscribe to the blog, this is the only reliable way that I can keep in touch with you. Thank you again for your time and don't forget, Subscribe for new recipe updates!
Making the sambol for 2-3 individuals
The following recipe uses a whole coconut, the amoun is more than enough for 5-6 individuals but if you are making the sambol for 2-3 individuals, use 1/2 a coconut which will yield 1 cup and may be a little bit more.
Recipe- How to make a Sri Lankan coconut sambol(pol sambol).
Please make sure to read the recipe at once before making it.
Ingredients
Ingredients mentioned below use standard measuring cups and spoons.
1 freshly scraped Coconut (you can find it at Asian stores)
1-2 medium-sized Onion finely sliced
1 medium-sized tomato sliced
2 Limes
1 green chilli finely sliced
1/2 a teaspoon red chilli powder(add moreif needed)
Salt to taste
2 teaspoon of pounded Maldive fish(optional)
Method
Have all the ingredients ready.
Making the coconut sambol, using a mortar and pestle.
If you are using a small mortar and pestle, I would suggest using a bowl and your finger to mix the ingredients(see below)but if you are using a large one, I would suggest using the method given below as it tastes much better.
Add the sliced onions, green chillies, maldive fish, tomatoes, green chillies, chilli powder, to a mortar and lightly pound for a minute.
Once all the ingredients are coarsely crushed add in the scraped coconut, lime and salt to season. pound the coconut lightly with the ingredients while using a spoon to scrape and mix while the light pounding continues for a minute. taste and season with salt if necessary.
Making the sambol without a mortar and pestle.
Add the scraped coconut into a large bowl, followed by onions, green chillies, tomatoes, salt to season, lime juice, chilli powder and maldive fish.
Combine until all the ingredients until all ingredients are mixed. taste and season withsalt if necessary.
Save
Save
Save
Save
Save
Save