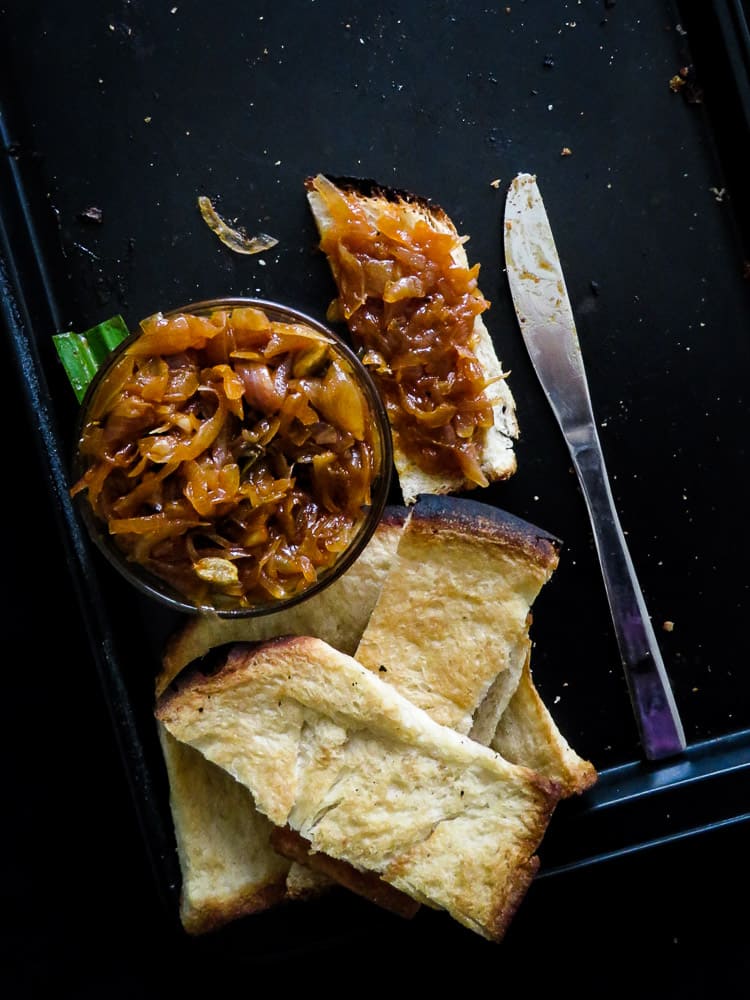 Sri Lankan Seeni sambol.
A sweet and spicy onion relish. Make a jar of this condiment to make your meals enjoyable and add flavor to anything from crackers to plain bread.
As far as I'm concerned Onions are a great way to add depths of flavor to everything you cook.
I go through a kilo of onions in days. yes, they make you cry, the odor of the onions seem to eternally linger in your hands while peeling them can be a chore, I still can't get enough of them.
Like the Lunumiris recipe, I posted earlier in the month, this Caramelized Onions with a combination of sweet and spicy flavor is a condiment popular with Sri Lankans.
Seeni sambol is basically an Onion relish made with a few flavor-enhancing ingredients.

To those of you readers who are joining me for the first time, welcome to my month of Breakfast themed recipe,
To my regular readers and subscribers, have I said thank you enough for sticking out with me for the past year? there must have been something in the blog you might have liked for you to subscribe and for being there always I'm going to give you a short update on how this little food blog is progressing.

Blog progress Update.
Since the end of last October, I've managed to increase page views to Ten thousand a month.
When I started the blog I just wanted island smile to be a place where I can write about family, food and lessons learned as my subtitle goes. realizing I can earn an income was an added bonus to this mix.
When I started the food blog I didn't expect to earn anything but I am, alhamdulillah.
I can't write to you how it feels but after leaving the workforce to be a wife and mom to my kids, it's a feeling I can't explain but feel deeply, it makes me want to succeed in my small adventure of blogging.
I've learned a lot because of this blog, I believe myself a learner no matter the age I am in, I will always make myself learn something and this has been quite a profound learning experience.
Now regarding earning an income, It's not a considerable amount but what that amount tells me is that there is potential.
Please don't think that this is, what do you say, "tooting my own horn" but to inspire your own journey to success my friend and with these words let's move on to our breakfast-themed recipe of the day.
One more thing, this is a short update on my blogging journey I felt some of you readers might find interesting, I'll do a similar footnote when I reach another milestone.
BREAKFAST IDEA 10- SRI LANKAN SEENI SAMBOL(SPICY CARAMELISED ONION RELISH).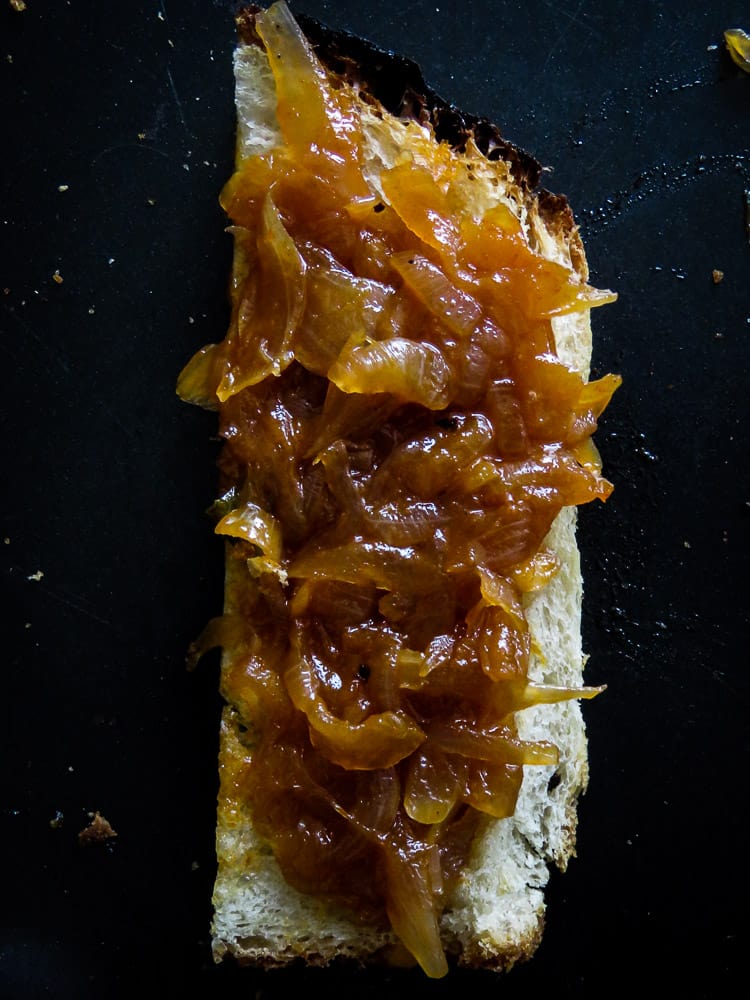 Don't tell me you are not drooling over the above picture because even after having Seeni sambol for three days, I still want to have more.
The options of what you can top this Onion relish on is endless.
How can I use the Sweet and spicy Onion(seeni sambol) ?
Almost anything will taste better from bread, burgers, tacos, crackers or what about a cheese dip?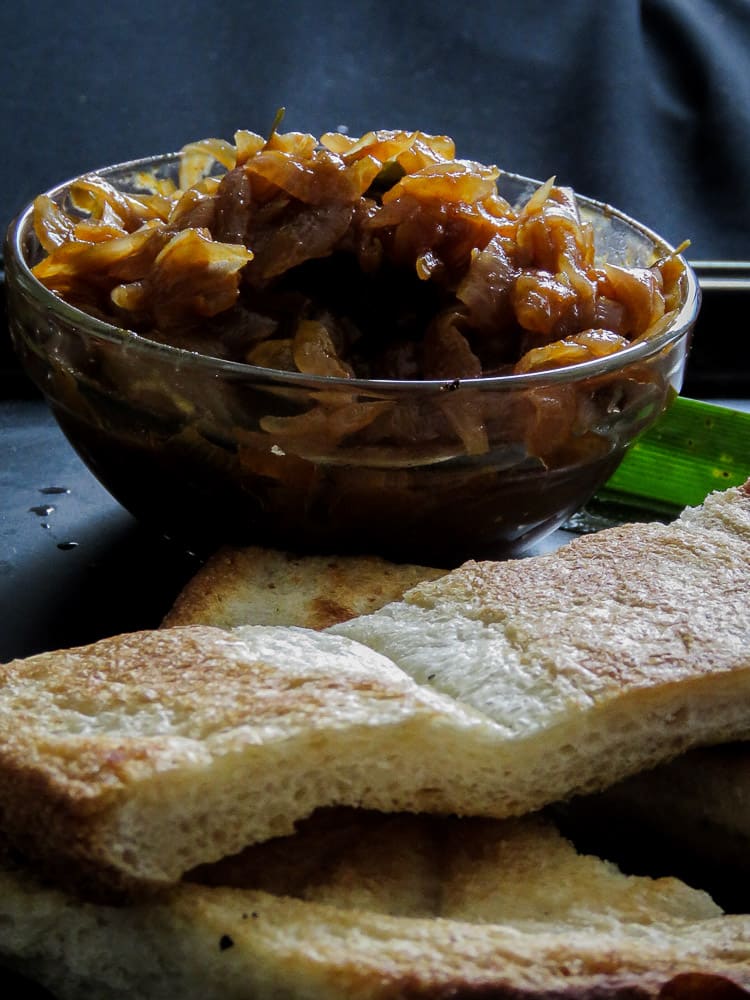 How can I use this for breakfast?
You can slap it on a piece of toast for a breakfast on the go or have an egg on the side with this Onion relish.
keep an eye on my breakfast recipe and see how I used this Onion relish which the kids loved.
What is the most annoying thing about making this Seeni Sambol?
The chopping two or three kilos of Onions to make a small bottle of Seeni sambol. You can use any type of chopper to coarsely chop the onions, just make sure not to mince it too fine.
They don't last too long in my home but if you plan to keep it for weeks, refrigerate and always use a dry spoon.
SAVE THE RECIPE TO YOUR FAVORITE PINTEREST BOARD!


SRI LANKAN SEENI SAMBOL
(SPICY CARAMELISED ONION RELISH).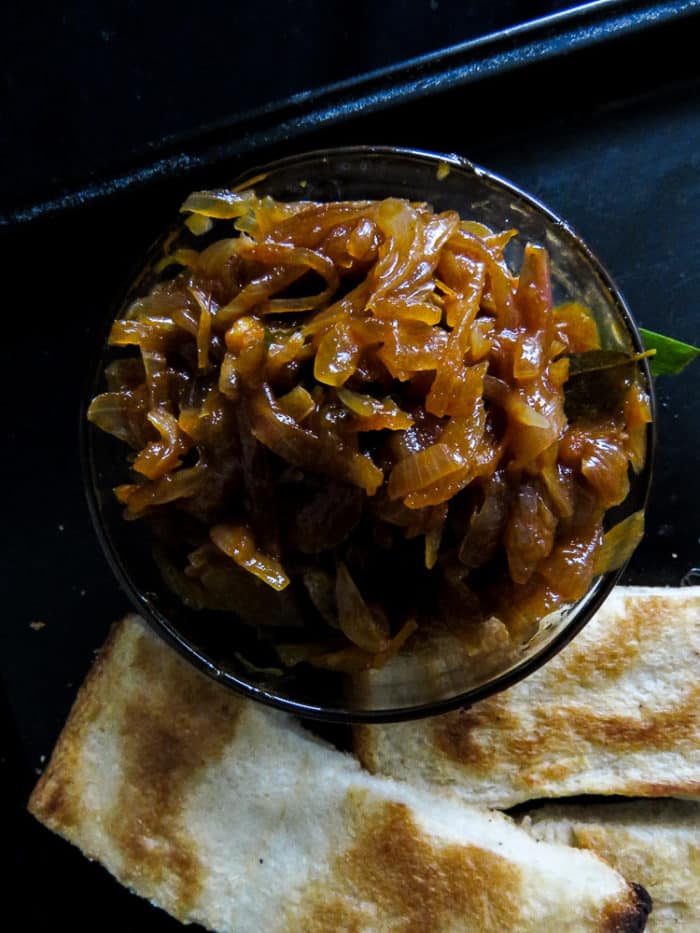 Please make sure to read the recipe instructions carefully to avoid mistakes.
Ingredients
1-2 kg of Onions chopped coarsely
5 Cardamoms
1 small piece of cinnamon
5 tablespoons of oil( increase if required)
2 tablespoons of Sugar
3 tablespoon of Tamarind
5-6 Curry leaves
1 pandan leaves
chilli powder
salt to taste
Method
Heat a pan that is enough to hold the 1-2 kg of chopped onions.
Keep the heat to medium and pour the Oil, gradually add sprigs of curry leaves, 2 small cinnamon pieces, 5 Cardamoms, Pandan leaf and chilli powder.
Add the chopped Onion to the spice mix and stir gently to merge all the ingredients, keep the heat steady while making sure the Onions don't burn.
Let the ingredients cook while the Onions caramelizes to deep amber and reduces in quantity.
Leave the Onions cook for 10 minutes and add the tamarind juice and Sugar.
Add salt to taste, leave it to cool before transferring it to a glass jar and refrigerate, when you need to use this sweet and spicy Seeni sambol, take a few tablespoon and microwave it for a few seconds.always use a dry spoon.

[mpprecipe-recipe:50]
AND we are done, join me tomorrow for a new breakfast recipe, make sure to subscribe to the blog if you want recipes directly into your mail box. You can also join me on all the social media mentioned here.
Save
Save
Save
Save
Save
Save
Save
Save
Save
Save
Save
Save
Save
Save
Save
Save
Save
Save
Save
Save
Save
Save
Save
Save
Save
Save