Baked Pastries filled with sweet and spicy caramelized onions( seeni sambol) and egg, served for breakfast, It's a good way to start your mornings, don't you think?

Before we move on to today's post, let's do our usual recap of all the breakfast recipes we've done so far.
We started our first week of breakfast with a lunumiris which is a great side condiment for Kiribath, we followed these recipes with Net pancakes from Malaysia and loads of delicious Cheese stuffed french toasts in 30 minutes and ended the week with Chocolate chip muffins.
The second week, we continued with a Spicy fried rice recipe, a couple of loaded Quesadillas and then a healthy breakfast bowl of Mung beans, followed by a Sri Lankan fish bun recipe. we ended the week with a chocolate lover's muffin.
We are on our third week of breakfast ideas and let's see what we can dish out today.
BREAKFAST IDEA 11 – Sweet and spicy caramelized onion and egg pastries.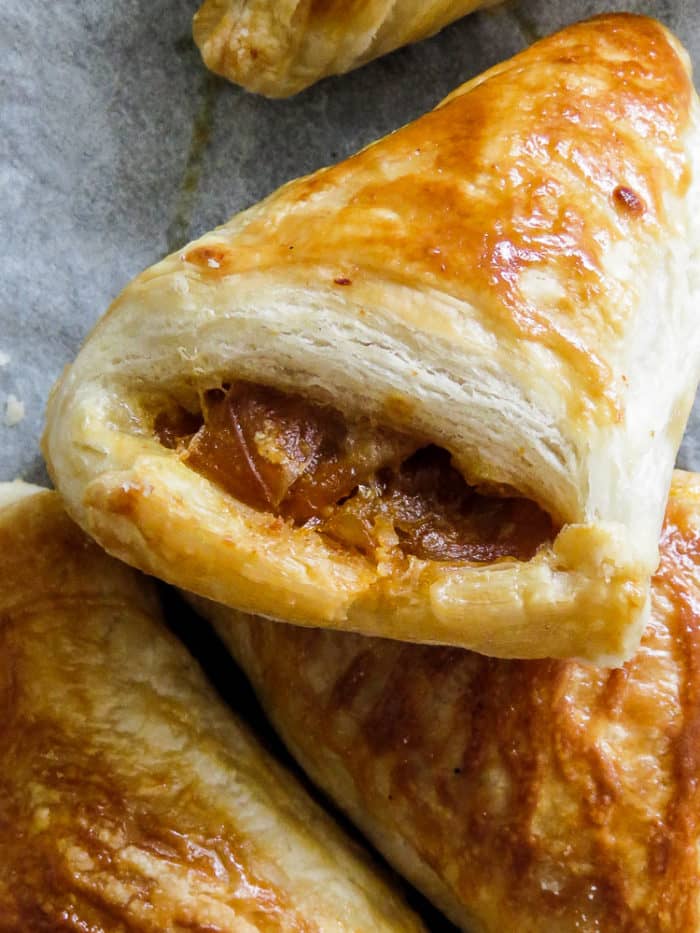 So yesterday we made our Seeni sambol , I mentioned a few ways how you can use the relish for a quick breakfast and today I am making these pastries with the same relish and eggs.
With just 10 to 20 minutes of baking using store-bought Puff pastry, there's no easier breakfast or snack than this Sweet and spicy caramelized onion and egg pastries.
HOW TO USE FROZEN PUFF PASTRY.
let's talk about Puff pastry.
Step into my home and there are two staples you will find every single day, that's a Cartons of Milk and Bread. Kids get hungry all the time at really odd times and these two food staples are a great way to stop them from shouting,"mama, I'm hungry!!, they have no patience when it comes to food, similarly having frozen puff pastry in your freezer can be a real time-saver, not only can you make appetizers for parties, and obviously these pastries but you can use them to prepare School lunch box friendly short eats as well.
When you use store-bought Puff pastry there are a few things you should keep in mind.
Make sure the Pastry is completely thawed. if you are going to use the pastry in the morning, place the pastry pack in the fridge overnight, in the morning leave it out for 30 minutes or until the pastry is semi-soft.
use the pastry before it turns too damp and sticks to your hand, it should still be slightly cold to make the pastry easy to shape.
Roll out the dough on a floured surface.
Now that you know how to handle Puff pastry, let's dive into the recipe.

Please make sure to read the recipe instructions carefully to avoid mistakes.
Sweet and spicy caramelized onion and egg pastries.
Pastries come in many forms from savory to sweet, they are easy to make, versatile. who can resist a warm, buttery, flaky pastry filled with a mixture of eggs and Seeni sambol with added flavor from hard-boiled eggs mixed into it?
I certainly didn't.
Ingredients
The filling
Make the sweet and spicy Onion relish as per instructions on the Seeni sambol recipe linked in bold letters here.
Cook 4 eggs until they are hard-boiled.
Dice the hard-boiled eggs into large pieces and mix in with the Onion relish, add salt to taste, if necessary and set aside.

1 egg yolk with 1 tablespoon of water for egg wash.
Method
Once the Puff pastry thaws overnight in the fridge, leave it out at room temperature for thirty minutes until slightly pliable.
Dust a bit of flour on the surface where you will roll out the pastry.
Cut the pastry into equal squares and place a tablespoon or the desired amount of filling in the middle of the pastry.
Brush egg yolk on all sides and fold the edges to make triangles.
Line a baking sheet with parchment paper and place the hand pies on the sheet, brush egg yolk on them
Bake at 190C (375F) until they are crisp, puffed up and golden brown for 15 to 20 minutes.
Leave it to cool and serve.
Join me on another breakfast idea tomorrow and please make sure to subscribe so you don't miss out on any of the breakfast themed recipes this month.
[mpprecipe-recipe:51]

Save
Save
Save
Save
Save
Save
Save
Save
Save
Save
Save
Save
Save
Save
Save
Save
Save
Save
Save
Save
Save
Save
Save
Save
Save
Save
Save
Save
Save