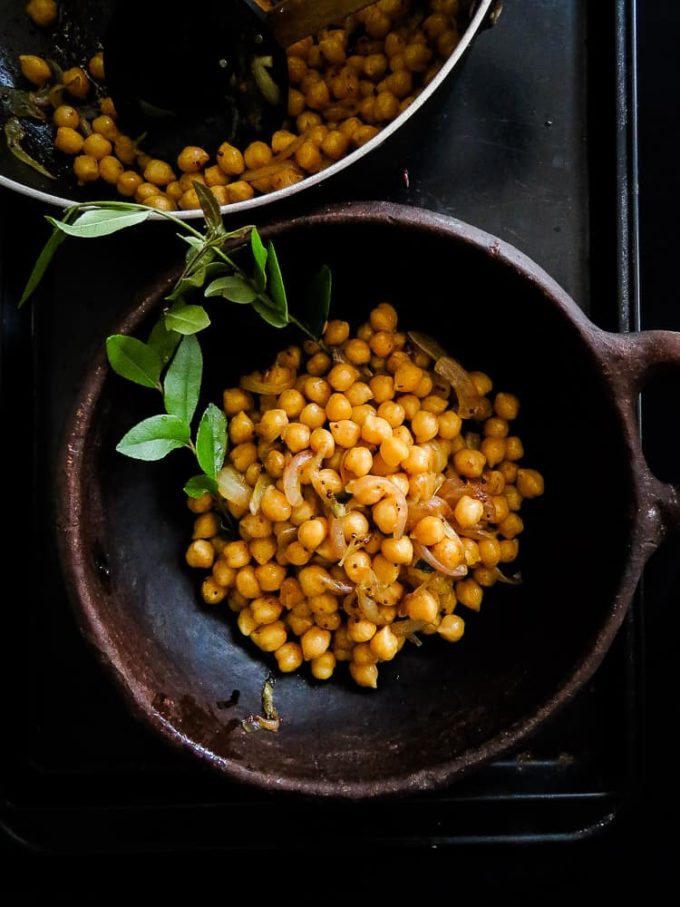 A delicious, healthy high protein Sri Lankan chickpea breakfast. use canned or cooked chickpeas(garbanzo beans)to make a breakfast bowl.



This post contains affiliate links where at no additional costs to you, I will earn a commision if you click through and make a purchase.
Today's recipe is a quick and easy breakfast chickpea bowl that is Sri Lankan themed.
If you have any leftover chickpeas after Breakfast, you can easily snack on it as you go around doing your household activities.
Chickpea or as we call it "kadala" in Sinhalese, is such a versatile pantry essential, you need to have at all times.
Breakfast gets easier when you have a few canned chickpea as well.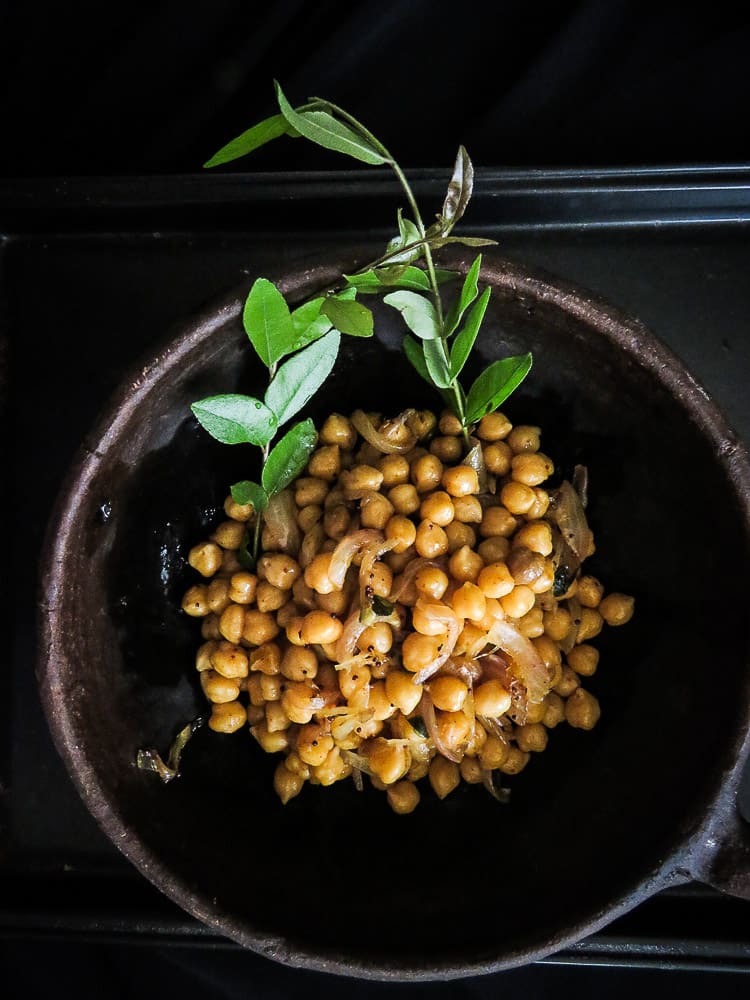 How to make Sri Lankan devil chickpea stir-fry.
"kadala theldala"as we call it is a spicy chickpea breakfast bowl is popular here.
As you might have noticed, we like our food spicy, morning, noon and night.
Once boiled, they have a slightly pleasant grainy texture and a nutty taste that can be addictive which is why it's a favorite with us, especially if a few dry red chillies and coconut shavings are added to the mix.
This spicy chickpea recipe also makes an excellent bite/appetizer at small gatherings or when friends drop by unannounced leaving you with no time to make an elaborate appetizer.
Just make sure to serve the chickpea bowl with a few toasted coconut chips.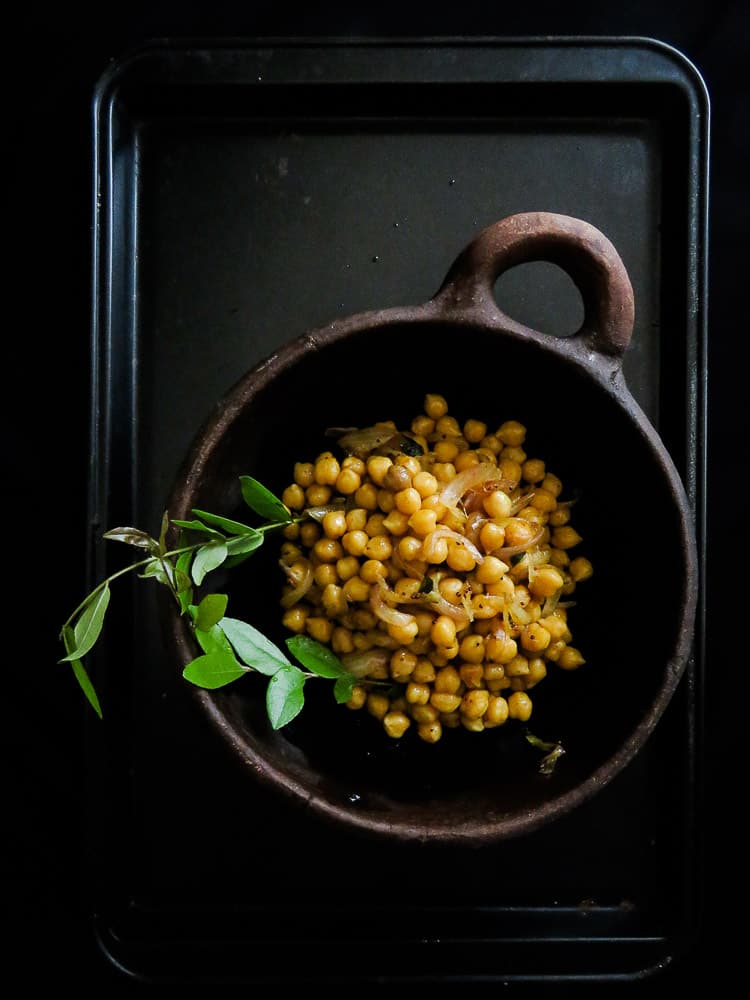 Feeding kids chickpeas for breakfast.
Making chickpeas a part of your diet is a great way to get the best of the nutrients into you.
They are a great source of plant-based protein as well.
Like the Mung bean breakfast bowl, it's going to be a hard sell with the kids but I promise it won't be as bad as the green gram.
My favorite term to throw around with healthy food like this is,"super food!", something about the word,"super", seems to do wonders to their appetite, maybe it's the red cape they imagine themselves wearing……..(just kidding).
Save the recipe to your favorite Pinterest board!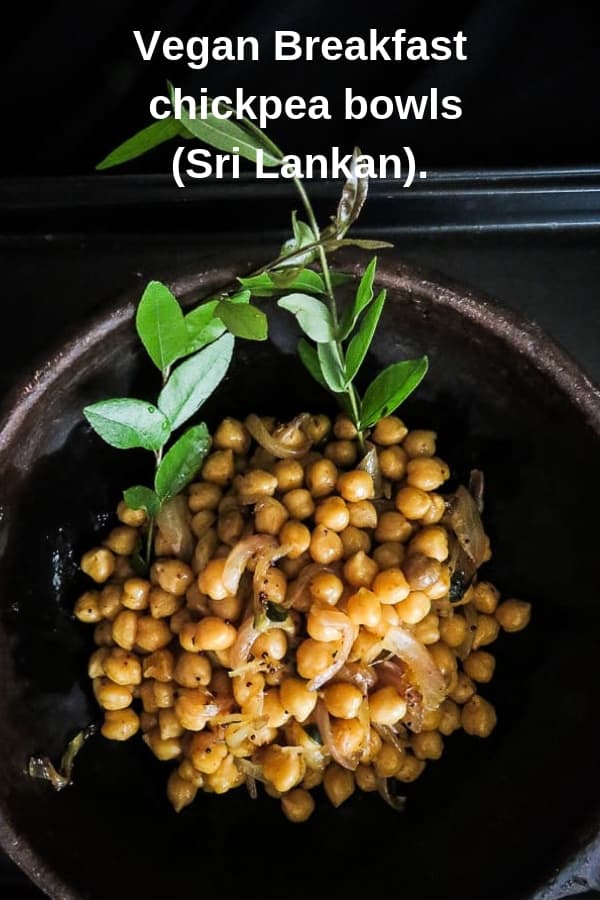 Vegan
Breakfast chickpea bowl
(Sri Lankan, garbanzo beans).
Please make sure to read the recipe instructions carefully to avoid mistakes.
BREAKFAST IDEA 12- TEMPERED BREAKFAST CHICKPEAS(SRI LANKAN).
Notes- It's important to soak the chickpeas overnight before you cook them or they'll take longer to cook and still have an unpleasant raw texture.
Serves 6
Ingredients
3 Tablespoon of Oil
Handful of curry Leaves
1 large Onion Sliced fine
1/2 teaspoon of Mustard seeds
1 teaspoon of red chilli flecks( add more if needed)
2-3 Dried red chillies(optional)
1/2 teaspoon Salt to taste
2 cups of Chickpeas(soaked overnight).
Notes- you can use canned chickpeas as well.
Method
Soak the chickpeas overnight, if you are in a rush to make these use canned chickpeas so that you save time as well.
If you are cooking the chickpeas over a stove top cook for 30-45 minutes.
If you use a pressure cooker, the chickpeas should be done by the third whistle.
Once cooked, drain and set aside.
Place a pan on medium heat and pour in the oil, add the curry leaves to the oil and let it infuse it, let them fry for a minute or two.
Add the Onions and cook until the Onions turn golden, then include the Mustard seed, keep stirring while adding the crushed red and dried red chillie.
Add the cooked chickpeas and salt to taste, mix all the ingredients and leave it to cool for 2-3 minutes. Remove from heat and serve while the tempered chickpeas are still warm.
Join me again tomorrow and you'll find out how I used the extra chickpeas to make another wholesome breakfast.
Save
Save
Save
Save
Save
Save
Save
Save
Save
Save
Save
Save
Save
Save
Save
Save
Save
Save
Save