"I love You, mama", they call out, usually before bed time or leaving home for school, sometimes they say it without a glance or a hug, an afterthought.
Its annoying to hear the words while I watch them disappear around the lane, I've asked them many a time to say the words like they mean it, facing me(I really did), yet I see their backs while they shout,"I love you".
But today she(15) said "I love you" because I took her tab away from her, confused? me too.
I was expecting a completely different reaction from her. How would a normal teen react if you take away her phone or tab? exactly, that's my point.
This teen years are a bit tricky, they're sensitive to everything said and find reasons to rebel against one wrong move. they go through happy, sad, angry, stubborn in a matter of minutes and if you've read my earlier posts, you will also know she has a trigger point named Nadeem.
.It all begin in….
The Present.
As I leave the room She(15) approaches me, I give her a questioning look. she glances about, pushes us both into the room and whispers,"mama, where is Dada?"
(I look at her and think well, this is new")
I give her a raised eyebrow.
And the she asks,"mama, how did you know?"
(so that's what this whispering is all about)
I look at her giving my smug, I know everything smile, now all you moms out there if you don't have one of these smiles in hand, I suggest you stand in front of the mirror and practice, it works like a charm for moments like these.
Then I tell her,"I'm your mom, I know everything and*smile*.
Pause. she looks at me, l look at her.
Then she says,"I love you mama' with a hug that took my breath away and walks away.
I stood there wondering, what just happened?
Isn't she suppose to throw a tantrum and have a long face after what I did?
Previously..
What I did
With her Ordinary level exams next year, the only time she can use her tab is for research and reading, she's allowed to password protect it because of the boys but the usage was only for educational purposes.
I found out she was using it for entertainment, she broke the rule, I ran her down and told her to leave the tab in my room as I didn't trust her to use it responsibly and when Mr trigger point was about to open his mouth and give his two cents worth of trouble I shut it down with a look.
This is all I did to earn an "I love you" from the heart.
So how did I know my darling daughter had used the tab while we were sleeping?
No, I didn't even touch the tab to check the history, it was simple common sense.
My kids are early risers, especially my daughter, she has a routine, it never changes(never).
This day she overslept, so you know what that means, late night use of the tab to catch up on her manga cartoons.
Hence the look of awe in her eyes, maybe she thinks I'm a mind reader? but I still can't figure out why she said I love you for my actions which usually makes any teen Furious.
I'm so leaning towards her thinking I'm a clairvoyant.
Drumstick curry one of my childhood favorites, now the kids are loving it.
what you will need
3-4 Drums sticks
2-3 Large onionsTomato sliced
1/2 teaspoon Fenugreek seed
3-5 curry leaves
1 teaspoon turmeric powder
salt to taste
1 cup of thin coconut milk ( 1 and 1/2 Tablespoon, if you are using coconut milk powder)
1 cup thick coconut milk ( 2 tablespoons of coconut milk powder)
Method
Gently scrape off the outer layer of the drumstick.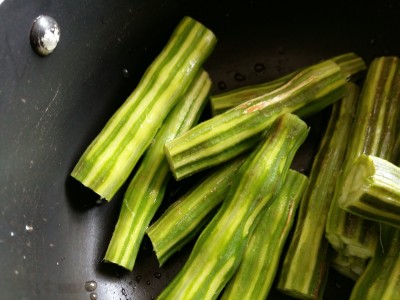 Cut them into 5 inch pieces.
Add curry leaves, slices of tomato, onions, fenugreek seed and Turmeric powder.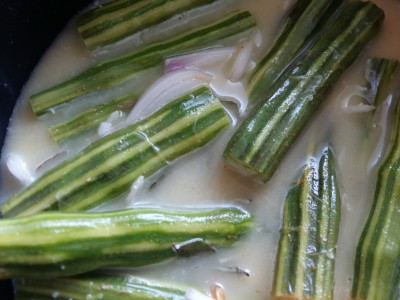 Add the thin Coconut milk and cook on low fire.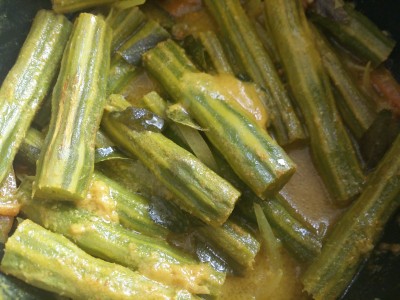 Once the thin milk recedes introduce the thick Coconut milk, Salt to taste and cook until desired consistency is reached.