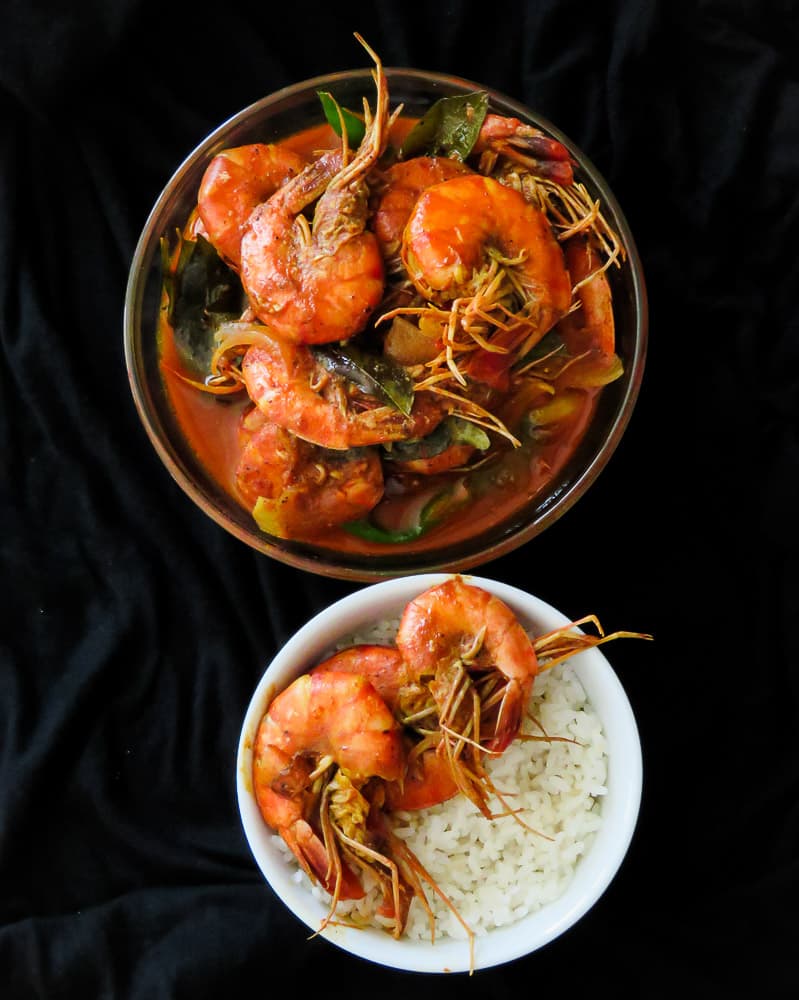 Cooked in Coconut milk and served with hot rice, this Srilankan prawn curry has just the right amount of spices to make it a tasty dish for any type of meal.
Scroll down to Recipe time should you wish to avoid thoughts and life in general by Mama to the terrible four or you can read on.
THAT was a long spell of silence wasn't it?
I'll keep it short and simple so we can get to the recipe,
If you stop by often or subscribed to the blog, I truly appreciate for your virtual presence, I've never done a recipe post in a rush just to keep up with my own deadlines and as much as I like to do twice a week post it's not something I can do for now so thank you for hanging around. It makes all the work that goes to maintaining this blog so worthwhile.
No excuses but facts, Funny man was in town so it's been him, me, kids, a trip and major maintenance in the home front which could have led to a disaster in the form of flood of, umm… unpleasantness indoors.Have I mentioned her(15)O/L's in a few months?
The girl was taking her own sweet time to prepare for it, so I've been stalking her with text books in hand for the past few weeks(I admit to being a royal pain to the terrible four where their studies are concerned). I've got a few people around me including funny man and her(15)wondering who's actually sitting for the exam.
Recipe time- Sri Lankan Prawn curry cooked in Coconut milk.
Shell or no shells?
Some prefer to cook without them some with them, I prefer the latter as this help the prawns to keep their size and not turn into minis but keeping the shells also means finding a way to devein them while its intact, now before we get to that part, I've been curious about that icky stuff we usually pull out of its head, what is it exactly?
Here's the answer to it, loved reading this one just because it was informative as well as entertaining, here's the link.
Moving on to the Recipe, Please make sure to read the recipe at least once before you begin.
Ingredients
500g prawns
1/2 half a teaspoon of Turmeric
Salt
1 teaspoon of chilli powder
1 teaspoon of curry powder
1 teaspoon of Sugar(I find it enhances the flavor of the Tomato paste)
1 or 2 lime squeezed(depending on the quantity of the prawns)
1 large onions
3 tablespoons of grated ginger
Handful of curry leaves
1 tablespoon of tomato paste.
Coconut milk
Method of cooking
Pull out the heads of the prawns making sure to wash the yellow matter attached.
To devein the prawns, I usually make a long slit from the head of the prawn to the middle of its spine and pull out the black vein but apparently there is a much easier way which I haven't tried as yet but here's the you tube link to it.
https://www.youtube.com/watch?v=yyaKOl1ZjLM&feature=youtu.be
Rinse the prawns with a pinch of Turmeric.
In a bowl marinate the prawns with lime juice and a pinch of Salt, refrigerate for at least 1 hour.
Once the prawns have been marinated, On low fire, in a pan, pour oil, add sliced onions, grated ginger, 1 teaspoon of sugar, curry leaves, chilli, turmeric, curry powder and tomato paste.
Cook until the ingredients come together as a thick paste making sure not to burn the spices. Pour in the cup of coconut milk and let it cook on medium heat for 10 minutes or until the gravy reaches a thick consistency.
Once the gravy is thick, add the prawns and let it simmer and let the gravy coats the prawns, taste for Salt
Serve with Rice and your favorite vegetable curries.

Jehan
Srilankan prawn curry cooked in Coconut milk
Cooked in Coconut milk and served with hot rice, this Srilankan prawn curry has just the right amount of spices to make it a tasty dish for any type of meal.
Ingredients
500g prawns
Salt
1/2 half a teaspoon of Turmeric
1 teaspoon of chilli powder
1 teaspoon of curry powder
1 or 2 lime squeezed(depending on the quantity of the prawns)
1 large onions
3 tablespoons of grated ginger
Hand full of curry leaves
1 tablespoon of tomato paste.
Coconut milk
Instructions
Pull out the heads of the prawns making sure to wash the yellow matter attached.
To devein the prawns, I usually make a long slit from the head of the prawn to the middle of its spine and pull out the black vein but apparently there is a much easier way which I haven't tried as yet but here's the you tube link to it.
https://www.youtube.com/watch?v=yyaKOl1ZjLM&feature=youtu.be
Rinse the prawns in a bowl with a pinch of Turmeric.
In a bowl marinate the prawns with lime juice and a pinch of Salt, refrigerate for at least 1 hour.
Once the prawns have been marinated, On low fire, in a pan, pour oil, add sliced onions, grated ginger, 1 teaspoon of brown sugar, curry leaves, chilli, turmeric, curry powder and tomato paste.
Cook until the ingredients come together as a thick paste making sure not to burn the spices. Pour in the cup of coconut milk and let it cook on medium heat for 10 minutes or until the gravy reaches a thick consistency.
Once the gravy is thick, add the prawns and let it simmer and let the gravy gravy coats the prawns, taste for Salt
7.6.7
2
https://www.islandsmile.org/srilankan-prawn-curry-cooked-in-coconut-milk/