"It's a spaghetti Pizza!", is what the kids are calling it, an easy-to-make-ahead dinner idea you can adapt.
Scroll down to Recipe time should you wish to avoid thoughts and life in general by Mama to the terrible four or you can read on.
Citified- of, relating to, or characteristic of a sophisticated urban style of living <citified tourists> <citified surroundings>
You know your kids are citified,
1.When they are fascinated and unnerved by the absence of cars whizzing by, trying to overtake you with break neck speed and no blaring horns but the absolute SILENCE broken by the occasional bus lugging by, it can bring out the best of their imagination.
2.Citified kids will wonder if it's possible to climb and explore every mountain they pass by, I blame bear grylls for this, at least they weren't talking of eating bugs for survival.
3. rivers they will love, the younger one's wondering how and who just dumped those perfectly round rocks all over the place.
4. They'll wade the river wearing flip-flops, the river bed is too tough on their tender citified feet.
5. you won't find them bathing in the river just because they've learned about pollution in our waterways, they kept wondering who's washing what upriver.
6. Citified kids are not bothered about disturbing nature, they'll sing their hearts out probably scaring the villagers as well as the birds.
7. Books, family games don't stand a chance, T.v is the absolute way to relax after a day of exploring, hands down and if it's a peaceful night we want then they'll need their dose of entertainment via the tube.(sad but true)
All this, even after living slightly close to nature with a swampy reservation behind us, trees, the occasional monkey family dropping by(they are still ruining my roof) and a water way(it's smaller than a river bigger than a lake, what do you call it?)and our own neighborhood slithering friend crossing our paths often.
Yep, the terrible four are officially citified citizens.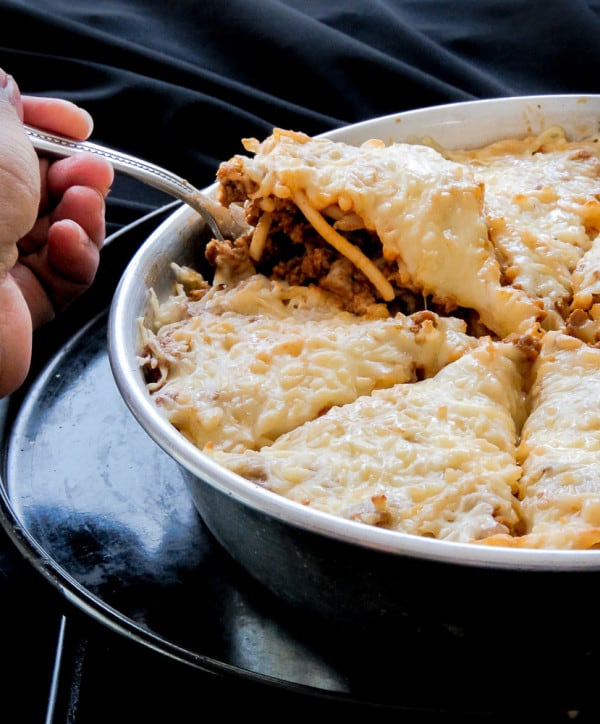 Please make sure to read the recipe at least once before you begin.
Recipe time
One of the few times when everyone agrees to enjoy without the grumbling I hear at least from one of the four. I usually make these early and refrigerate minus the cheese, just take it out half an hour before you want to serve it, add the Mozzarella cheese and pop it in the oven.
You should also note that the recipe uses Srilankan spices but can be easily adapted to your taste by adding your own usual herbs and spices. For a vegetarian variety, you can easily replace the meat with Soya finely chopped or you have the minced version readily available in Sri Lanka or Asian shops.
As for the grated Carrots, this is one way of adding vegetables into their favorite meals.
Ingredients
700g minced meat

2 tablespoons ginger garlic paste
4 tablespoons of oil
2-3 large onions sliced
1/2 teaspoon Curry powder
1/2 teaspoon Turmeric powder
1/2 teaspoon Chilli powder
Grated carrots (optional)
1/2 a cup Coconut milk
1/2 cup Tomato paste
Salt
4-5 Cheese slices
Mozzarella cheese
Curry leaves(optional)
Method
Cook the spaghetti as per instructions of the pack but make sure to take it off the stove two to three minutes before the recommended cooking time and run it through cold water, leave it to drain.
The filling
On medium heat in a pan, pour in the oil, sliced Onions, Turmeric, Curry powder, Chilli powder, Curry leaves and cook for two to three minutes.
Add the minced meat and mix while leaving the meat to turn brown add Salt to taste
Once the meat is brown add the Tomato paste, mix and let it simmer on low fire.
To thicken the gravy add the Coconut milk and let it to cook for another extra few minutes. check for flavor and Salt.
On a baking pan, layer the Spaghetti and spread it evenly around, followed by the meat mixture add the slices of cheese and then another layer of the meat mixture, spread the mozzarella cheese and bake until the cheese is melted, 170C under 10 minutes.

[mpprecipe-recipe:27]