POTATO AND LEEKS CURRY.
A Sri Lankan vegetarian, vegan dish, you will love it with a bowl of rice.
Scroll down to Recipe time should you wish to avoid thoughts and life in general by Mama to the terrible four or you can read on.
Last night the country's power grid failed us, a blackout they say, it could be the drought or the power games that the master puppeteers on high up places play with us mere human beings.
We were miserable for more than a few hours and it seems this will be the way for the next few months, this too in the middle of a heatwave.
When the kids suffer due to carelessness and mismanagement then not someone but a collective group should be held accountable.
But while I vent my anger and blame those pulling the strings for thinking us fools, with the darkness comes a forced blessing that wouldn't happen otherwise.
I say"forced" because that's just it, I'm forced to stop doing mama tasks, the terrible four were forced to huddle, fan each other and let something wonderful happen.
For the few hours of darkness, no one had the energy or the inclination to start their usual teasing or shouting match, our family gathering spot became the rarely used rooftop.
Laying there, facing the heavens, the sky became our entertainment.
The sky, so far ignored by the terrible four became a discovery, trying to find the big dipper and a few other stars and failing miserably was what they did, the encyclopedia of the galaxy that was collecting dust for so many years came out of its hiding place and under the light of a flashlight became a book of adventure, the howling of the dogs in the neighborhood became a game of "who can howl the best", when the apartment complex close to home was mocking us with their own power supply, looking down upon us and we looked upon them with envy, it was time to use his(14) imagination and concentration to zap out their power supply like the apprentice magician he was.

Yes, we were batting mosquitos, enduring the humidity while the night air-cooled our skin, lying beside them and listening them sing or talk, I stopped thinking, about what?
Everything and enjoyed a few HOURS of peace, if I sound sentimental, you will have to excuse me, for these moments are becoming few and far in between as they grow and I'm capturing these memories with words for my pleasure.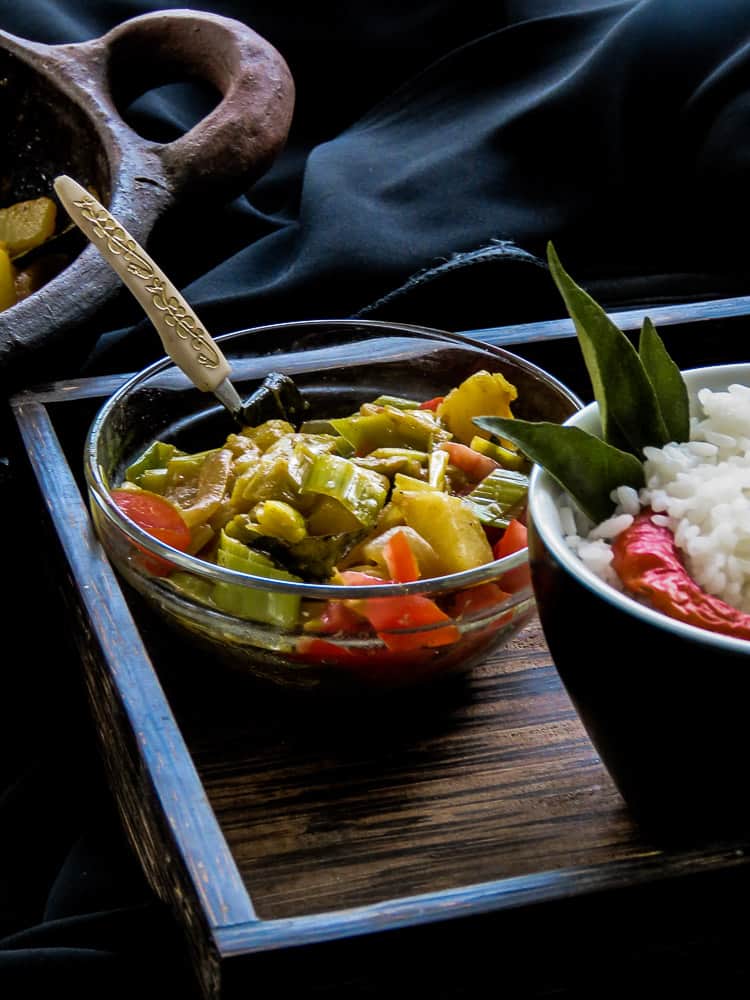 SAVE THE RECIPE TO YOUR FAVORITE PINTEREST BOARD!

This Potato and leeks curry is so easy that it can be done in less than 30-40 minutes, the most time you would spend is getting those cubes of Potatoes fried the way you want it, now if you would ask a typical Srilankan this vegetarian dish will be prepared with a spoonfuls of chilli flecks, it's true we love our dose of chilli, like every other dish posted here, this potato and leeks dish had to be adapted to suit kids in various ages and I will not lie to you, it takes a few bribes and mild threats to get them to try a vegetarian dish but try they must at least a few spoons but for the adults who would love to try a vegetarian dish this would be ideal.
You can cook it as a dry curry or add coconut milk to make it mild and creamy.
RECIPE DIFFICULTY -EASY
Potato and leeks Curry.
Before we begin, here's a link teaching(if you know please ignore) how to clean leeks for different cooking methods.
2 medium-sized leeks
2 medium-sized Potatoes
a handful of curry leaves(optional)
2-3 pods of Garlic finely sliced
2 large Onions sliced
1 large tomato
1/2 teaspoon of Turmeric
1/2 teaspoon of chilli powder
5-6 tablespoon oil
1/2 a cup of coconut milk.
Method
Peel and cut the potatoes into medium-sized cubes, sprinkle with salt, a pinch of Turmeric and set aside.
Using either way shown on the link above, wash the leeks and cut them in the middle, lengthwise before finely slicing them to required size.
In a pan, over medium heat, pour oil and sautee the Potatoes for 2-3 minutes. Once they turn slightly golden in color add the sliced onions, curry leaves and garlic to cook. 2-3 minutes until the onion turn slightly golden.
Turn heat to low and include the cleaned and sliced leeks. cook for 5-10 minutes until the leeks are softened.
keep mixing all the ingredients while they cook, add chillie powder and adequate salt to taste, pour in the coconut milk and let it simmer until the gravy coats the potatoes or until the potatoes are soft.
Remove pan from the stove. chop the Tomatoes and mix it into the curry. Season with salt.
Each recipe on this blog has been written with great care and love to the best of my ability with you in mind.
It's free and on the blog, for you to try anytime.
All I ask is that you do not save it on any apps, recipe boxes or online groups which will affect me as a food blogger and the growth of this blog. I would appreciate if you only share the link rather than the full recipe.
All images and text on this website are protected by copyright.