This recipe is adapted from a very popular Srilankan snack, the deep-fried stuffed peppers(deep-fried malu miris), I'm taking the fuss out of it, making it a quick prep snack for anytime of the day.Spicy or cheesy just make sure to keep a bottle of hot sauce to enjoy.
Scroll down to Recipe time should you wish to avoid thoughts and life in general by Mama to the terrible four or you can read on.
And then there are moments like these when I just talk it out and everything turns fine in my corner of the world, voice 2 is my favorite and please don't tell me I'm the only one who does this but if you do which voice would you listen to ?
Voice1:did I hear that right?
Voice2 : Lol, yes you did and thank god!!, they had me worried for a while. isn't it great when kids say something to worry their parents?.

Voice1 : that was not me worrying, a bit stunned, when did he learn that it was o.k to ask me that?
Voice2 : *sighing*, do you really need to overreact when they do something that's in your list of dont's, get over it already, you're turning out to be like a million other moms, kids need to be bad, don't tell me you didn't have moments like these when you were his age.

Voice1: No, I didn't, I should have a chat with him, I'm not happy with what he just said, he's going to make a habit of it.
Voice2: did you not hear me?, I'm sure he's already forgotten it, you on the other hand can't let go, he just tested you, he's 10, there'll be moments like these, quite frankly, I like his style, smooth operator, that one, I'll say he'll do well if he keeps up that attitude.
Voice1 : my son will not be a smooth operator!!
voice2: fine then, think of it as a street smart moment of advance negotiating.
Voice1 :No, it sounded more like my son was bribing me.
Voice 2 :isn't negotiating a legal way to bribe?,"I'll do this if you do that","me casa su casa"?
Voice1 : so offering me to pay Rs 200(2 dollars) if I let him stay home and miss school isn't bribing?
Voice2: *smiling* of course not, he's learning, leave it at that, now let's end this discussion and get on with the recipe.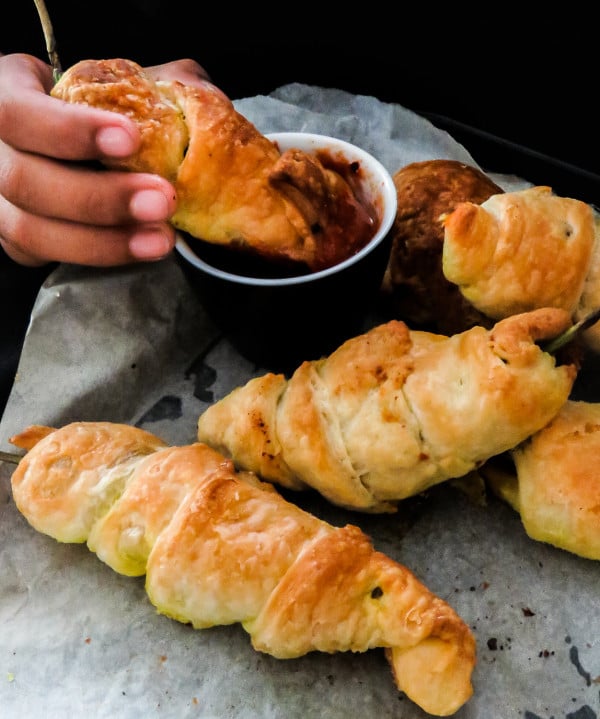 Here's what I found out about the history of Puff pastry,have you even heard of the pastry war?
for sure, finding the story behind food is never boring.
The following extract is from www. the kitchen project.com
PUFF PASTRY: Originating in France, they call this as pâte feuilletée or feuilletage.
Puff Pastry was invented in about 1645 by a French pastrycook's apprentice named Claudius Gele. At the end of his apprenticeship, Claudius wanted to bake a delicious loaf of bread for his sick father, who was prescribed a diet consisting of water, flour and butter. Claudius prepared a dough, packing the butter into it, kneading the dough out on the table, folding it, and repeating the procedure ten times, after which he moulded the dough into a loaf.
The pastrycook, who had watched the procedure, advised Claudius against baking the loaf as he thought the butter would run out of it. Nevertheless, the loaf was put in the oven, and as the loaf baked, both the pastrycook and Claudius were more and more surprised at the shape and the unusual size it attained.
Having finished his apprenticeship, Claudius left for Paris, where he found work at the Rosabau Patisserie. Here he completed his invention, which won the shop an enormous fortune and name. Claudius later went to Florence, where he worked in the Brothers Mosca's pastry shop. The brothers Mosca reaped the honour of having invented the Puff Pastry, although Claudius kept his secret to himself and always prepared his pastries in a locked room. Claudius died in 1682, a highly regarded artist.
And if you want to read the story behind "The Pastry war", here's the link
RECIPE TIME
As Srilankans, we love the deep-fried stuffed Banana peppers(fried malu miris)as a snack but coating it with egg and bread followed by deep-frying to perfection can be tricky and time-consuming, time, I often don't have, time that the terrible four refuse to give me, so this is what I came up with, if you make the filling ahead, it'll take you less than forty-five minutes, even less if you're really fast.

What you will need
For the filling
7-8 Capsicums( Banana Peppers, I've chosen the smallest one's I can find as the puff pastry rises, the quantity of how many, will depend on you, as a reference I've mentioned 7-8)
250g mince meat
1 large onions
1 large tomato
1 tablespoon Ginger
1/2 teaspoon Turmeric
1/2 teaspoon Pepper
Salt to taste.
Puff pastry
1 cup Grated Cheese
Directions
filling
Heat a pan with Oil on medium fire and cook the Onions, Tomatoes, Ginger first, once the Onions turn translucent, include the mince meat with Turmeric and Pepper, make sure the salt and the taste is as you need, allow the meat to cook well and leave it to cool.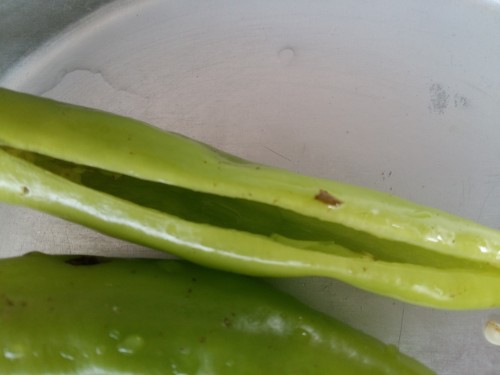 If possible choose slightly smaller Capsicums or any type of peppers you prefer because as it bakes the pastry encased peppers tend to become twice the size.
Slit the Capsicums lengthwise and remove the seeds, leave some if you want the heat, once you've cleaned the capsicums, widen the slit you've made and fill it with the mince meat mixture and cheese, don't worry about the Capsicum breaking at certain areas as you will be wrapping them with pastry.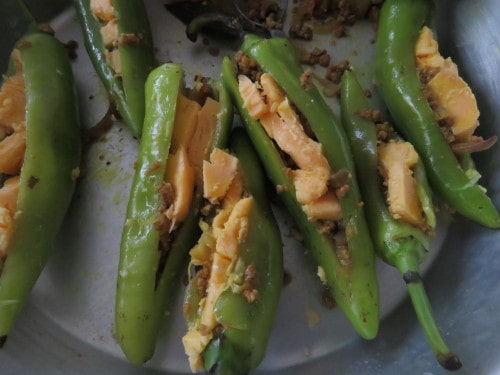 Once all the capsicums are filled with mince meat and cheese, cut out strips of puff pastry and wrap it around the peppers, after trial and error, I've found that this is the best way to encase the peppers, start with a corner and wrap
until you reach the top of the pepper.
.
Brush with oil and bake at 170c for at least of 10-12 minutes or until they turn golden, if you're using prepackaged puff pastry follow the baking instructions given.
Did I mention how easy this was?
Now all you need is some hot sauce to make this a complete snack.