A homemade meal plan to indulge yourself in traditional Sri Lankan food.
kalupol chicken curry, creamy pumpkin curry, bean curry and banana flower stir-fry.
Delicious, authentic homemade rice and curry menu you can try at home. This is the 6th meal plan in my series of Sri Lankan menus.
Sri Lankan Meal plan 6.
These menus are only a guide and can be changed and adjusted as per your requirements.
Let's begin…
Dish 1.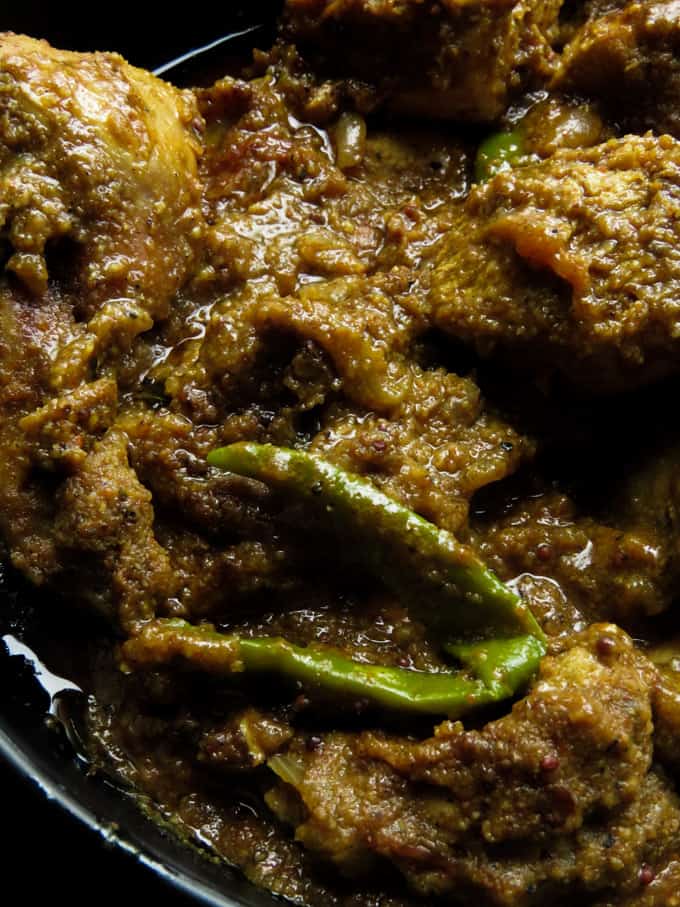 Kalupol-Sri Lankan chicken curry.
Give a rest to your usual Sri Lankan way of cooking chicken curry and try this kalupol chicken curry.
It has a thick gravy and almost looks like a dry curry.
Since the chicken curry will take you the longest to cook, make it first and gradually move on to the next curry or cook two dishes at the same time.
Dish 2.
Sri Lankan banana flower-fry(kesel muwas seeni sambol).
A vegan/vegetarian"rice puller" as we like to call it.
A combination of fried onions and banana flower fried and then mixed together with a few other ingredients.
This simple dish, not only adds colour to the menu but is an authentic Sri Lankan dish/condiment you can try.

Dish 3.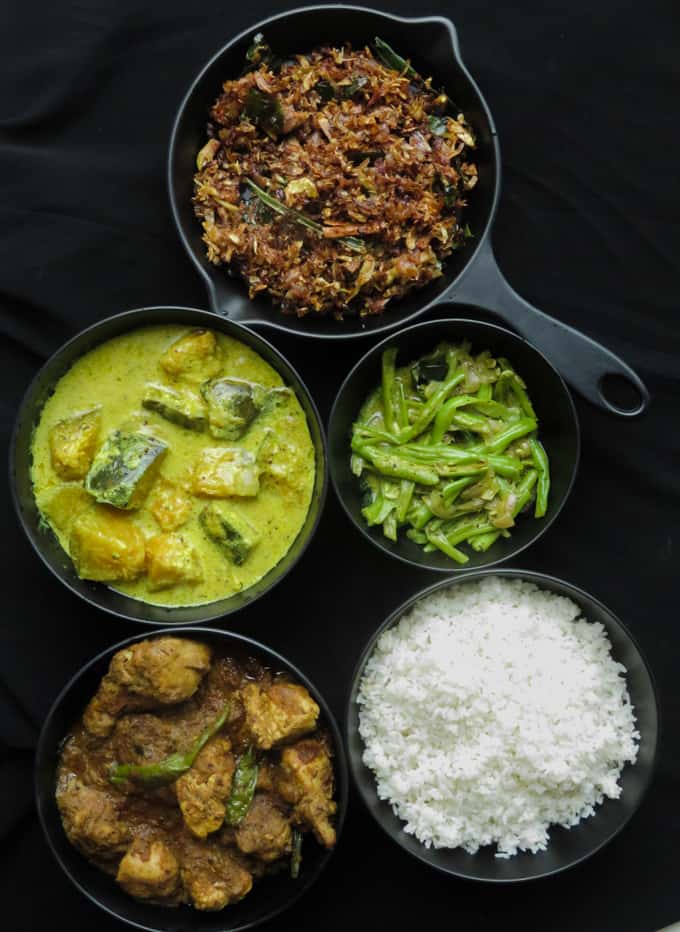 Pumpkin curry is a dish I cook very often for the kids, they love it, I love it so it ends up in our menu very often.
You can replace the pumpkin curry with any of the other milky Sri Lankan dishes on the blog.
There's also another version which is the kalupol pumpkin curry you can try as well.
Dish 4.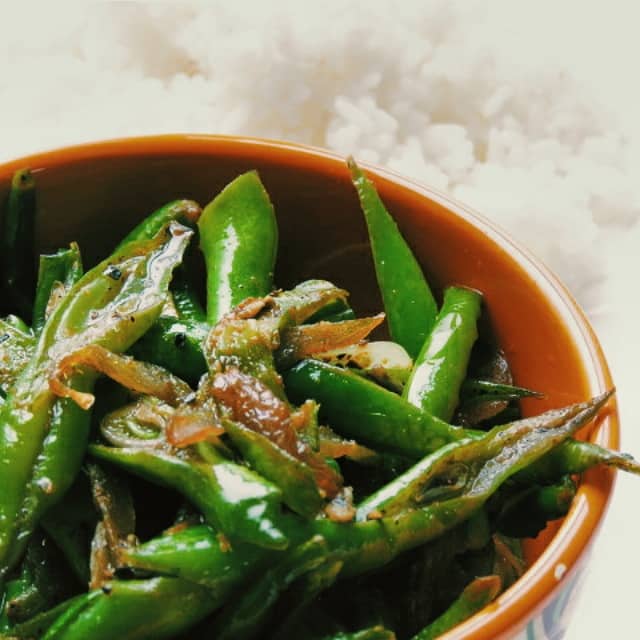 Bean curry is another favorite of ours that you can replace.
You can either keep the bean curry as a stir-fry or add a little coconut milk and make it a creamy bean curry.
There are quite a few variations of bean curry on the blog, take a look at them if you want to replace this dish with another bean dish.
Save the recipe to your favorite Pinterest board!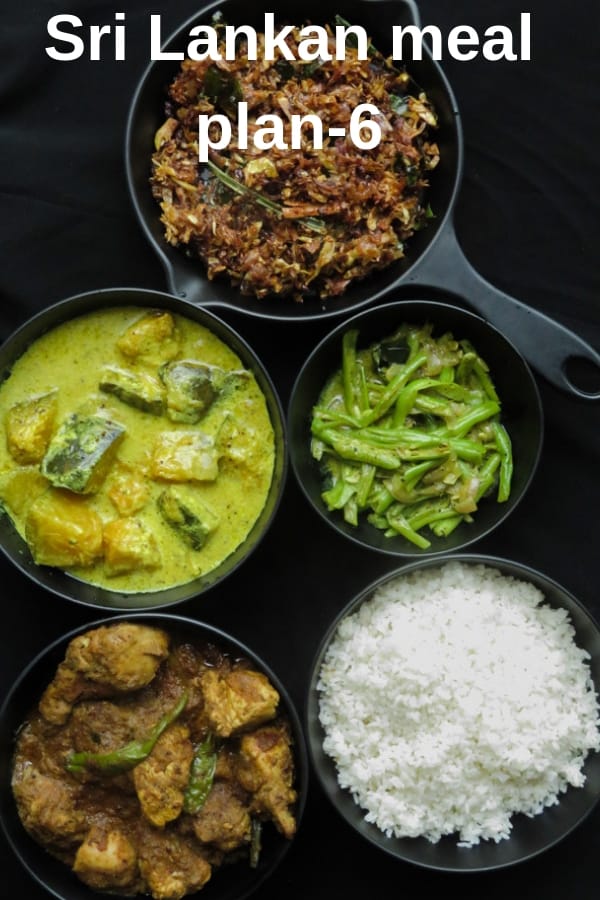 Add a bowl of rice and you are good to go.
If you need a salad for the menu, try the spicy onion sambol or an easy spicy Thai salad.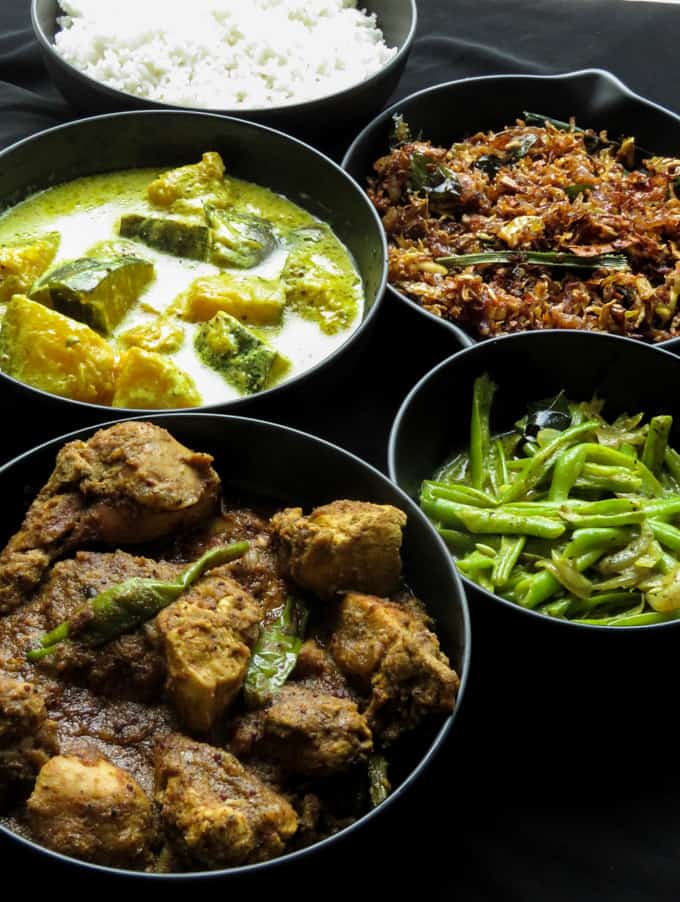 Made this Sri Lankan meal plan?
Please don't forget to rate the recipe on the recipe card so other readers find it helpful and show me your recipe by tagging me #islandsmile178 on Instagram.
Other Sri Lankan food menus, you can try.
Sri Lankan food menu 4
Sri Lankan food menu 5
Each recipe on this blog has been written with great care and love towards readers who want to cook food for their family.
It's free and on the blog, for you to try anytime.
All I ask is that you do not save it on any apps, recipe boxes or online groups which will affect me as a food blogger and the growth of this blog. I would appreciate if you only share the link rather than the full recipe.
All images and text on this website are protected by copyright.