Sri Lankan pumpkin curry in roasted coconut.
Also known as "kalu pol wattakka", a much creamier, thicker pumpkin curry than what you'll be accustomed to, try it.
With the help of roasted rice and coconut, a regular Sri Lankan pumpkin curry transforms into a thicker and creamier dish.
If you cook pumpkin at least once a week, then next time, try making this version of the Sri Lankan pumpkin curry for a change, I guarantee, you won't be disappointed with the taste and aroma.
And yes, the taste of this pumpkin curry with roasted coconut and rice is different from the regular pumpkin curry we cook for our meals and unless you cook it, you won't know the difference.
SAVE THE RECIPE TO YOUR FAVORITE PINTEREST BOARD!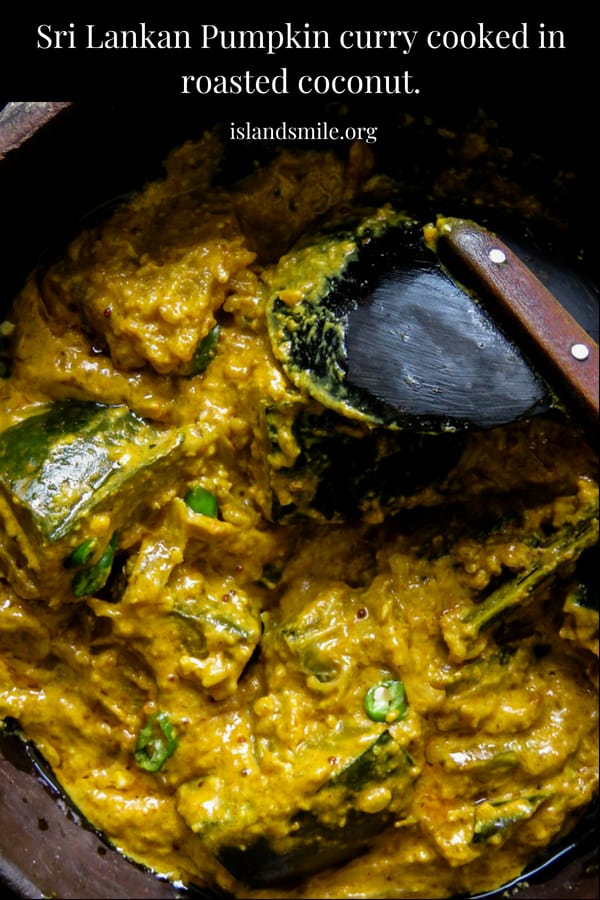 Dinner and lunch ideas with roasted coconut and rice pumpkin curry.
Ideally, this roasted coconut pumpkin curry will go with any of the Sri Lankan lunch meal plans that I have posted on the blog.
If you are thinking about how to incorporate the dish for dinner, I think the roasted coconut pumpkin curry will go well with Dosas. what do you think?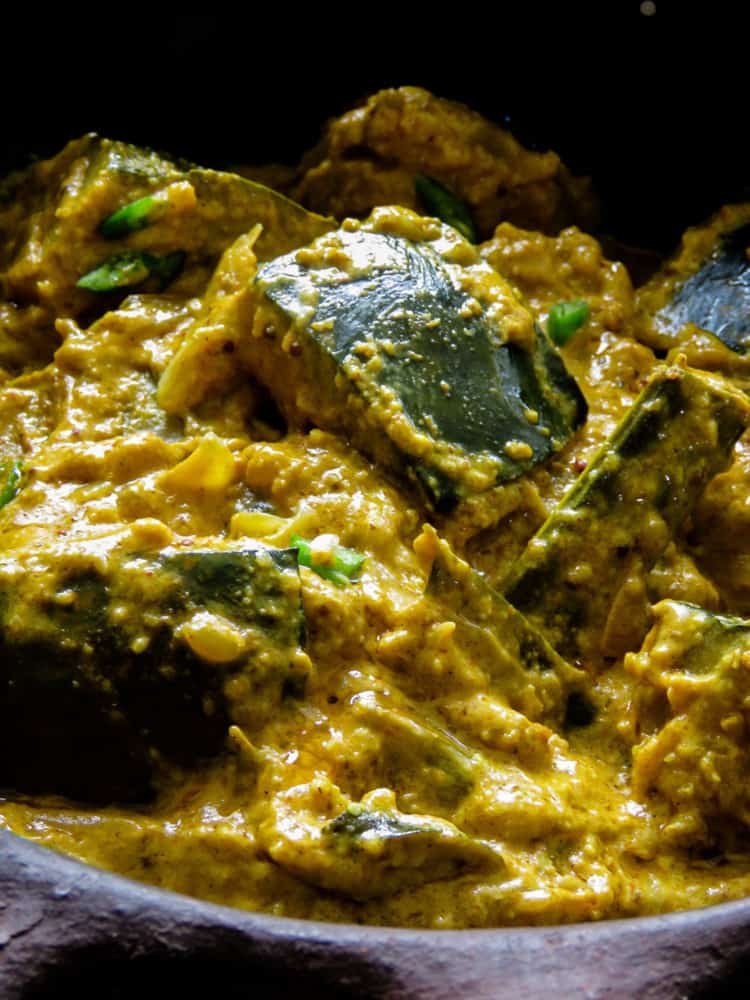 Kitchen equipment and utensils you will need to make a Sri Lankan Pumpkin curry cooked with roasted coconut(Kalu pol wattaka).
A small grinder to powder the roasted coconut and rice or you can simply use a mortar and pestle.
Cooking pan, if you can find a clay pot then try cooking the curry in it.
Recipes with pumpkin you might like to try.
Pumpkin Curry(Sri Lankan, vegetarian).
Pan-fried turmeric-mustards Pumpkin.
Easy beef and pumpkin curry(Sri Lankan, one pot).
RECIPE DIFFICULTY- LITTLE CARE NEEDED
Sri Lankan Pumpkin curry cooked w/roasted coconut(Kalu pol wattakka).
Please make sure to read the recipe instructions carefully to avoid mistakes.
Ingredients
The ingredients mentioned below use standard measuring cups and spoons.
2 tablespoons of raw rice
1/3 cup freshly scraped coconut.
3 tablespoons of oil
1 large onion cut into thin slices
A handful of curry leaves
A long piece of pandan leaf
3 green chilies, split in the middle
1 teaspoon mustard seed
1/2 teaspoon fenugreek seed
500g of pumpkin cut into cubes
2 tablespoons of roasted curry powder
1 teaspoon chili powder(add more if you feel you can handle the heat)
1/2 teaspoon of turmeric powder
1 cup of water
1 cup of coconut milk
Method
Using a non-stick pan or a clay pot, over medium heat dry roast the raw rice until they turn brown, reduce heat if necessary to avoid burning the raw rice. 3-5 minutes. when done, set aside.
Using the same pan, over low-medium heat dry roast the grated coconut until they turn slightly brown, make sure you don't burn the coconut. 3-5 minutes.
Grind the roasted rice and coconut until they turn into a powder. since the quantity is less you can even use your mortar and pestle to pound the ingredients. set aside.
Cut the pumpkin into 1-inch.
Place a medium-sized cooking pan over the stove, pour oil, and let it heat for a few seconds.
Add onions, curry leaves, pandan leaves, green chilies, and cook until the onions turn translucent. add the fenugreek and mustard seed, cook for a few seconds(avoid sauteing the mustard and fenugreek for a long period of time as they will turn the curry bitter if burnt)
Still over medium heat, add curry powder, turmeric, chillie powder, and roasted coconut-rice powder.
Cook the ingredients in the pan while constantly mixing it. 3-5 minutes. you'll get a semi-liquid curry paste. reduce fire to avoid burning or the paste sticking to the pan.
Add the pumpkin pieces to the curry paste and combine. let the pumpkin cook in the paste for a few minutes while mixing.
Pour in water, season with salt, and leave it to slowly simmer until the pumpkin turns slightly soft. 20 minutes.
Pour in the coconut milk (if there's still a bit of water left, that's fine). Slow simmer until the gravy turns thick, 20-25 minutes.
Serve warm.
Each recipe on this blog has been written with great care and love to the best of my ability with you in mind.
It's free and on the blog, for you to try anytime.
All I ask is that you do not save it on any apps, recipe boxes or online groups which will affect me as a food blogger and the growth of this blog. I would appreciate if you only share the link rather than the full recipe.
All images and text on this website are protected by copyright.