Sri Lankan beef and pumpkin curry.
Part stew for your crusty bread or curry for your rice, either way, you'll enjoy this dish of delicious gravy, tender beef and pumpkin cooked in Sri Lankan spices.
The subtle sweetness of the pumpkin, tender beef that's been cooked in coconut milk with a variety of spices gives you a perfectly balanced dish that goes with almost any type of carbs.
Even if you decide to ditch your usual rice and bread, replace it with cooked pasta or noodles, this beef and pumpkin curry will not disappoint you. the recipe can be used for any type of meal.
The dish is an example of a good pairing as both the main ingredients(beef and pumpkin)complement each other with meaty and smooth textures.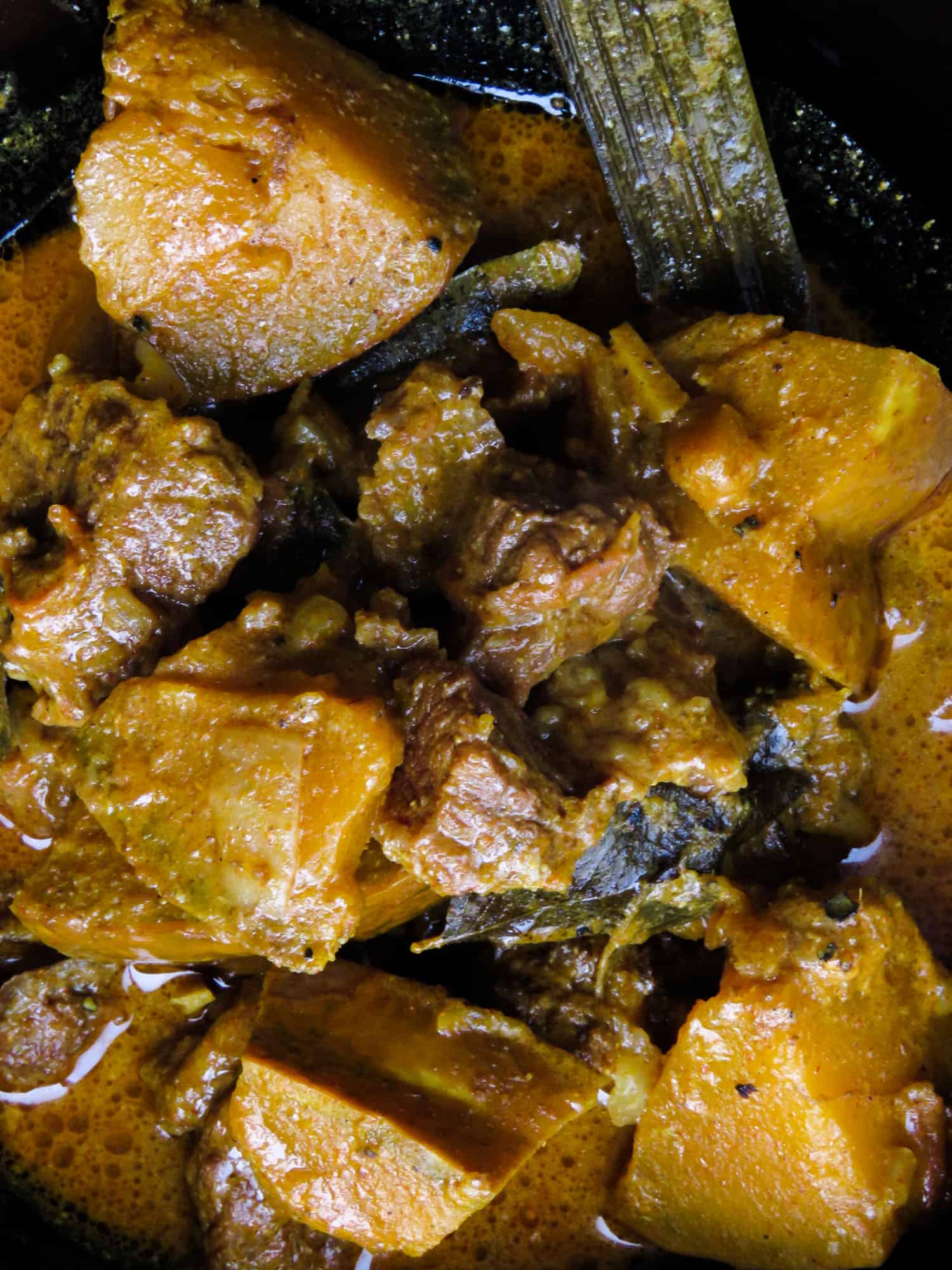 Lunch idea
Busy day?
All you have to do is cook a pot of this beef and pumpkin curry, some rice, your favorite salad, fry some poppadoms, for a much-needed crunch and you'll have a simple yet delicious meal for your family.
It's perfect for weekends when you want the family to have a home-cooked meal without the usual fuss of cooking up multiple dishes.
And if you don't mind having the same for dinner then serve the curry with some fresh, crusty bread.
Breakfast idea
But then, if you don't want to use leftover Pumpkin and beef curry for dinner then save it for breakfast.
All you have to do in the morning is to transfer any leftover curry to a frying pan, crack a few eggs into it and let them poach in the gravy.
Add some cheese if you want to and serve with bread. have I mentioned how versatile and budget-friendly this dish is?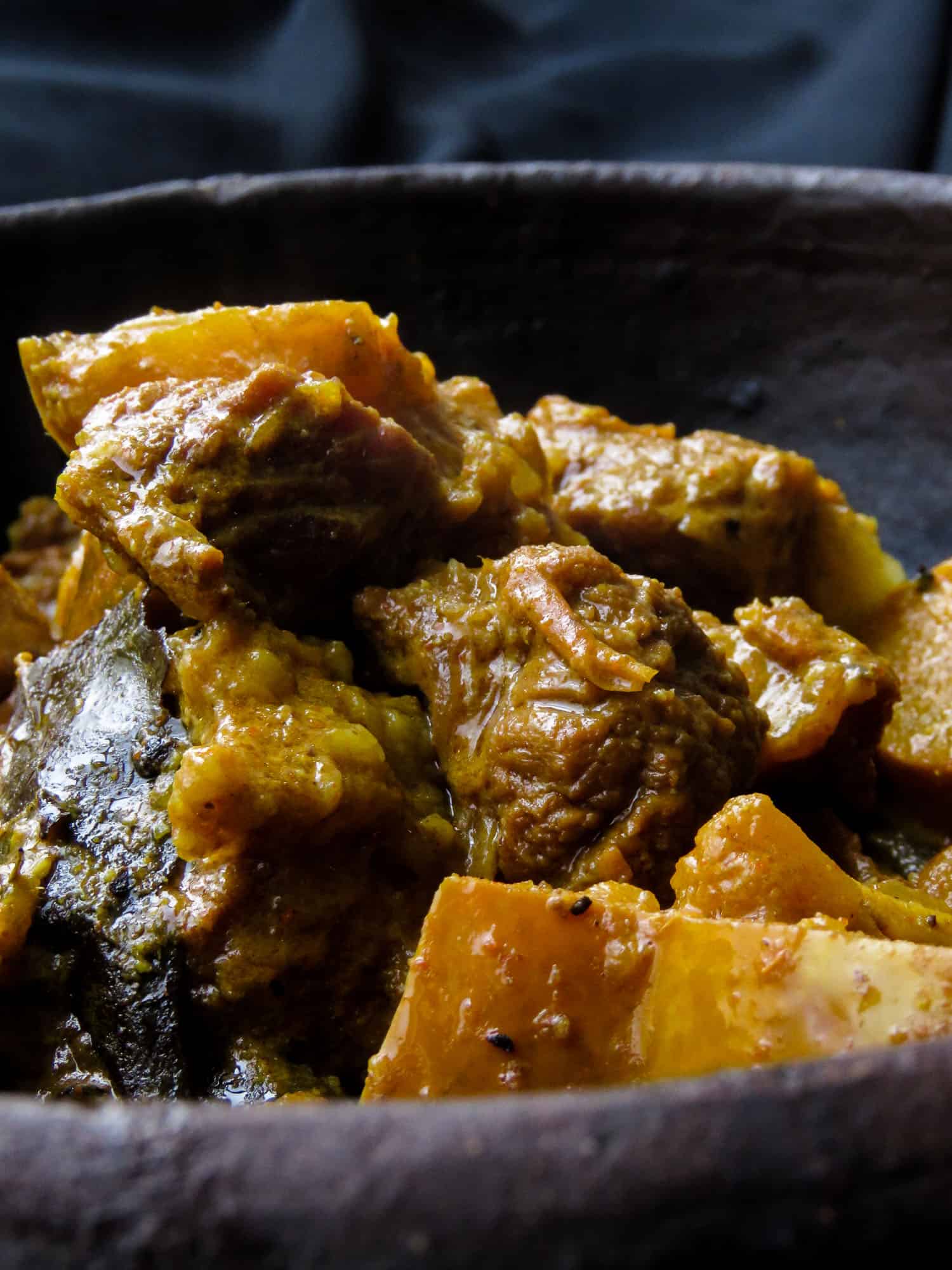 Is this beef curry different from your slow-cooked Sri Lankan beef curry?
Yes, slightly. there are a few differences to my grand mother's recipe, they are,
1/I've not tempered any ingredients or used oil in this recipe and instead of cooking in thin milk, I've cooked the beef in water, followed by a cup of milk.
2/instead of adding ingredients in stages, I've also added all the spices and other ingredients together.
3/you will find that the gravy is not so thick as the slow-cooked beef recipe. I decided to keep the gravy thin as the pumpkin adds a different layer of taste to the curry and gravy.
Can I par-boil and add the pumpkin to the beef curry?
You can, but the idea behind cooking the pumpkin in the beef gravy is to give them enough cooking time to absorb the spices of the gravy as well. This makes for a better curry.
SAVE THE RECIPE TO YOUR FAVORITE PINTEREST BOARD!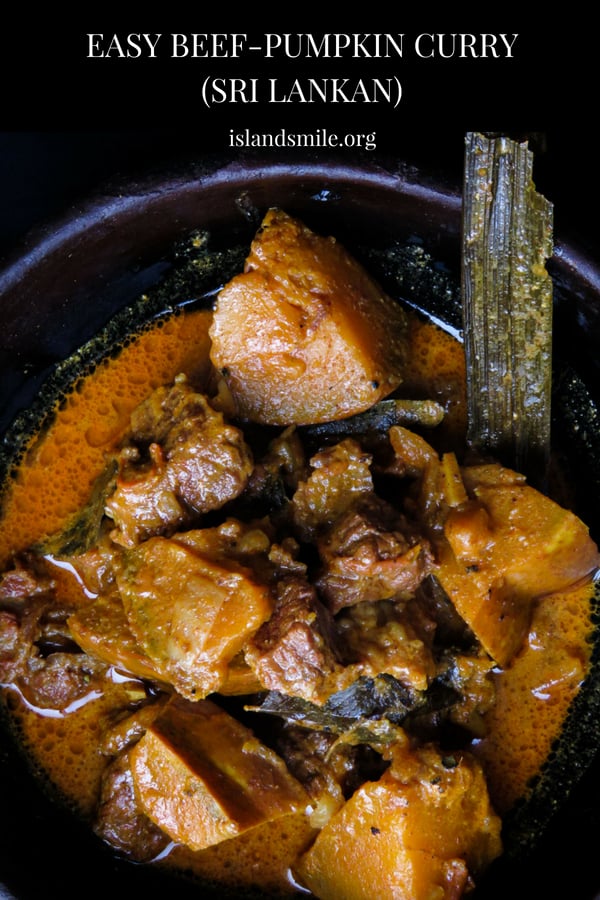 Sri Lankan beef and pumpkin curry.
500g of good Beef cut into required size(smaller than the pumpkin cubes)
2 tablespoons of chilli powder
1 teaspoon turmeric
1 1/2 tablespoon coriander powder
1 teaspoon curry powder
1 tablespoon of tamarind(soaked in 1/2 cup warm water)
Salt 1/2-1 teaspoon
1/2 teaspoon of sugar
1 large onion finely sliced
2 large green chilli
1 medium-sized tomato chopped
A handful of curry leaves
a large piece of pandan leaf
1-2 inch piece of cinnamon
4 slightly bruised Cardamom
1 tablespoon of minced ginger
1 tablespoon of minced garlic
500g of pumpkin cut into required size(slightly larger than the beef)
3 cups of water
1 cup of thick milk(1/2 cup of coconut milk if you want less gravy, 1 cup if you want more gravy).
Method
Assemble all the ingredients you need for the recipe.
Use a pan, large enough for both the beef and pumpkin pieces to be moved while cooking.
Have the beef and pumpkin cut into the required size, cut the pumpkin slightly larger than the beef, so they are easy to stir.
To a large cooking pan, add the beef cubes, followed by turmeric, chilli powder, coriander powder, curry powder, tamarind, onions, ginger, garlic, pandan leaves, cardamom, cinnamon, tomato, sugar and salt to season.
Combine all the ingredients with the beef and leave it to marinate for 10-15 minutes.
Once marinated, place the pan over medium heat, pour in water, cover with a lid and slow simmer the beef for 45 minutes or until the beef is tender and water is reduced by half.
Once the beef has been cooking for 45 minutes and the chunks are tender, add the pumpkin pieces, combine and slow simmer for further 10 minutes, if you find that there isn't enough water to cook the pumpkin, add half a cup of water or just enough water to soften the pumpkin halfway.
Pour in the coconut milk(pour 1/2 cup for less gravy, 1 cup for more gravy)and then gently stir the pumpkin with the beef, taste and season with salt if necessary, cover and slow simmer for 30 minutes more or until, both the beef and pumpkin are cooked and the gravy is reduced by half and thick.
Serve warm.
Each recipe on this blog has been written with great care and love to the best of my ability with you in mind.

It's free and on the blog, for you to try anytime.

All I ask is that you do not save it on any apps, recipe boxes or online groups which will affect me as a food blogger and the growth of this blog. I would appreciate if you only share the link rather than the full recipe.
All images and text on this website are protected by copyright.