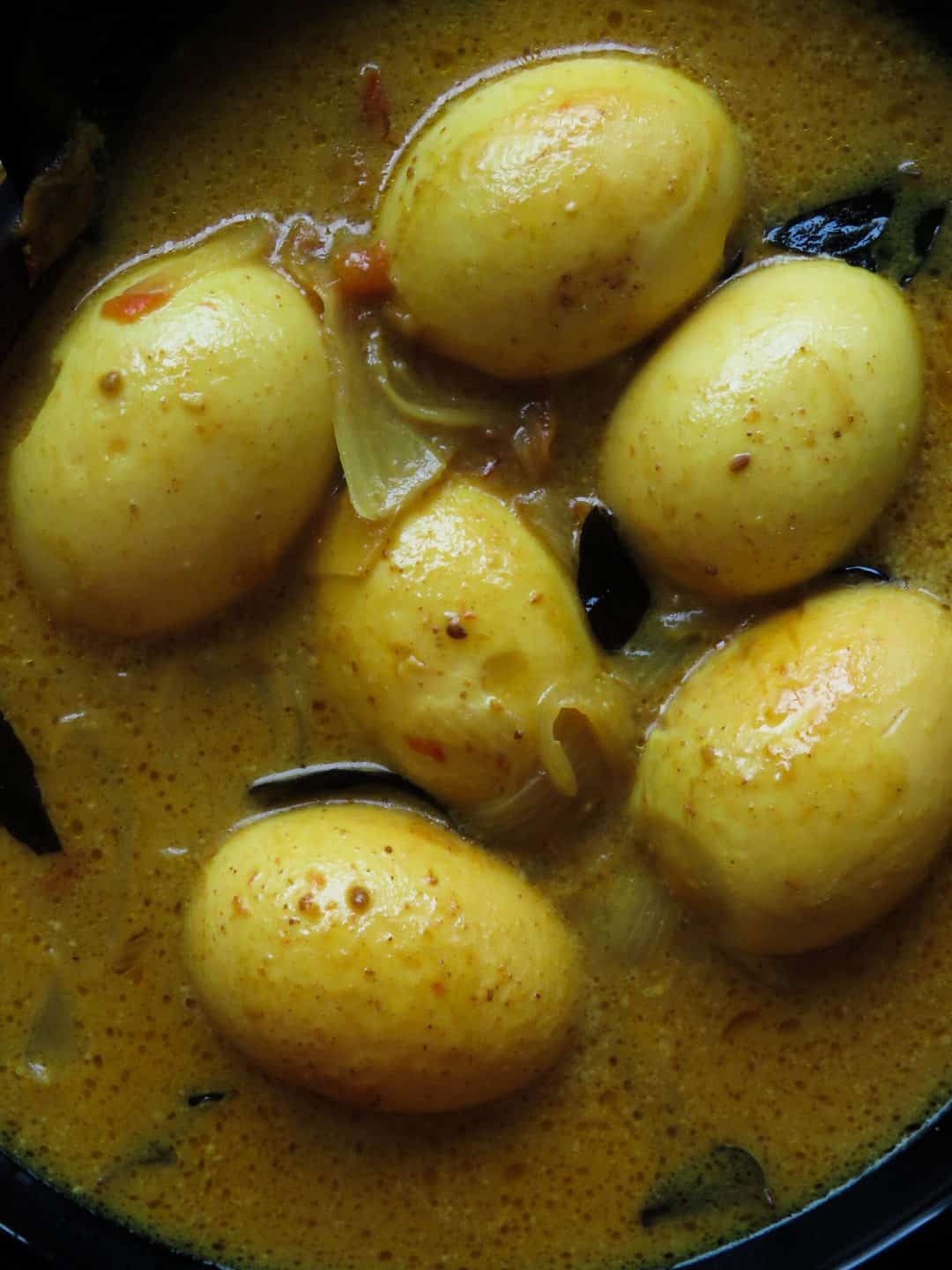 Easy Sri Lankan egg curry- start with the gravy and then drop a few hard-boiled eggs. It's that easy.
Hard-boiled eggs, a few spices, thick coconut milk, these are the ingredients you'll need to make this mildly spiced dish.
Eggs being a staple in most pantries, you can make the curry any time.
If you would like another version of an egg recipe, try my curried egg stir-fry first.
Egg recipes are great when you need a break from heavy meaty dishes as well.
Hi there, thank you for stopping by, I hope you make this recipe for your family. if you enjoyed it, please let me know, if you feel the recipe needs a few tweaks, even then, drop me a message. 
I am on almost all the social media you are in and you can find me, on Facebook, Twitter, Instagram and Pinterest. You can keep track of new recipes by liking or following the blog social media profiles but life happens and I do forget to update them sometimes.
 If you've found the recipes posted here are helpful in any way, then please subscribe to the blog, this is the only reliable way that I can keep in touch with you. Thank you again for your time and don't forget, Subscribe for new recipe updates!
Make the egg curry spicy as you want.
I've reduced the heat(by that I mean the spiciness) of this egg curry.
This dish is really a mild curry which gives you the opportunity to adjust the level of heat by adding an extra teaspoon of chilli powder or even green chillies, It's up to you.
What can I serve with the coconut
milk based egg curry?
Usually, the egg curry is served with string hoppers or bread, the curry works well for breakfast and dinner.
Serve the curry with a good pol sambol and a meat dish of your choice.
I would suggest some kind of a fish curry, either a regular Sri Lankan fish curry, Ambulthiyal or this lovely chilli fish curry.
If you are following the above meal ideas,  I would really recommend having this Sri Lankan egg curry mild because every other dish in the above menu is spicy.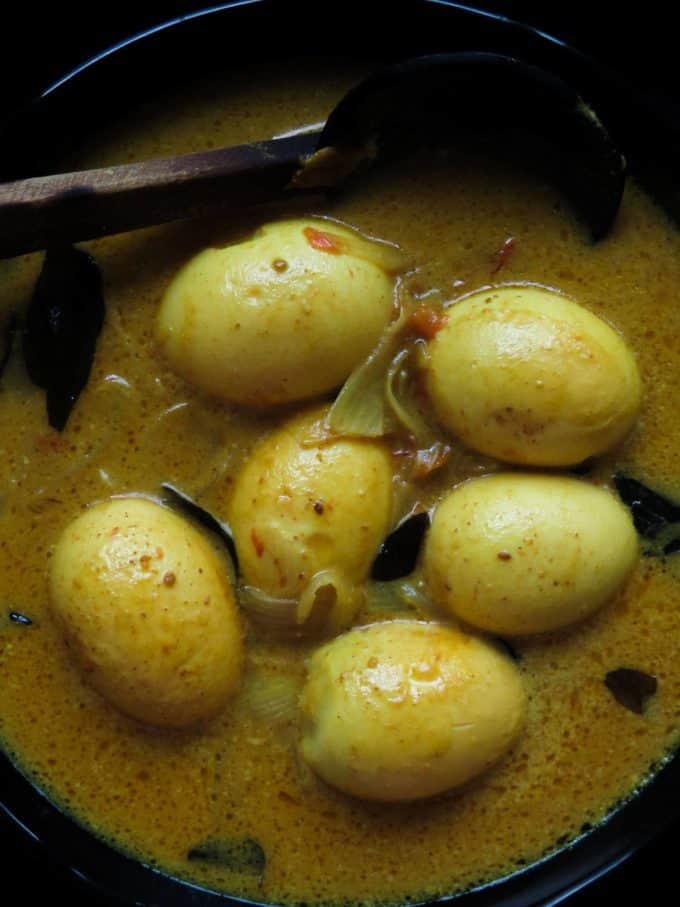 Can I cut the eggs in half and add them to the egg curry?
You can halve them and place them in the gravy to cook, I would actually recommend you cut the egg in two, this way the eggs can absorb the flavors of the gravy.
Save the recipe to your favorite Pinterest board by pinning the image below!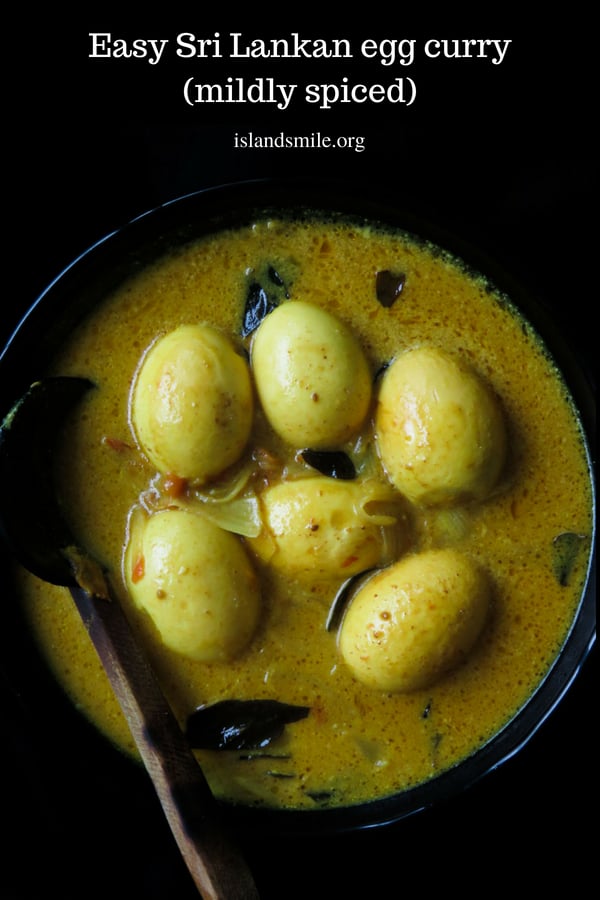 recipe – Easy Sri Lankan egg curry(mildly spiced). 
Please make sure to read the recipe instructions carefully to avoid mistakes.
Ingredients
Ingredients mentioned below use standard measuring cups and spoons.
1 medium-sized onion finely sliced
A piece of cinnamon(1 inch)
1 teaspoon of turmeric powder
1 teaspoon of curry powder
1/2 teaspoon chillie
 powder
1 tablespoon of Maldive fish(optional)
Method
How to boil eggs for the egg curry.
Use a medium to large pot to boil the eggs, you'll need a pan large enough to hold the eggs without crowding them.
Pour in the water(3-4 cups) and add 2 teaspoons of salt and let the water boil until bubbles appear on the surface.
Once the water boils, reduce heat and use a ladle(spoon) to gently add the eggs into the boiling water.
Immediately reduce heat to simmer, cover with a lid and cook for 10-12 minutes.
Once the eggs are cooked for 12 minutes, remove from stove, keep the eggs for an extra 2 minutes. then place the pan under running water and let the eggs cool.
When the eggs are cooled, gently tap the eggs over a hard surface and peel the shells off the eggs.
Cooking the curry.
In a separate pan, pour in 2 tablespoons of oil, sauté curry leaves, sliced onions, garlic, green chillies, cinnamon, turmeric, curry powder, fenugreek over medium heat until the onions turn translucent(add ingredients in the given order with a few minutes in between for the ingredients to sauté). 5 minutes.
Pour in the coconut milk, season with salt and add the Maldive fish(optional). gradually bring to boil. 
Once boiled(keep an eye so that the gravy doesn't spill over), immediately reduce heat and let the gravy slow simmer for 5 minutes.
Once you notice the gravy thickening, gently add in the hardboiled eggs to the gravy and slow simmer for a few more minutes. 7-10 minutes and serve warm
EASY SRI LANKAN EGG CURRY(MILDLY SPICED).
EASY SRI LANKAN EGG CURRY- START WITH THE GRAVY AND THEN DROP A FEW HARD-BOILED EGGS. IT'S THAT EASY
Ingredients
Ingredients mentioned below use standard measuring cups and spoons.
1 medium-sized onion finely sliced
A piece of cinnamon(1 inch)
1 teaspoon of turmeric powder
1 teaspoon of curry powder
1/2 teaspoon chillie powder
1 tablespoon of Maldive fish(optional)
Instructions
How to boil eggs for the egg curry.

Use a medium to large pot to boil the eggs, you'll need a pan large enough to hold the eggs without crowding them.

Pour in the water(3-4 cups) and add 2 teaspoons of salt and let the water boil until bubbles appear on the surface.

Once the water boils, reduce heat and use a ladle(spoon) to gently add the eggs into the boiling water.

Immediately reduce heat to simmer, cover with a lid and cook for 10-12 minutes.

Once the eggs are cooked for 12 minutes, remove from stove, keep the eggs for an extra 2 minutes. then place the pan under running water and let the eggs cool.

When the eggs are cooled, gently tap the eggs over a hard surface and peel the shells off the eggs.

Cooking the curry.

In a separate pan, pour in 2 tablespoons of oil, sauté curry leaves, sliced onions, garlic, green chillies, cinnamon, turmeric, curry powder, fenugreek over medium heat until the onions turn translucent(add ingredients in the given order with a few minutes in between for the ingredients to sauté). 5 minutes.

Pour in the coconut milk, season with salt and add the Maldive fish(optional). gradually bring to boil.

Once boiled(keep an eye so that the gravy doesn't spill over), immediately reduce heat and let the gravy slow simmer for 5 minutes.

Once you notice the gravy thickening, gently add in the hardboiled eggs to the gravy and slow simmer for a few more minutes. 7-10 minutes and serve warm