A moist and fluffy chocolate chip muffin makes even the fussiest kids love breakfast. freeze them and you've got weekend mornings covered.
This one needs no introduction, it's a classic that never fails to deliver smiles and a mad dash to get the last one remaining, whether as a snack or a Breakfast there's something comforting about homemade chocolate chip muffins.
BREAKFAST IDEA 5 – CHOCOLATE CHIP MUFFINS.
I bet you've seen a million of these chocolate chip muffins floating on the net but does it really matter?
All it does is show you how versatile, easy and popular they are. I bake them for the simple joy of filling my home with the aroma of freshly-baked muffins, Just make them this weekend and see how the kids are drawn to it like magnets, like I mentioned earlier even the fussiest eater can't make a….well, fuss over these.

So I decided, chocolate chip muffins are a must on my month long theme of BREAKFAST.
To my regular readers I apologize for the repeat of these few lines but if you've just stumbled here,
Did you miss any of my other Breakfast themed recipes?
If you did, here's the list for you to go through, click on the names and they'll take you to the recipes,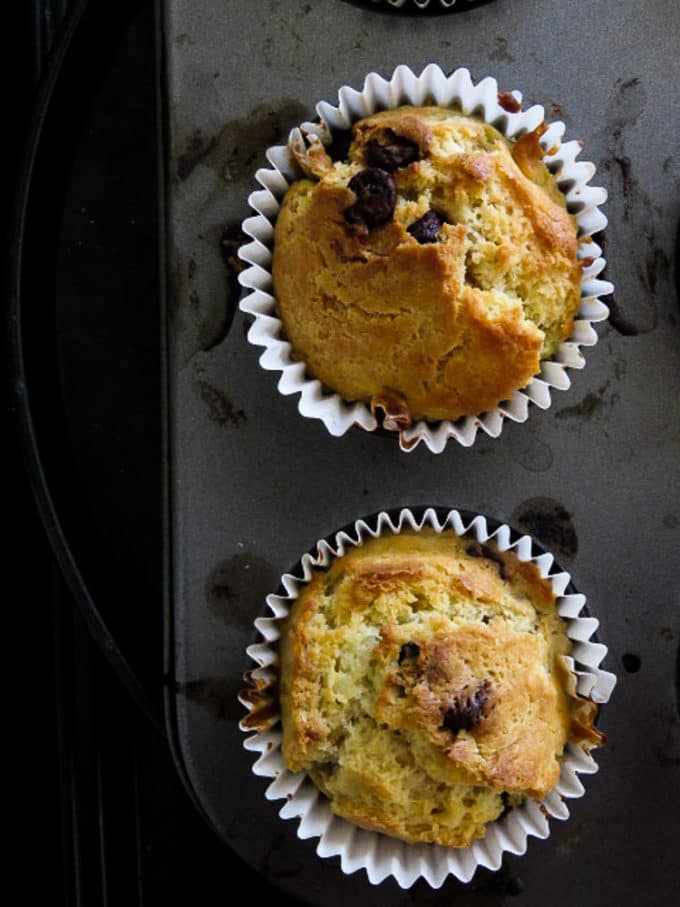 The chocolate chip muffin recipe I'm using here is basic. Vanilla and chocolate chips are my hero ingredients here. If you are a first-time baker(like I was a year ago). The first thing you'll need to do is achieve the airy. the fluffy texture of a good muffin, I had to make a few tough, dense, rock-hard muffins until I finally got it right.
What do you think is the secret for a fluffy, moist chocolate chip muffin?
I'm not an expert when it comes to baking, all I've learned so far is by trial and error and one of the most important fact about baking a good muffin I learned, is to never stir the ingredients too much and use a folding movement to incorporate them. I use a fork to gently break the tiny flour lumps I find in the batter. This means the folding of the batter should be done in less than ten movements of the spoon you are using.
How long should I bake the muffins?
Depending on the type of oven you are using, the ideal bake time would be between 20 to 25 minutes. for me, twenty-two minutes is how long it takes to get a good batch of muffins.
How should the chocolate chip batter look like?
The batter should be thick and should not fall off the spoon quite so easily, slightly thick with a wet texture.
CHOCOLATE CHIP MUFFIN.
Please make sure to read the recipe instructions at least once to avoid mistakes.
Makes 12 cupcakes
Ingredients
2 cups of plain flour
4 teaspoons of baking powder
1/3 teaspoon salt
100g butter(1 and 1/4 cup)
2 and1/2 tablespoons of sugar
2 eggs
1/2 teaspoon of vanilla essence
1 cup milk
1/2 cup semi sweet chocolate chips
Method
Before you start mixing all the ingredients together, make sure they are at room temperature, especially the eggs, milk, and butter.
Preheat the oven to 170C(375F) and line your baking pan with paper muffin cups.
In a large bowl, sieve flour, baking powder, and salt while in a separate bowl combine sugar, Vanilla, eggs, Butter and the milk. Mix the wet ingredients until the sugar melts.
Once this is done, gently pour in the wet ingredients to the dry and fold in the batter so the ingredients are mixed. Keep the folding to a minimum. As I mentioned before, the more you stir the more the batter becomes stiff resulting in hard, dense muffins, if you find tiny bits of flour lumps just break them with a fork.
Fold in the semisweet chocolate chip.
Spoon in two or three tablespoons of the batter into the muffin paper cups and bake for 20-25 minutes.
Once they are baked, leave them to cool, remove the muffins from the muffin tin and enjoy.
The weekend is here friends and I need a break and enjoy the weekend with the family but join me next week again when I continue on more breakfast-themed recipes.
Classic chocolate chip muffins
Save
Save
Save
Save
Save
Save
Save
Save
Save
Save
Save
Save
Save
Save
Save
Save
Save