It's Monday, let's do a Brakfast Bowl.
I like to call these"Happy Bowls", don't ask me why, the name just popped out of nowhere and I'm keeping it. I've done four to five bowls for future posts and it's already a hit with the terrible four. There's always a shout out,"It's my turn!".
The fruits I chose were in season except for the Strawberries.

You should always start with the Mangoes, I'm declaring it the National fruit of Sri lanka(at least on my blog).
They give you vitamins, minerals, antioxidants, folic acid and many other essentials your body needs.
Papaya, an underrated fruit, strengthens immunity, cures ulcers, minerals, vitamins etc.

Strawberries and Guavas. The Guavas especially helps to regulate metabolism, vitamin-A for good eyesight, great for diabetes, Vitamin C, antioxidants and did you know it's the least chemically treated fruit?

Go eat some Guavas now!
Followed by juicy, sweet chunks of Melon.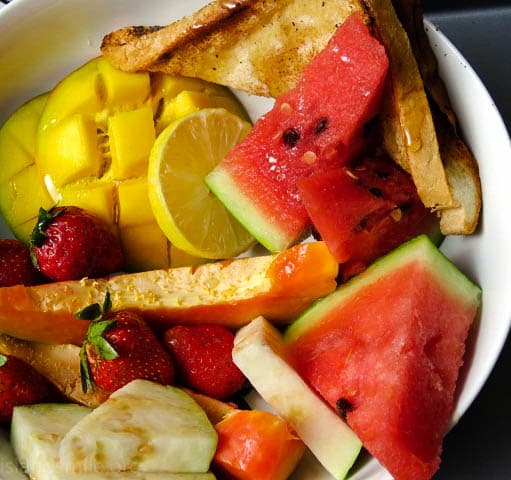 Toasted bread with drizzled Honey and you've got a Breakfast bowl to make even the "I'm not a morning person"snapping out of their moods.
Until the next "Happy Bowl",

Jehan.
Subscribe for future post by adding your email to the subscription box on the side bar or follow me on Instagram islandsmile178.