Another Srilankan lunch menu on islandsmile.org, Rice with Cabbage, Carrots cooked in Coconut milk with Ambarella and spicy Beef curry, to finish it off, include a salad made up of Onions and Tomatoes.
Stealing or should I say"borrowing"from my mother has become a favorite pastime of mine, raiding her pantry for spoons, clay pots and wooden boards, basically everything I think would be a food prop ends up stolen. She has the best worn from use cooking utensils that give character and tells a tale of cooking, at least this is what I think.
Used everyday, this particular clay pot is seasoned perfectly in color, I had to have it. Thank you mama.
Bowl time
A bowl of rice, find recipe here, follow it by adding a Cabbage and Carrot curry cooked in Coconut milk, you can use the same method of cooking mentioned here. The recipe for Ambarella curry is here.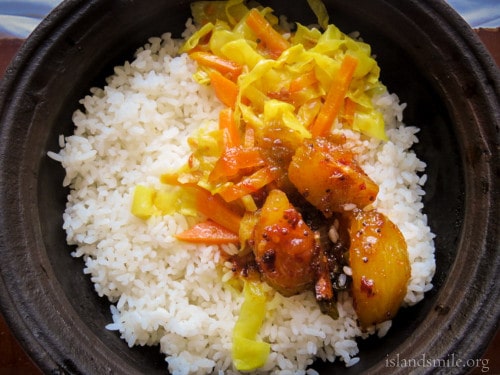 Mix up a few slices of Tomatoes and onions seasoned with salt and chilli flecks. I've included a Beef curry but you can substitute it with any other curries you wish. Maybe a Sri lankan chicken curry. find recipe here.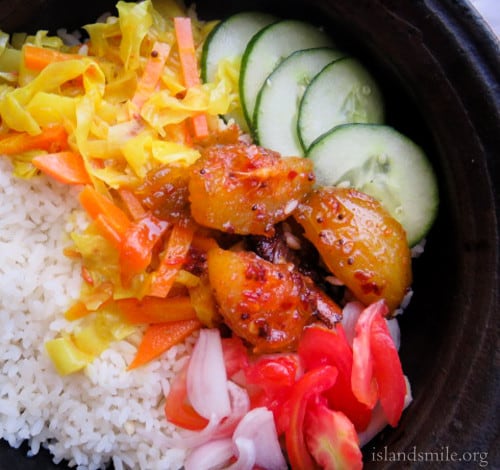 And you're done with another healthy lunch bowl. Keep in mind my theme bowls are just to give you an idea of a meal, you can either cut certain curries or change it according to your needs. The idea is to make improvise or make it your own. Stay tuned on Mondays for meals in a bowl.