When Breakfast has to be quick, easy and kid friendly, this Banana and Oats with a swirl of Nutella fits in perfectly as a go to Breakfast especially this holiday season. Its the easiest breakfast to make. The recipe comes with a how-to images makimg it easier to follow.
Scroll down to Recipe time should you wish to avoid thoughts and life in general by Mama to the terrible four or you can read on..
Do food bloggers get writers block?
For the life of me I can't seem to put my thoughts together and just write, I've been writing, deleting, over and over again, is it the season?
I think I need a holiday too. so this is what I'm going to do, give myself a break and head onto recipe time.
Recipe Time
Since it's the holiday and the kids are home, they've taken over what I should make, especially breakfast and dinner.
Today's theme is Breakfast and I've tried to use ingredients that were already there in the pantry, some of you might not have a Chocolate spread in hand but a few spoonfuls of Cocoa Powder or Malt Powder can turn these into chocolate muffins(careful with the quantity though, too much and it becomes bitter, start with a teaspoon) even the milk I used is the powdered variety.
The idea is to get the fuss out and put together a breakfast with the least amount of work, believe me, when you have four hungry mouths to feed early morning a few of these recipes in hand will help you survive the morning rush.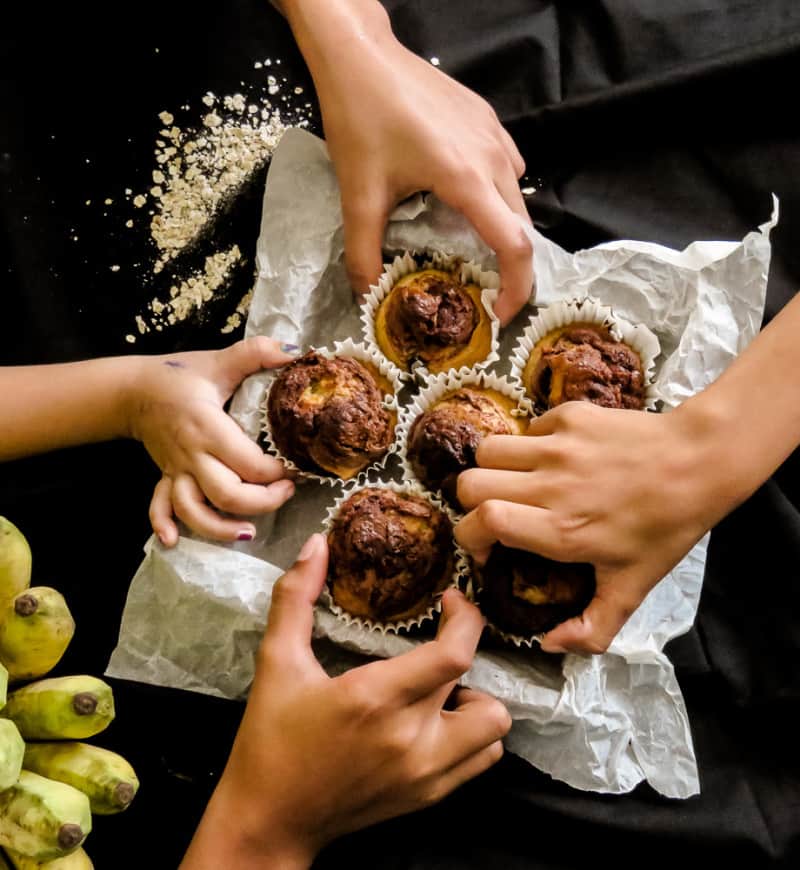 What to do when you have a bunch of homegrown Bananas?
You make these Breakfast muffins, of course, now don't be fooled by the title which includes Nutella, you might be reluctant to give them chocolate for breakfast but trust me, there's only a swirl of it, it's just a sneaky way of hiding the Oats in the muffins, notch up your crafty ways by not telling them about it.
When it comes to my own terrible four, hate is a mild word where Oats are concerned(probably something to do with the texture), there's usually loud groans and a few"blek!!"thrown in But when I made these muffins with them and they saw the cup of Oats that went in to it, I didn't hear the usual noises that go with the dreaded ingredient, all they could see was the Chocolate swirls on top.
I'm positive these could be semi prepared the following night, leaving just the mashed Bananas, Oats and the rising agents to be added when baking, come back in a few days and read this section, I'll confirm if it's possible to do this or not.
Let's get to the recipe,
Before you begin, please make sure to read the complete recipe at least once.
What you will need
Yield-12 Muffins
2 Cups of Flour
1 Cup of Sugar(1/2 cup more if you prefer the muffins to be sweeter)
1 teaspoon Baking Powder
1 teaspoon Baking Soda
1/2 cup of Butter or Oil of your choice
1/2 cup of Oats( add a few tablespoons of water and let it soften)
1 teaspoon of Vanilla
1 large egg
1/2 cup of Milk( I used ordinary powdered milk)
4 Mashed Bananas( the Bananas I've used here are small, if you are using large one's reduce it to three)
Nutella
Method
Soak the Oats in a small quantity of water to soften, In a separate large Bowl, add Flour, Sugar, Baking Soda, Baking Powder, Vanilla and Mix.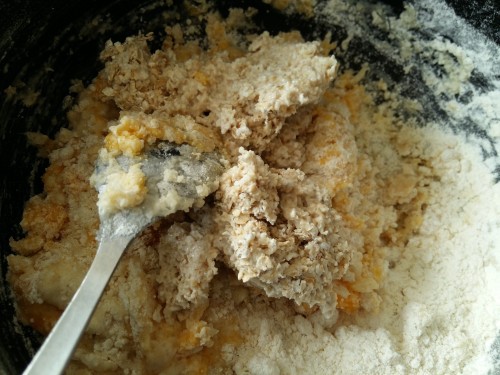 Once the Oats soften, add it to the flour followed by Butter, by any chance should you forget and include the butter before it reaches room temperature, leave the mix until the butter softens and then gently start to mix everything together. Meanwhile mash-up the Bananas, better yet let the kids do it.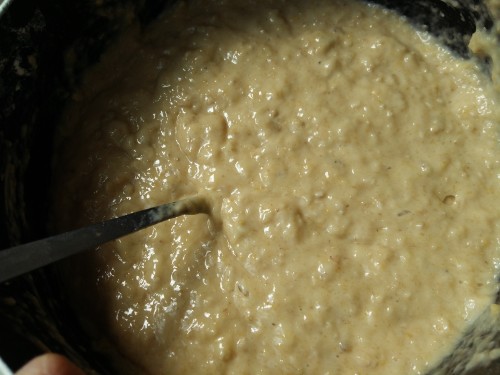 Add a beaten egg and then follow it by smashed Bananas and Milk, if the mixture is too thick pour in a little more milk. The consistency should be thick but at the same time not too runny. Add the salt at this point, the reason I do this is because when I add the salt with Baking soda or Baking powder it usually affects the rising of the muffins.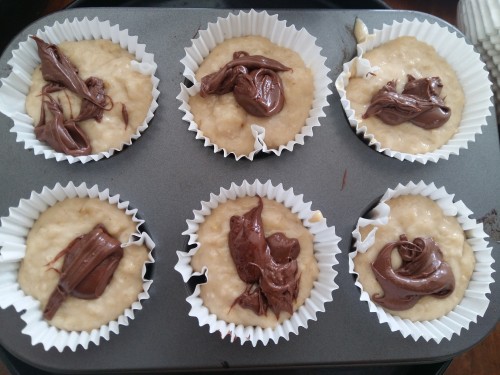 At this point preheat the oven to 180 C and spoon the mixture into cupcake liners and then a dollop of Nutella.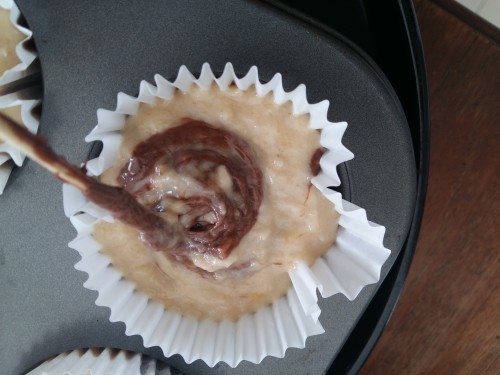 Swirl in the Nutella, I would recommend swirling it enough so it spreads to the bottom of the liner as well.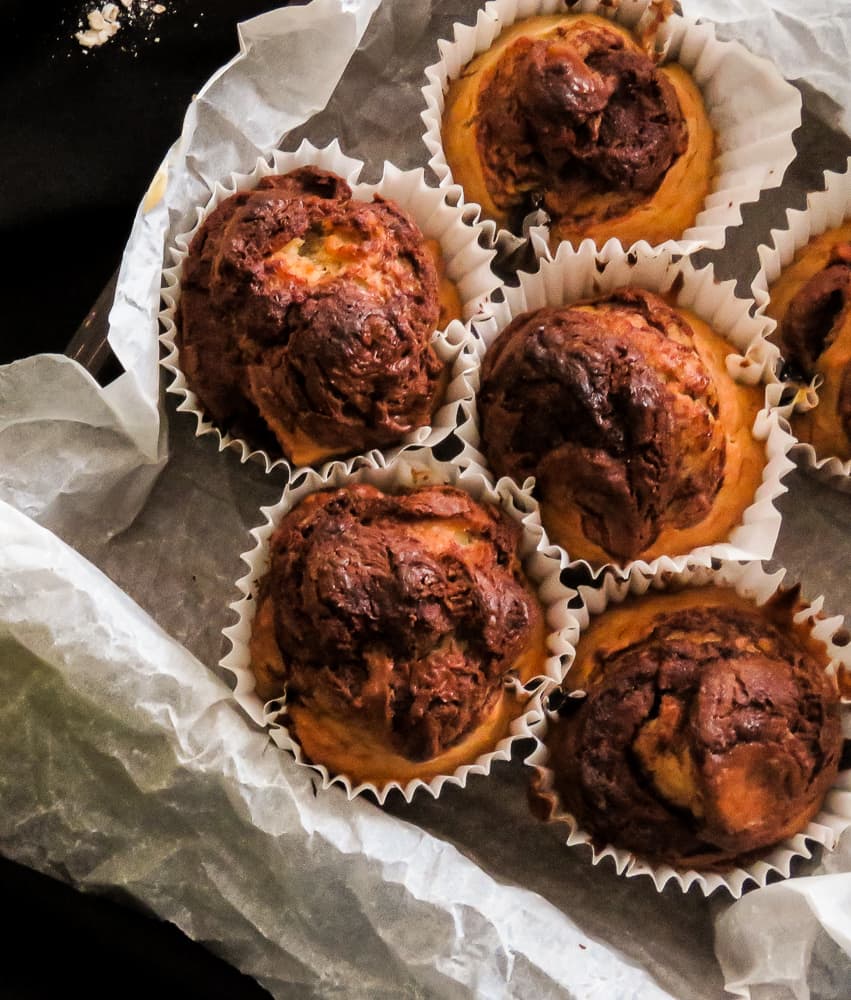 I'm using a convection oven and baked the muffins in 180c for 20minutes.
[mpprecipe-recipe:24]