Curried Cauliflower with shredded chicken and Rosemary filling can be used for samosas, empanadas or a topping for your favorite dishes.

30 minutes, low-carb, gluten-free.

Tell me, what's your favorite vegetables to cook?

I have a set of vegetables that I stick to, not in so many words but funny guy likes to imply that not a week goes by without me cooking up a Dhal curry, Pumpkin curry or my infamous Beetroot .

Not fair, I supply the demand and the request is to cook more milk curries but I confess Dhal curry is a dish I can eat 365 days and not get tired of.
So the last time we went grocery shopping, he was kind enough to grab a Cauliflower.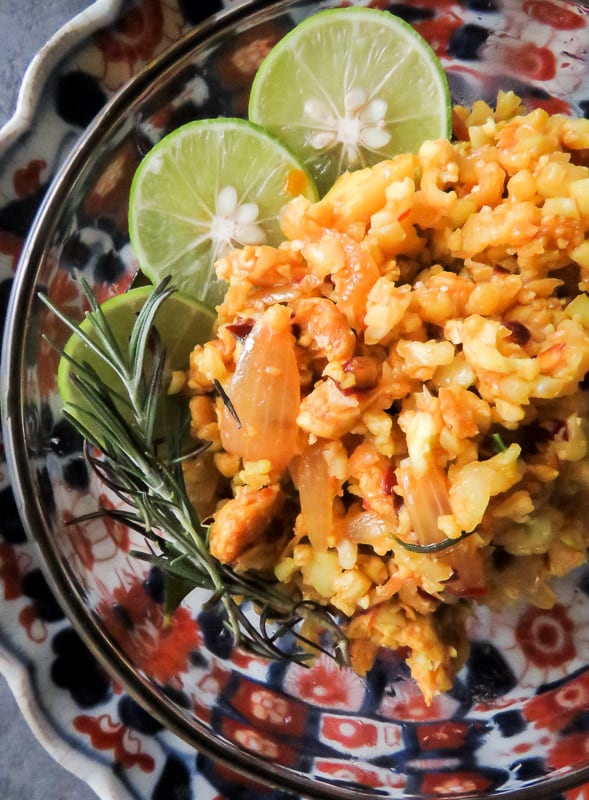 The problem is, while the food world goes crazy over Cauliflower, I seem to have ignored this beauty for two years, I can only blame its plain old white hue against all that greens, oranges and yellows my eyes are naturally drawn to.
I had no idea what to make of it but I knew it wasn't going to be a curry and the kids would have to love it. What do I do?

I mixed and mashed it up with something they like and called it any other name but CAULIFLOWER CURRY!
For a spontaneous recipe, I think this came out well. it does go well as a side dish to your rice too.
Ways to use Cauliflower with shredded chicken and rosemary filling?
You can use it as a filling for anything, from empanadas, pies, maybe even as a stuffing but if you cut the Cauliflower florets into a larger size and use the same ingredients and method of cooking, you can make it into a stir-fry.
Mix it with rice and you've got a fried rice. see, there are so many dishes you can come up with using this recipe as the base.

Take out the chicken and it becomes a vegetarian, vegan dish easily.

Party appetizer ideas.
As a topping on bite size toasted bread or maybe mixed in with salad greens are some of the ways you can use it at parties, oh and what about layering this with a cheesy dip for extra crunch and flavor?
How many calories are there in a medium sized cauliflower?
There are roughly 146 calories, this information can be found easily with google search.
What are the benefits of Cauliflower?
Helps for a healthy heart, It's Anti-inflammatory,
Cauliflower is rich in Vitamins(C, K, Protein, B6, folate and a few other nutrients that is good for you), including dietary fiber for gut health.
Apart from all the benefits mentioned above, I read that the combination of Turmeric and Cauliflower MAY help prevent prostate cancer, so there.

With finely shredded chicken, sauteed Onions, a sprig of Rosemary and coarsely cut cauliflower with a dash of lime, this dish comes together as a versatile dish that is slightly different type of filling for your various pastries and pies
Recipe-Cauliflower with shredded chicken and rosemary filling.
Please make sure to read the recipe instructions carefully to avoid mistakes.
Ingredients
1 medium Cauliflower
4 tablespoons of Oil
1 medium Onion
a pinch of Turmeric
1 small sprig of Rosemary
250g of shredded chicken(boiled in water seasoned with 1/2 teaspoon of Salt)

1/2 a teaspoon of chilli powder(less if you want to reduce the heat)
Salt to taste
1/2  a lime to add a bit of flavor
Method
Preparing the chicken to shred.
In a pan of boiling water seasoned with Salt, cook the chicken for 10 minutes or until the chicken is tender.
Once the chicken is cooked, leave it to cool then shred the chicken to the required size, you can use a fork or your fingers.
Preparing the filling.
Shred the Cauliflower coarsely, season with Salt and set aside.
Place a pan on medium heat and pour in four tablespoons of oil, add the sliced Onions and leave it to sautee for 2 minutes.
Mix in the Turmeric, Rosemary and Salt, followed by the shredded chicken and cook for three minutes, make sure all the ingredients are combined.
Once the chicken is cooked for three minutes, add the shredded Cauliflower, cook for 2 minutes on medium heat or until the cauliflower is tender enough but still have a crunch.
Check if there is adequate Salt to taste.
After the chicken and Cauliflower is cooked, leave it to cool, squeeze a bit of Lime to enhance the flavor.
Use it as a filling or any other ways mentioned above.
[mpprecipe-recipe:60]
For more recipes like this Cauliflower with shredded chicken and rosemary filling. Please subscribe to the blog by adding your email address in the subscribe box and you will get all the recipes I publish straight into your mail box. You can also find me on Facebook, Twitter, Instagram and Pinterest.
Save
Save
Save
Save
Save
Save
Save
Save
Save
Save
Save
Save
Save
Save
Save
Save
Save
Save
Save
Save
Save
Save
Save
Save
Save
Save
Save
Save
Save
Save
Save
Save
Save
Save
Save
Save
Save
Save
Save
Save
Save
Save
Save
Save
Save
Save
Save
Save
Save
Save
Save
Save
Save
Save
Save
Save
Save