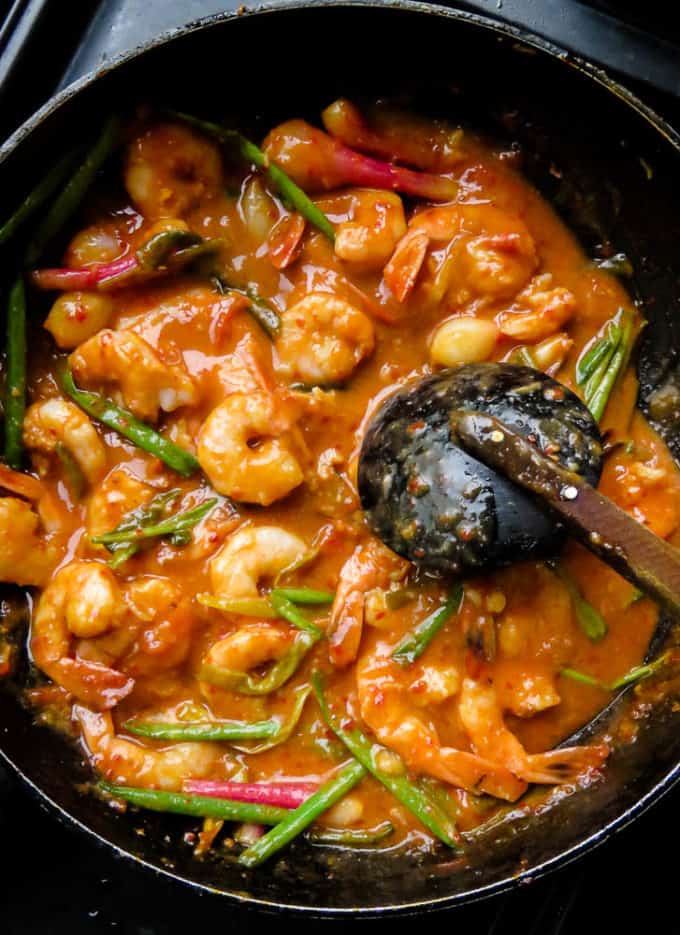 Shrimp cooked in a Sriracha-coconut milk based sauce.

A skillet seafood dish for you spicy lovers out there.

It's an easy shrimp dish to make for the whole family.
This post contains affiliate links where at no additional costs to you, I will earn a commision if you click through and make a purchase.
Here's your Sriracha fix with delicious shrimp smothered in it.
In a matter of thirty minutes, you can create an easy stir-fry to complement a rice/noodle dish or serve as an appetizer.
If you want to make mixed vegetable seafood stir-fry then add some broccoli, cauliflower, green peas to the mix.
The sriracha prawn stir-fry will also make a great addition to your weekly meal prep menu.
I am using thick coconut milk to bake a delicious sauce to make this shrimp skillet dish extremely creamy.

Have I convinced you enough to make this spicy Sriracha-shrimp recipe?
Hi there,
Thank you for stopping by, I hope you make this recipe for your family. if you enjoyed it, please let me know, if you feel the recipe needs a few tweaks, even then, drop me a message.
I am on almost all the social media you are in and you can find me, on Facebook, Twitter, Instagram and Pinterest.
You can keep track of new recipes by liking or following the blog social media profiles but life happens and I do forget to update them sometimes.
If you've found the recipes posted here are helpful in any way, then please subscribe to the blog, this is the only reliable way that I can keep in touch with you.
Thank you again for your time and don't forget, Subscribe for new recipe updates!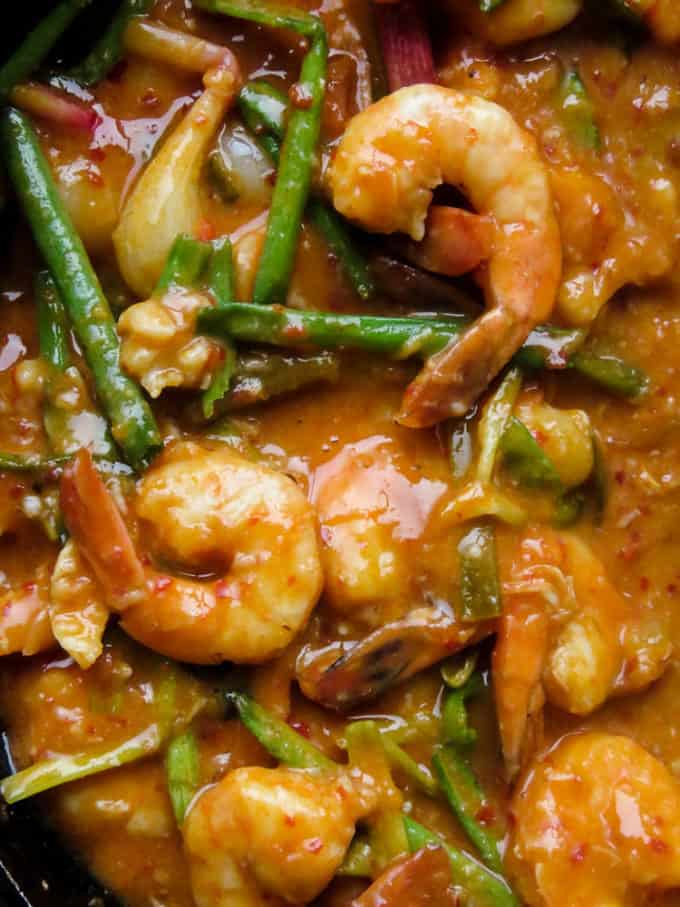 Utensils and appliances needed.
All you will need is a medium-sized skillet or a wok.
Can I use a different sauce for the spicy prawn stir-fry?
You can try using a different sauce but I can't guarantee how it will taste.
If you are worried that the sriracha sauce will be too spicy.
Unless you hate spicy food, it's not.
We are using coconut milk to make the sauce which somewhat neutralizes most of the spiciness.
Save the recipe to your favorite Pinterest board!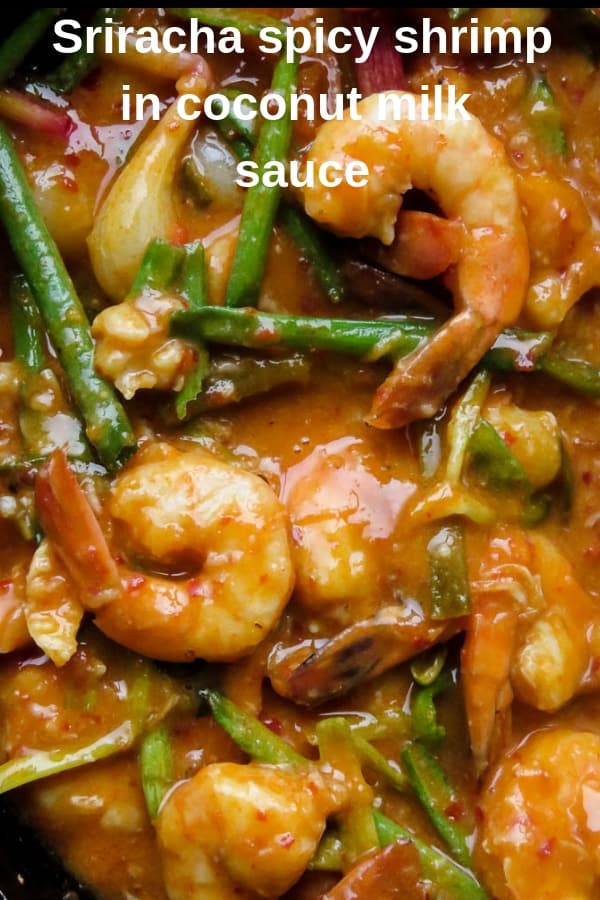 Can I use frozen shrimp?
Yes, you can use frozen shrimp.
If you are using fresh shrimp and they need to be deveined, read the instructions here.
If you want to watch how to devein and peel fresh prawns here's a video on how to do it.
Meal ideas for Sriracha shrimp in coconut milk sauce.
Serve as a side-dish to your fried rice.

Toss with fried noodles and you have dinner sorted.

Reduce the coconut milk sauce completely, toast some tortillas and make some tacos.
Sriracha
spicy shrimp in coconut milk sauce
(easy).
Please make sure to read the recipe instructions carefully to avoid mistakes.
Ingredients
Ingredients mentioned below use standard measuring cups and spoons.
For the marinade.
500g(Deveined, shelled prawns)
1 tablespoon of sriracha sauce(have 1/4 cup of sriracha sauce ready, 1 tablespoon for the marinade, the rest for the sauce).
1 tablespoon sugar
For the coconut milk sauce
4 tablespoons of oil
1 tablespoon ginger-garlic paste
1 medium-sized tomato chopped
1 teaspoon chilli flecks
Salt to season
1 tablespoon tamarind juice
1/2 cup thick coconut milk
5 scallions(used for the sauce and as garnish)
Method
Have all the ingredients ready.
Devein, remove shell or use frozen shrimp.
Place shrimp in a bowl, season with salt, sriracha sauce(1 tablespoon), sugar, combine well.

Cover and let the prawns marinate for 10 minutes.
Once the prawns are marinated, place a frying pan or skillet over medium heat, pour a tablespoon of oil, transfer the prawns to the heated oil and do a quick stir-fry 2-3 minutes, while tossing the shrimp frequently.
Toss the shrimp until they just about turn pink.
Place the stir-fried shrimp in a bowl and set aside.
Making the sriracha-coconut milk sauce.
Place the same skillet over medium heat, pour 2 tablespoons of oil.
Add ginger-garlic, cook for a few seconds, add chopped tomatoes, sugar, chilli flecks and tamarind juice to the skillet.
Cook the ingredients over reduced heat while breaking down the chopped tomato.
Pour in 1/4 cup thick coconut milk add half of the scallions spring onions, cook over low heat for exactly 3 minutes.
Once you have a thick sauce, make sure to taste and season with salt.
If you feel you need more heat(add sriracha)or a little more sweetness(add a teaspoon of sugar)and adapt the recipe to your taste buds.
Once the thick coconut sauce is done, immediately transfer the shrimp to the coconut sauce, toss and cook for another three minutes over low heat until sauce thickens.
Garnish with chopped scallions and serve warm.
Have you made this recipe?
Please don't forget to rate the recipe on the recipe card so other readers find it helpful and show me your recipe by tagging me #islandsmile178 on Instagram.
Yield: 4
Sriracha spicy shrimp in coconut milk sauce(easy).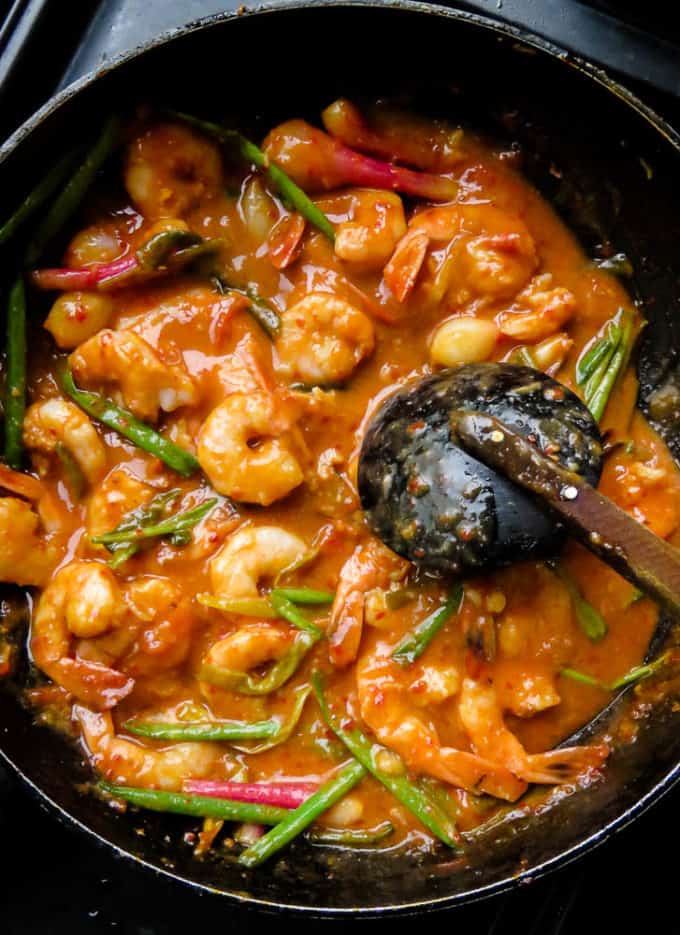 SHRIMP COOKED IN A SRIRACHA-COCONUT MILK BASED SAUCE.
A SKILLET SEAFOOD DISH FOR YOU SPICY LOVERS OUT THERE.
IT'S AN EASY SHRIMP DISH TO MAKE FOR THE WHOLE FAMILY.
Ingredients
Ingredients
Ingredients mentioned below use standard measuring cups and spoons.
For the marinade.
500g(Deveined, shelled prawns)
1 tablespoon of sriracha sauce(have 1/4 cup of sriracha sauce ready, 1 tablespoon for the marinade, the rest for the sauce).
1 tablespoon sugar
For the coconut milk sauce
4 tablespoons of oil
1 tablespoon ginger-garlic paste
1 medium-sized tomato chopped
1 teaspoon chilli flecks
Salt to season
1 tablespoon tamarind juice
1/2 cup thick coconut milk
5 scallions(used for the sauce and as garnish)
Instructions
Have all the ingredients ready.
Devein, remove shell or use frozen shrimp.
Place shrimp in a bowl, season with salt, sriracha sauce(1 tablespoon), sugar, combine well.
Cover and let the prawns marinate for 10 minutes.
Once the prawns are marinated, place a frying pan or skillet over medium heat, pour a tablespoon of oil, transfer the prawns to the heated oil and do a quick stir-fry 2-3 minutes, while tossing the shrimp frequently.
Toss the shrimp until they just about turn pink.
Place the stir-fried shrimp in a bowl and set aside.
Making the sriracha-coconut milk sauce.
Place the same skillet over medium heat, pour 2 tablespoons of oil.
Add ginger-garlic, cook for a few seconds, add chopped tomatoes, sugar, chilli flecks and tamarind juice to the skillet.
Cook the ingredients over reduced heat while breaking down the chopped tomato.
Pour in 1/4 cup thick coconut milk add half of the scallions spring onions, cook over low heat for exactly 3 minutes.
Once you have a thick sauce, make sure to taste and season with salt.
If you feel you need more heat(add sriracha)or a little more sweetness(add a teaspoon of sugar)and adapt the recipe to your taste buds.
Once the thick coconut sauce is done, immediately transfer the shrimp to the coconut sauce, toss and cook for another three minutes over low heat until sauce thickens.
Garnish with chopped scallions and serve warm