Sri Lankan basic three spice-raw/unroasted curry powder (thuna-paha).
This is your guide to making a basic curry powder which has only three spices, ideally suited for most vegetable-based dishes.
Curry powder, a loose term we all like to use but find our selves reaching out for so many tiny bottles.
You will find different versions of the curry powder as each household has their own version.
These days though most of us prefer the generic, pre-packed, easy to grab from a supermarket shelf version.
But if you have the time, try making your own spice blend for a change.
Homemade curry powder is the best…
You will find the blend highly aromatic with strong flavors and worth the few minutes you spend grinding them.
With all the spice blends out there, I think it's an error to generalize and call or label them as "curry powder" because they are not.
Each spice brings a unique aroma, taste and knowing how much to add sets your curry dish apart from the others.
The ingredients to make Sri Lankan thuna paha
(unroasted curry powder).
The first ingredient in this Sri Lankan curry powder is Coriander seeds.
While it's hard to give you a flavor profile of the coriander seeds, there is no doubt, they add a very distinct flavor to your curry dishes.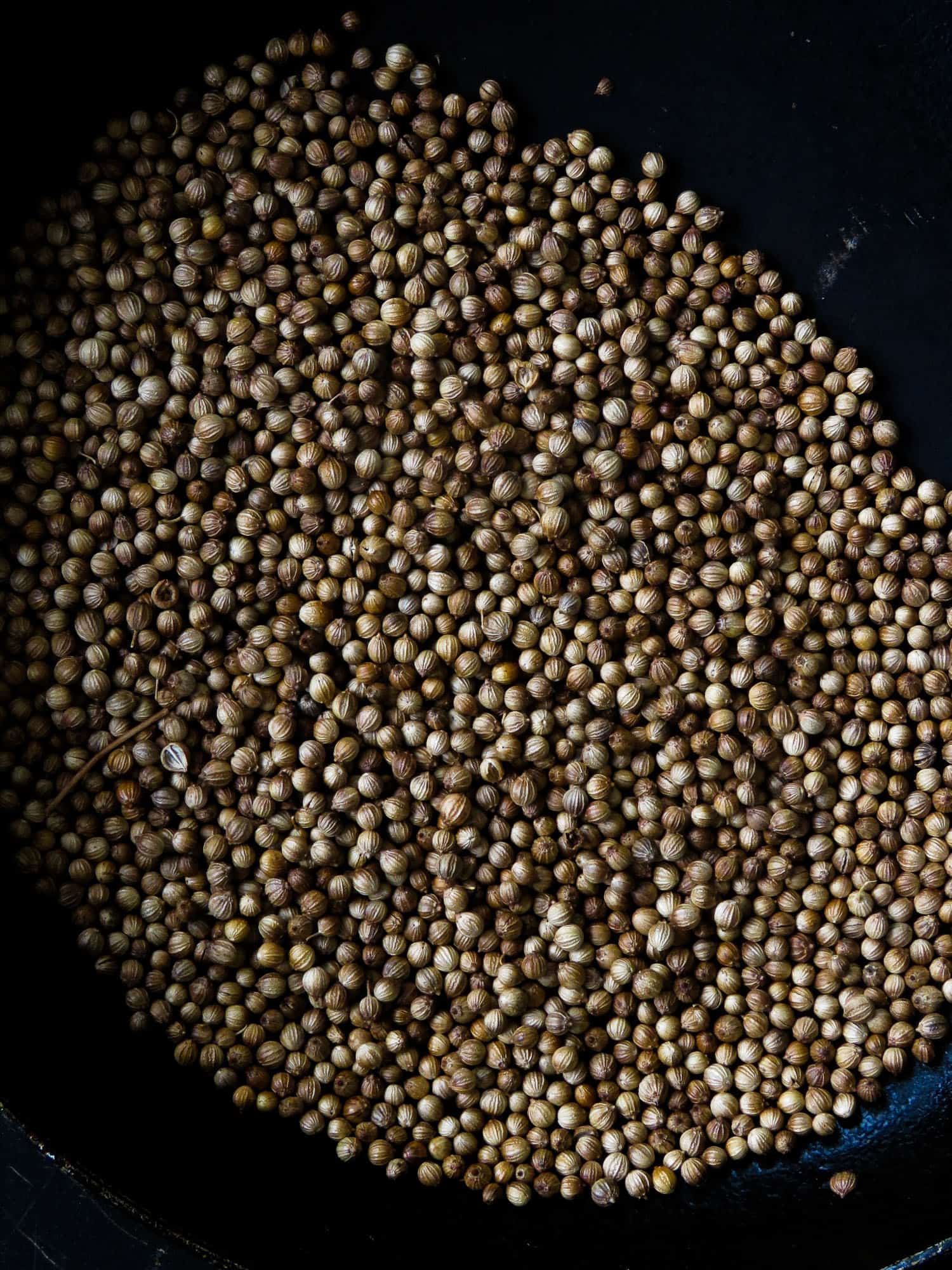 Fennel seeds, this spice has a green and light brown tinge to it. because of its flavor profile, you will find fennel seed in most spice blends.
Earthy and warm, cumin seeds are the third spice in this Sri Lankan spice blend.
Other additional ingredients you can add to deepen the flavors of this raw curry powder are,
Curry leaves, cinnamon and a few cardamoms.
If you are adding these extra ingredients make sure they are dry-fried for a few seconds to remove any moisture
How do I use this raw/unroasted Sri Lankan curry powder?
Because this curry powder is mild, you can use them on any vegetable dishes, they add a mild curry, even the coconut milk-based dishes.
You can add the three-spice curry powder to meat and seafood dishes but I would suggest using a stronger, darker and richer spice blend like a roasted five-spice Sri Lankan powder.
What does"raw/unroasted" and "roasted" curry powder really mean?
Let's take the confusion out from these terms, shall we?
A few years back, most of these spices could be dried under the sun, maybe there are a few who still do this but unless you are 100% sure that no contaminants would end up in your spices, most of us would prefer to use a stovetop to dry out any remaining moisture.
Not roasting but simply drying them out.
This method of using the stovetop to dry out the spices should not be confused with the actual roasting of the spices till they change color and let out a deeper aroma.
So in terms of "raw(unroasted)" or "roasted", this three spice curry powder is a raw curry powder as I am only dry roasting for a few seconds to take out any extra moisture left in the spices.
This way, the raw curry powder will have a longer shelf life.
SAVE THE RECIPE TO YOUR FAVORITE PINTEREST BOARD!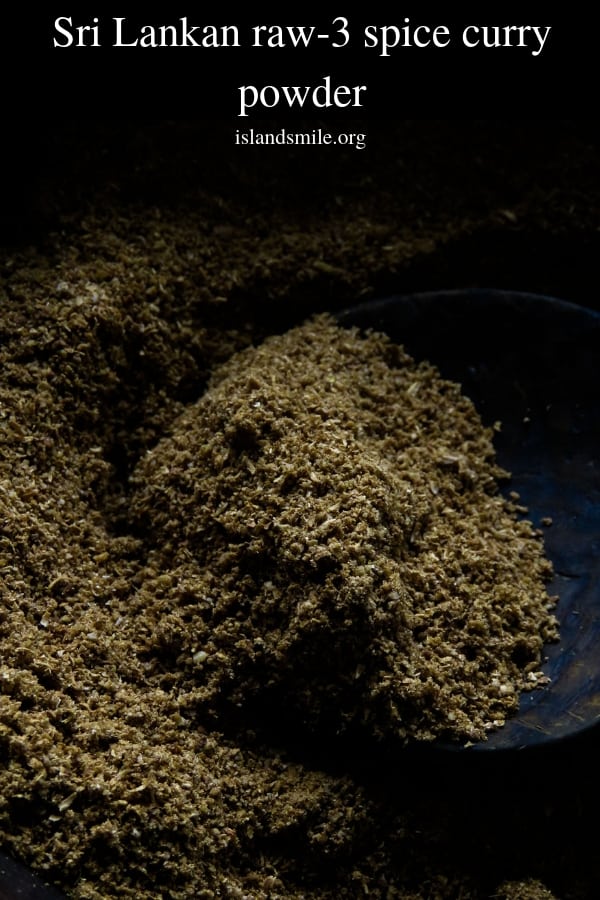 The ratio used for the unroasted curry powder.
I am using a ratio of 4: 2: 1: to make my curry powder, in simple terms, this means for every 4 tablespoons of Coriander, I add two tablespoons of cumin and one tablespoon of fennel.
But as I mentioned earlier each household have their own special blend and ratios.
KITCHEN EQUIPMENT AND UTENSILS
Separate bowls for the spices, medium-sized frying pan, coffee grinder, sieve
More spice mixes!
Indian homemade garam masala spice mix.
Malaysian spice mix for meats.
Sri Lankan three spice raw/unroasted curry powder (thuna-paha).
1 cup(200g) of Coriander seeds
1/2(100g) of Cumin seeds
1/4(50g) of fennel seeds
Method
Before you begin making your spice mix, wash and air dry a glass bottle with a tight lid. make sure the bottle is thoroughly dry. set aside.
Place a frying pan over low heat and gently dry-fry the coriander seeds for a few seconds(20-30), once done place the seeds in a bowl.
Use the same pan and dry–fry Cumin seeds and fennel seeds separately for the same amount of time to dry them and place them in separate bowls.
Let the spices cool down for a few minutes and use a coffee grinder to grind the spices until you have a fine powder. make sure you grind the spices in short bursts so the coffee grinder doesn't heat up.
Use a sieve to separate the spice powder, if there are any coarse bits, grind them as well.
Transfer the powdered curry powder into the glass bottle and close the lid tight to maintain freshness.
Each recipe on this blog has been written with great care and love to the best of my ability with you in mind.
It's free and on the blog, for you to try anytime.
All I ask is that you do not save it on any apps, recipe boxes or online groups which will affect me as a food blogger and the growth of this blog. I would appreciate if you only share the link rather than the full recipe.
All images and text on this website are protected by copyright.