Spicy-curried oat soup.
Healthy, filling and made under 30 minutes, you'll never go back to making colorless and bland oats soup once you've tried this tasty and colorful variation.
A rather filling soup/porridge you can make for breakfast. with the added flavor of curry powder and cilantro leaves, this soup/porridge is nothing like your usual oat dish.
It's not bland, it isn't colorless but a great pick me up soup for you to serve and enjoy with the family.
Since the spicy soup takes less than 30 minutes to make, it's ideal for weekend breakfast or a quick dinner. the oat soup is also a great meatless meal option.
Serve the curried oat soup with a few toasted slices of garlic bread or pita chips.
Serving the spicy-curried soup to kids.
I've made this oat soup for my kids, although they liked it, they preferred the oat soup without any chopped cilantro in their bowl. if you are serving the soup/porridge to kids, I would suggest removing the leaves while serving the soup in their individual bowls.
The chopped cilantro at the end is what gives this oat soup its final taste, the curried soup has to have those leaves to make it a tastier soup.
THANK YOU!
You've been a wonderful reader so far and I hope you enjoy making this recipe for your family.
Subscribe to the blog for new recipe updates and if you think this recipe was helpful to you, share my blog with someone who'll find these recipes helpful as well.
Save the recipe to your favorite Pinterest board!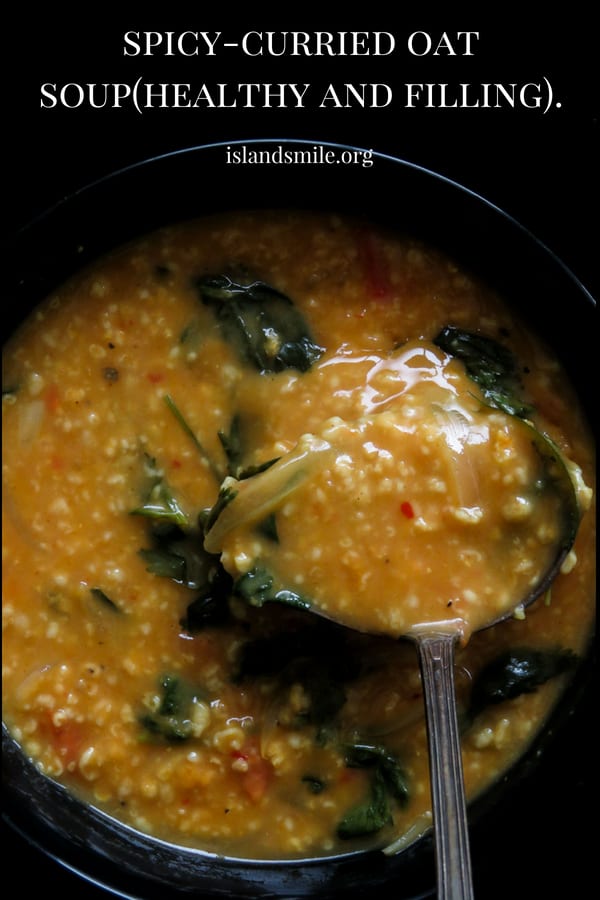 Utensils you will need to make the spicy curried soup.
A medium-sized pan and soup bowls.
RECIPE DIFFICULTY -LITTLE CARED NEEDED
Spicy-curried oat soup(healthy and filling).
Please make sure to read the recipe instructions carefully to avoid mistakes.

Ingredients

Ingredients mentioned below use standard measuring cups and spoons.

3 tablespoons oil
1 cup oats
2 medium-sized tomatoes chopped
1 large onion finely sliced
2 garlic pods minced
1 chicken bouillon
1/2 teaspoon turmeric powder
1 teaspoon curry powder( you can also substitute with garam masala)
1/2-1 teaspoon chilli flecks
2 cardamom pods slightly bruised
2 cups of water
1/4 cup of coconut milk
1/2 cup of chopped cilantro
Method
Place a pan over medium heat and pour in the oil.
Add onion, tomato, garlic, turmeric, curry powder, cardamom, chilli flecks and cook for a few minutes or until onions are translucent.
Once the ingredients are cooked, add in the oats, combine and cook for 2-3 minutes.
Add water, followed by chicken bouillon, let the oats cook until they become soft and thick.
Pour in 1/4 cup coconut milk, stir the milk into the soup, if the consistency is too thick add more water to reach your preferred consistency and season with salt.
Cook for a further few minutes, add chopped cilantro, stir the leaves into the soup while still hot and serve warm.