Cashew-raisin moist date cake.
With chunky pieces of dates for you to enjoy, this super moist date cake will be the ideal treat when you need a spiced up cake.
This delicious tea-time cake has three of my favorite," when I'm hungry" snacks I munch on,
Dates, cashews and raisins.
These are my small doses of energy bites, I like to keep in hand, especially dates.
I tend to have a few while driving to pick up my youngest or when I've had my tea and want something to replace a heavy breakfast or snack in between chores.
Apart from being an instant energy bite, I make this date cake for myself that stays undisturbed for a few days, I say"undisturbed" because all four of my kids don't like the combo of dates, raisins in a cake. which means I get to make the cake and eat it as well.
Want to know what else I included in this recipe that my kids don't like?
Nutmeg, a bit of peppery bite to the cake makes it more special. This is one cake recipe, that you can make and have it all by yourself.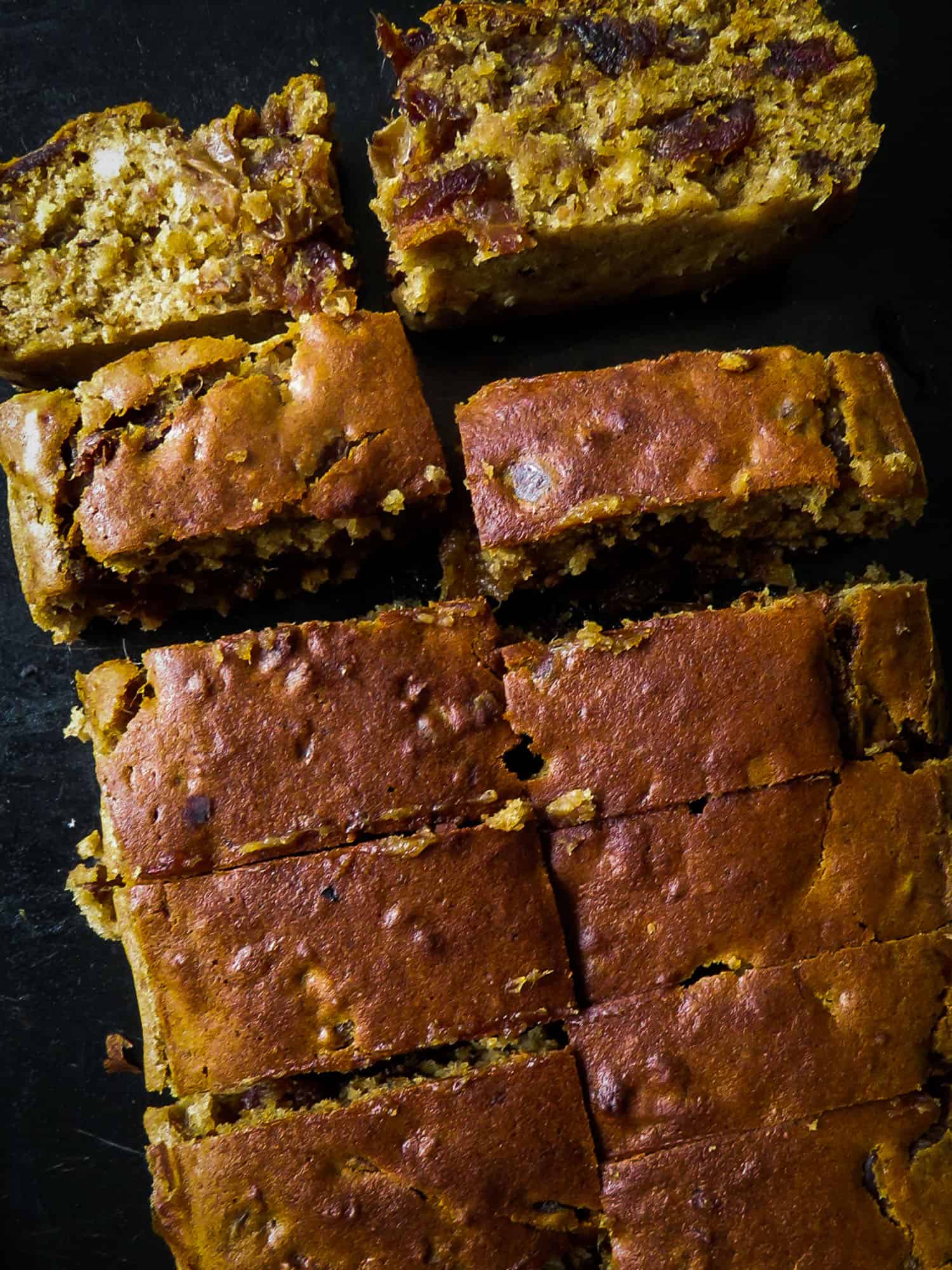 Tastes Just like Christmas cake but…
This date cake tastes almost like the usual Christmas cake but a simpler version of it, the nutmeg gives the cake a heavy dose of spice and aroma so a pinch would do.
You can cut them into whatever size you prefer, pack them in an air-tight container and refrigerate, this will keep for a few days, I think it tastes better this way too.
What type of dates should I use to make the date cake?
Buy the soft, fleshy dates if possible, they are easy to break down into the cake and you won't need to soak them in water to soften them up.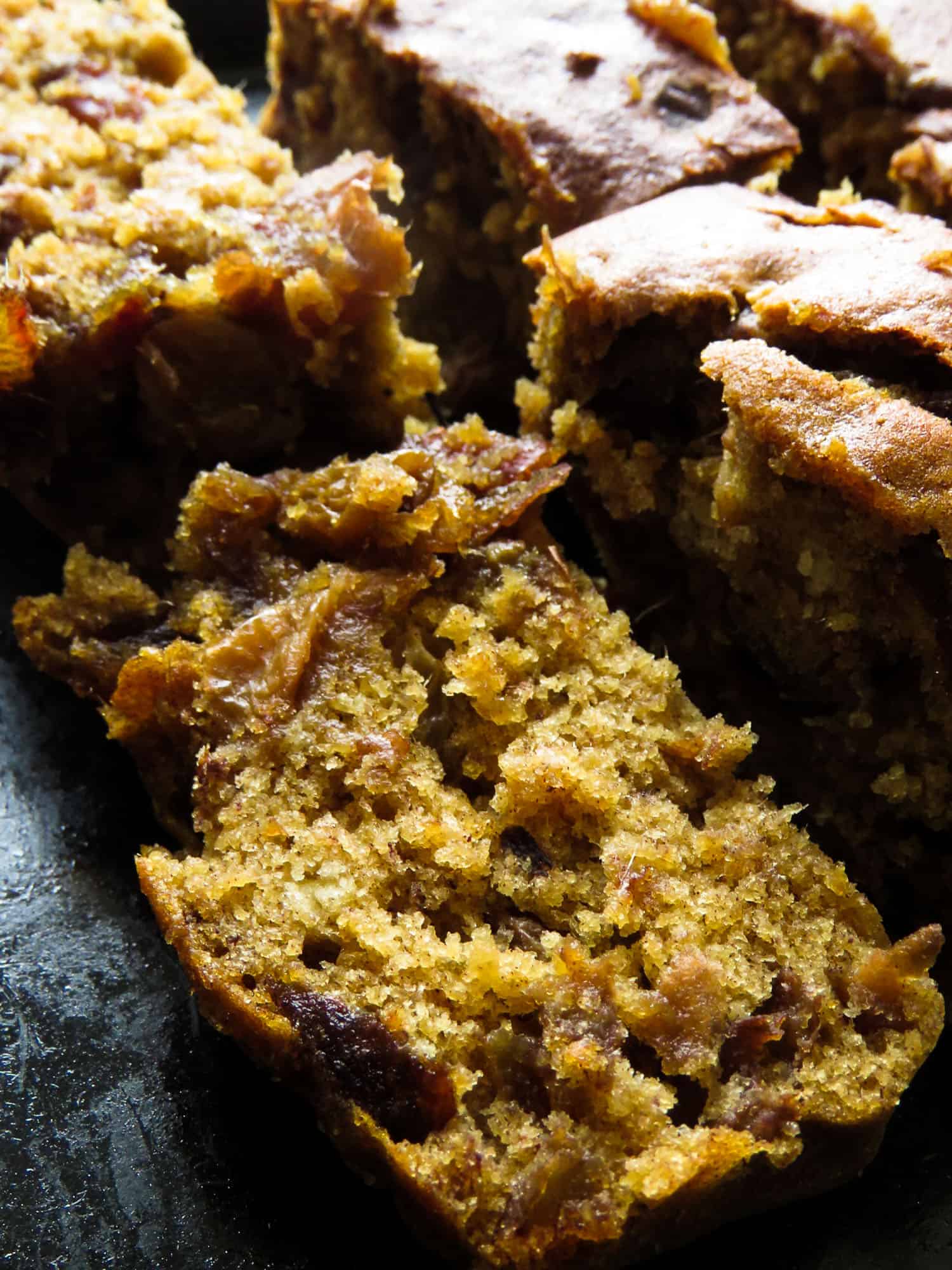 Will there be any difficulties in making this date cake?
This date cake is more like a mix and bake kind, but since we are using dates, raisins and cashews, they need to be prepared and ready before mixing it into the batter.
So there's a bit of prep work involved to soften the raisins and having the dates ready before including them to the cake batter.
I like chunky pieces of dates in the cake, the problem with this is that they tend to sink to the bottom of the cake. which ultimately leads to an extra moist base but still it's a really good cake to have with your tea.
You might be tempted to bake it longer to avoid the bottom of the cake becoming too moist but this would lead to the top of the cake looking like it's burnt.
If you still prefer to do this then, dust a layer of icing sugar once the cake is completely cool.
SAVE THE RECIPE TO YOUR FAVORITE PINTEREST BOARD!

Can I reduce the amount of dates used in the cake?
Here's the thing, if you love dates like me, you'll probably use two cups of it but you can certainly reduce the amount of dates, use 1 cup instead of two.
An overload of dates is most likely the reason there were cracks in my top layer but I find it adds a home-baked feeling to it.
Moist date cake with Cashew-raisin and nutmeg.
1 cup of water
1/2 cup raisins
1-inch piece of cinnamon
300g pitted and chopped dates(2 cups)
1 and 1/2 teaspoon baking soda
1/2 cup butter
3/4 cup sugar
2 eggs
1 teaspoon vanilla extract
1 and 1/2 cup flour
1/4 teaspoon salt
4 tablespoons of butter
1/2 cup chopped cashews
1/8 nutmeg(a pinch)
Method
Choose a 9″ inch baking pan, line the baking tray with baking parchment paper, lightly brush with butter and set aside.
Before you begin, have all the ingredients assembled and at room temperature.
Have the cashew nuts chopped and the dates, pitted and chopped fine. set aside.
In a small pan boil the raisins with 1 cup of water and a piece of cinnamon for 3-5 minutes over medium heat, then drain the water and set aside.
In a separate bowl stir finely chopped dates with baking soda and set aside.
Choose a large bowl to mix all the ingredients together, cream butter and sugar until light and fluffy.
Add vanilla, followed by gradually adding eggs(one at a time)and combining with the butter-sugar mixture.
Meanwhile, as you make the cake batter, preheat oven to 175C and have the baking pan ready.
Getting back to the cake batter, add flour and salt to the mixture followed by raisins and chopped cashew nuts, then dates and finally a pinch of nutmeg.
Gently fold and combine the ingredients with the cake batter, avoid beating or any fast mixing at this point, overmixing can cause the cake to become dense, so keep your mixing light. if you find a few lumps of flour gently break them with a fork.
Once you are done with the mixing, pour in batter into the baking pan, lift the baking pan and gently tap 3 to 4 times on the counter.
Bake the cake at 175 C for 45 minutes or until an inserted toothpick comes out clean.
Once the cake is done, set it out to completely cool before cutting the cake into the required size.
Each recipe on this blog has been written with great care and love to the best of my ability with you in mind.
It's free and on the blog, for you to try anytime.
All I ask is that you do not save it on any apps, recipe boxes or online groups which will affect me as a food blogger and the growth of this blog.
I would appreciate if you only share the link rather than the full recipe.
All images and text on this website are protected by copyright.