A lip-smacking tangy glaze on a soft, cake-like shortbread with a hint of lime for all the citrus lovers out there.
Think of a tea time treat to satisfy your craving for something citrusy and you've got these lime shortbread bars with a tangy glaze just doing that for you.

The key ingredient that takes this ordinary shortbread to a family favorite is lime. I think the recipe is versatile enough for you to replace the lime with lemons and Oranges as well.
As you cut into the bars, you'll notice the texture of the shortbread is cakey without the crumbly effect, its soft enough to melt in your mouth. Bite into one of these mini delights and you'll be tasting the tartness of the glaze with a hint of lime flavor from the bar.

I love that they are not over-the-top sweet or crammed with every possible ingredient that can ooze out of it. These bars are more in line with savoring each bite, leaving a few to enjoy when you feel like one. You can also turn them into gifts for your friends and colleagues by packing them up in pretty boxes or jars.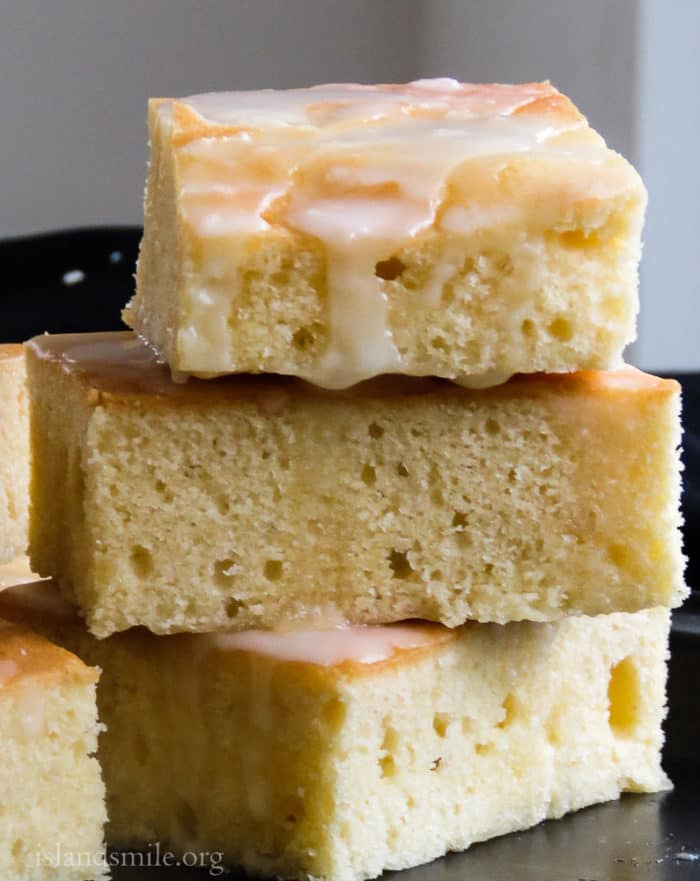 Before we move onto the recipe, you might notice the glaze I made in this is a bit runny, although the shortbread bars came out flawless the icing glaze didn't quite make it to perfection.
I blame it on the terrible four and myself, for meddling with it. Even after the glaze reached the exact consistency needed. I kept adding lime juice, wanting the glaze to be extra tart while answering questions like,"ooh is that limey sweet?", "where's the chocolate?","can I taste it?,"is it done?","is it done?"on and on the questions kept coming reminding the main reason I avoid baking when these trouble makers are around.
Now, before I move on to the recipe, just remember, if you should have any problems with any of the recipes here, you can easily get in touch with me on all the social medias of islandsmile.org and if you love baking, You might like to try the five-step Milo brownie or the Pineapple Brownie cake (yes, I love brownies and there maybe a few more joining this lot)
Please make sure to read the recipe at least once before you try making them.
Recipe time
Ingredients
1 stick unsalted butter
1/2 cup fine Sugar
3 large eggs
2 cups of flour
1 tablespoon of baking powder
1 and 1/2 tablespoon of lime juice
1 teaspoon of grated rind of lime
for the icing glaze
2 cups icing sugar
4 tablespoons of fresh lime juice
Method
line a 8 x 8 Square baking pan with parchment paper long enough to line the bottom of the pan with extra hanging over the sides and lightly grease it with butter
Shortbread
Make sure to take the eggs and butter out of the refrigerator, so that they have time to reach room temperature.
In a medium-size mixing bowl, add the sugar and butter, cream both the ingredients, make sure the sugar has completely melted into the butter leaving the mixture smooth and creamy.
Once this is done, start adding the eggs, one at a time and mixing it well and set aside.
In a separate bowl, gently sift the flour and baking powder.
Once the baking powder and flour is sifted together, combine it with the creamed Butter, Sugar and egg mixture. you will end up with a smooth batter.
Include the lime rind to the batter and mix.
Now gently pour the batter into the baking pan and spread it evenly. if you prefer to have the bars thinner use a slightly larger pan than this.
Preheat for 190C(375F) and bake for 15 minutes, insert a toothpick to see if the batter had been completely baked through, if not bake it for a few minutes more.
Leave it to completely cool and cut them into squares.
The lime glaze
Sift two cups if icing Sugar and add the 4 tablespoons of lime juice to it, mix it then let it sit for a few minutes.
Drizzle over the completely cooled shortbread.

Save
Save
Save
Save
Save
Save
Save
Save
Save
Save
Save
Save
Save
Save