Gently braised chicken with Carrots and Baby corn are the key ingredients, you'll need to prepare this recipe. A one pot meal to savor and enjoy.

Hello,
so glad you stopped by, come sit by me for a while, oh and, don't forget to grab a cup of coffee, writing a blog post can be a lonely task, keep me company while I write about cooking, love and finally the recipe, if you do get bored with my rambling, scroll down to recipe time but make sure to check out meal ideas and what goes well with this chicken stew.

I've learned to take pleasure in watching my family enjoying home cooked meals. It's taken me a long time to understand and accept that any kind of cooking/ giving of food is a form of love.
A love that has no conditions or expectations and might I add sometimes with a lack of appreciation?

I mean, look at your hands with all those cuts, burns and wrinkles formed by too much washing and tell me that cooking is not an expression of love. Why else would we spend so much time, energy, day in day out thinking about breakfast, lunch, and dinner?
Well, I say, you've got to love the people you're cooking for or else you won't care how it tastes. Unless, cooking is part of your profession.

And another thing, despite how much I love when the kids relish a meal, I think they need to learn how to enjoy each and every bite, slowly.
I understand when kids are really hungry they just want to gobble it down but really, what about the times when they're not?, I saw my boys just grab a handful of rice wafers, dip it into this chicken curry stew and swallow the whole thing on one go, which is an insult when I think of the time and energy, spent making it.

I was annoyed enough to teach them to savor the little bites which they did with a lot of eye rolling. So next time you see the kids swallowing their food please take time to teach them,"how to enjoy their food", I think in a world where everything is "fast", it'll be a pity if we can't teach the young one's and ourselves to enjoy simple pleasures like a home cooked meal.
Swallow and eat should never be used together unless insects are involved.

What can I have with this chicken stew with carrots and baby corn?
A rustic bread that can hold all the goodness of the stew till it reaches your taste buds. Why not adding a few dumplings into it?
A bowl of noodles or rice dropped into the stew, will make it a one-pot meal that you can serve the family for the coming cold weather.

Please make sure to read the recipe at least once to avoid mistakes.
I find soups and stew are great time savers and easy to prepare even at the last-minute.
The inspiration for this stew comes from spices that I use in my daily cooking, while the gently braised chicken and the vegetables are the solids of the stew, the semi thick gravy is made up of Coconut milk, Turmeric and a dash of Pepper with a sprinkle of crushed Bay leaves are included just before you take the stew off the fire.
No high fire to cook this Chicken stew but medium heat to gently simmer the ingredients while making sure not to make the base neither thick nor thin, the base actually compliments the main ingredients in this chicken curry stew. I added baby corn because the kids like it while adding a bit of crunch without overwhelming the stew when everything else had become soft after the cooking.

And if you find the heat is not enough, just include a hot pepper of your choice to kick up the spiciness of the dish.
Recipe
Ingredients
4-5 tablespoons of oil
2 large Onions diced
1/2 a teaspoon of Turmeric
2 tablespoons of grated Garlic paste
1 chicken breast cut into, medium-sized pieces

1 teaspoon of Pepper
Salt to taste
3 Potatoes diced
3 Carrots, peeled, diced
1 and 1/2 a cup of water
1/2 a cup of thick Coconut milk
1 teaspoon of crushed bay leaves
Method
Heat the oil in a deep pan over medium heat.
Saute the Onions with the Turmeric, Cummin powder, Garlic paste until the Onions turn translucent, about 2 minutes.
Add the chicken and season with salt, pepper.
Reduce the heat to low , simmer gently uncovered, leaving the chicken to cook thoroughly while gently stirring, about 8 to 10 minutes.
Add the Potatoes, Carrots, baby corn, while cooking it with the chicken for another five minutes.
Once the five minutes are done, pour in the water, just enough to submerge all the ingredients and cook on medium heat until half of the water evaporates.
Once this is done, pour in the Coconut milk, stir and season with Salt, crushed bay leaves and let the stew simmer gently until the vegetables are soft.
Taste, season as per your need.
[mpprecipe-recipe:37]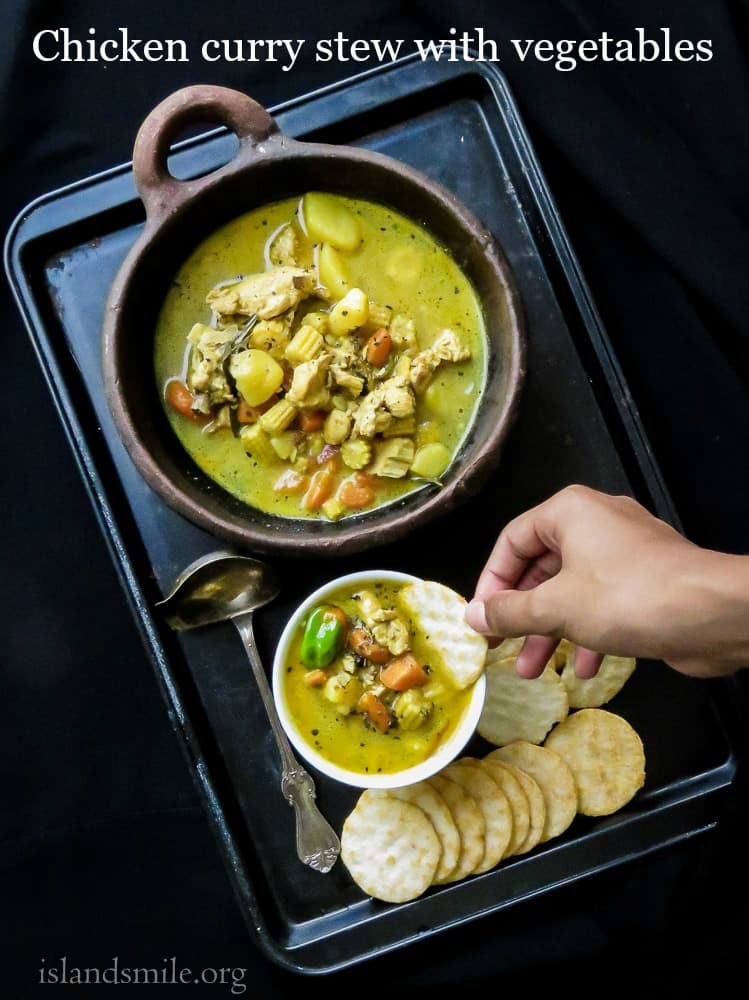 Save
Save
Save
Save
Save
Save
Save
Save
Save
Save
Save
Save
Save
Save
Save
Save
Save
Save
Save
Save
Save
Save
Save
Save
Save
Save
Save
Save
Save
Save
Save
Save
Save
Save
Save
Save
Save
Save
Save
Save
Save
Save
Save
Save
Save
Save
Save
Save
Save
Save
Save
Save
Save
Save
Save
Save
Save
Save
Save
Save
Save