Print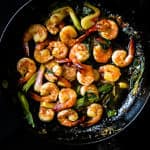 CARAMELIZED GARLIC PRAWN STIR-FRY(20 MINUTES, HEALTHY)
20 MINUTES-CARAMELIZED GARLIC PRAWN STIR-FRY, A VIETNAMESE INSPIRED SEAFOOD DISH MADE WITH A LIGHT AND DELICATE TOUCH TO KEEP ALL THE FLAVORS LOCKED IN.
500-700 shrimp(peeled, deveined, leave the tails intact)
5-6 large cloves of Garlic finely grated
1 teaspoon of ground Pepper
1 tablespoon of Sugar(add more if you need extra sweetness)
1 tablespoon of Fish sauce
3-4 scallions cut into required size
1 teaspoon of chilli flecks(optional)
Wash, clean, devein all the prawns, remove head and shell while keeping the tail intact.
Season the prawns with salt and set aside.
Place pan over medium heat, let the pan heat and pour in the oil.
Once the oil heats, add grated Garlic, let the garlic sauté in the oil, make sure not to burn them, 2-3 minutes over low fire.
Add cleaned prawns to the oil and garlic, sauté the prawns over low heat until they turn pink, 2-3 minutes. do not overcook them as you need the prawns to be quite soft.
Once they are done, transfer the prawns to a bowl.
Place the same skillet over low heat, pour in the fish sauce, water with pepper and sugar, let the ingredients simmer for 2-5 minutes over medium-fire. simmer until the sugar dissolves, turning the liquid into a semi-thick syrup. check for seasoning, adding salt, sugar or fish sauce to your taste.
Once the sauce is done, add the scallions to the stir-fry and toss everything together. 2-3 minutes over medium heat.
Add the cooked prawns to the stir-fry and combine all the ingredients. 2-3 minutes over low fire
Check if the seasonings are as you require, serve warm.