Print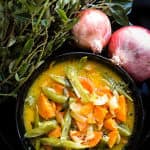 CREAMY CARROT AND BEAN CURRY(A KID-FRIENDLY RECIPE)
CREAMY CARROT AND BEAN CURRY, A MILDLY SPICED RECIPE FOR KIDS TO ENJOY. A VEGAN, VEGETARIAN, GLUTEN-FREE, LOW-CARB DISH TO TRY.
2-3 Garlic cloves sliced thin
1 medium-sized Onion finely sliced
1/2 teaspoon of Turmeric powder
1 teaspoon of Mustard seeds
1/2 teaspoon of chilli flecks(optional)
1/2 cup of thick Coconut milk
Trim Beans, cut lengthwise exposing the seeds inside and set aside
Cut the top and the end of the Carrot and peel the skin, then cut them into thin circles and halve them and set aside.
Set a pan over medium heat, pour oil, add the Curry leaves, Onions and Garlic slices sauté in oil for 2-3 minutes until they turn translucent
Add Turmeric powder, Mustard seed and temper all the ingredients in the pan until they turn slightly golden brown.
Include the Carrots and sauté with the Onions and spices for 2-3 minutes over medium heat, add the Beans to the curry and saute for a further 3 minutes, season with salt.
Pour in the water and let the curry simmer for 5-10 minutes over medium heat
Once the water reduces by half, pour in the Coconut milk and cook until gravy turns thick over medium heat.
Depending on how much of the thick gravy you need, remove the curry from the stove season with Salt if necessary.