Print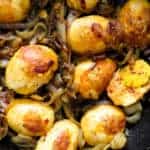 Curried egg stir-fry with caramalised Onions( Sri Lankan)
Curried egg stir-fry with caramelized Onions(Sri Lankan), make this skillet dish when you tire of your usual way of cooking eggs.
1/3 teaspoons of Turmeric
1/2 teaspoon of Cumin powder
1/2 teaspoon of chilli powder
Place eggs in a pan of cold water without crowding them and bring them to boil. this should take a minimum of 10 minutes.
Once the eggs are boiled, drain the hot water and cool the eggs by placing them in cold water.
Since we are going to multi task by frying the eggs and caramelizing the onions at the same time, use a large skillet.
Place the skillet over low heat and pour in the oil.
Once the Oil heats , add the Turmeric, sliced Onions, chilli powder, cumin powder and cook the ingredients until the Onions become soft and not brown, about 10 minutes over medium heat. add Salt to taste.
When the Onions turn soft, move them to a side. add Oil if needed and then place the eggs, yolk side facing down and fry until they turn golden in color.
To Brown the Onions and fry the eggs at the same time, you need to control the heat between low to medium so both ingredients reach the final outcome without burning.
Once the yolk side is golden in color, move the Onions around the eggs so they caramelize evenly and then gently turn the eggs to fry the opposite side. Careful when turning as the hard-boiled egg yolk might slip out but you can put them back again.
When the eggs and the Onions have fried and browned on the same pan, using a tablespoon gently mix the eggs and Onions together. season with salt if necessary and serve for breakfast or lunch. you can also top the curried over toast for an extra special breakfast.