Print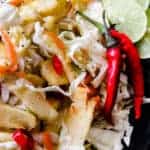 Zesty Pineapple-cabbage slaw(summer salads).
Zesty Pineapple cabbage slaw with my favorite type of red chillies to add spice. Makes a good topping to your tacos as well.
1 cup finely shredded Cabbage
1 medium sized Pineapple cleaned cut into thin slice or diced into cubes
1/2 -1 teaspoon Pepper powder
In a large bowl, toss the Cabbages, Carrots and the Pineapple together.
In a smaller bowl Combine lime juice, Sugar, Salt, Pepper mix and set aside.
Once you are ready to serve, toss all of the above together, test for seasoning and adjust if needed.
try to make this salad 20-30 minutes before serving. as you know anything served fresh tastes so much better. Here are a few tips to do this efficiently so that you can serve the salad without rushing to get it done when your guests arrive.
First, keep the Cabbage, Carrots cleaned and shredded then refrigerated. The Pineapple, clean and keep it whole, once you slice it, the Pineapple tend to become slightly soggy and lose their freshness.
The dressing only takes a few minutes to make so have it made and refrigerated or make it a few minutes before tossing all ingredients together.