Print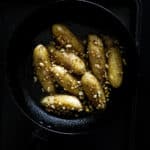 10- minute Caramalized brown sugar-Cinnamon Banana.
Indulge yourself with a 10 minute-caramalized brown sugar-Cinnamon banana single serve dessert. a sweet, fragrant treat just for you
Pinch of Nutmeg(optional)
1/2 teaspoons of Cinnamon
Chopped peanuts for garnish
1 scoop of ice cream per serving
Place a skillet over medium heat and add Butter leaving it to gradually melt.
Add the Sugar while it melts and caramalizes and thickens, peel Banana and cut them lengthwise.
Transfer the Bananas to the Skillet.
Sprinkle Cinnamon and Nutmeg on top and move the skillet back and forth over the heat for 2-3 minutes while spooning the glaze over the Bananas.
Serve immediately with a scoop of ice cream and chopped peanuts.