Print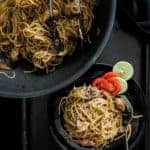 30 minute-take out style spicy Asian noodles-family meals
30-minute family meal, a quick spin on your favorite take out. It's a one pot meal for busy week nights and lazy Sunday lunch.
2-3 tablespoons of Sesame oil( add more if necessary)
1 tablespoon Ginger grated
1 Garlic cloves finely sliced
1 cup of sliced spiring onions
2 boneless chicken cut into required size
3-4 tablespoons of Soy sauce
2 tablespoons of Rice vinegar
2 tablespoons of Hoisin sauce
Place a skillet/ wok over medium heat.
Pour in 2 tablespoons of Sesam oil and gently saute the minced Ginger and garlic for 30-45 seconds until they turn golden. stir constantly to avoid them being burnt. once cooked transfer into a bowl.
Pour in the remaining tablespoon of oil, stir-fry the chicken, Onion, Soy sauce, rice vinegar, hoisin sauce over medium heat.
Cook the above ingredients for 3-4 minutes or until the chicken are done.
As per instructions of the package, cook the noodles, once its cooked, drain, rinse under cold water.
Mix in the Ginger, garlic with all the other ingredients in the skillet.
Toss the Noodles thoroughly with ingredients in the skillet, for 1-2 minute. Season with Salt if necessary.