Print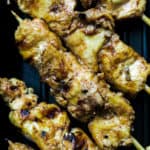 STOVETOP-GRILLED MIDDLE EASTERN CHICKEN KEBABS(SHISH TAOUK).
STOVETOP-GRILLED MIDDLE EASTERN CHICKEN KEBABS(SHISH TAOUK)- THESE EASY CHICKEN SKEWERS WITH THEIR MIDDLE EASTERN FLAVORS ARE FULL OF GARLIC AND LIME, THEY TASTE DIFFERENT TO YOUR USUAL CHICKEN KEBABS. TRY MAKING THEM FOR YOUR NEXT BARBECUE.
Total Time
5
hours
40
minutes
Ingredients mentioned below use standard measuring cups and spoons.
700g boneless chicken cut into 1-1 and 1/2 inch cubes
1/2 teaspoon of lime/lemon zest
1 head of garlic(15 cloves) minced(makes 5 tablespoons of minced garlic)
1 tablespoon ginger minced
1/2 cup of oil(preferably olive oil but can substitute any other oil)
1 tablespoon of pepper powder
1 tablespoon tomato paste
Place the bamboo skewers in a bowl of water to soak and set aside(see notes above).
Clean, wash and cut the boneless chicken into cubes and set aside(see notes above).
In a bowl, combine lime juice, lime zest, minced garlic, yogurt, vinegar, pepper, ginger, thyme, paprika, oil and tomato paste.
Season the marinade with salt and make sure you have the sharp taste of lime coming through. set aside.
Add the chicken cubes into the bowl of marinade and combine well until all the chicken cubes are coated with the marinade. cover with cling film and refrigerate for 4-5 hours, not more than the given time.
Grilling the chicken skewers.
Remove chicken cubes from the refrigerator and let it rest to reach room temperature.
Gently thread the chicken into bamboo sticks which have been soaking for 20-3o minutes in water(see important notes above)
Soak a kitchen paper towel with oil, gently brush over the grilling pan surface.
Place the grilling pan over medium heat and let the pan heat for a few minutes, place your palm just above the pan, if you feel the heat then the grilling pan is ready.
Place the chicken skewers on the grilling pan, you should hear a sizzling sound if you have the temperature correct.
Grill the chicken skewers while continuously turning them for 12-15 minutes.
Once the chicken skewers are done, place them in a warm air-tight pan that has been warmed for a few minutes or wrap them in a foil and place them in a slightly heated oven to keep chicken skewers moist and tender.
Serve warm with a garlic sauce.