Print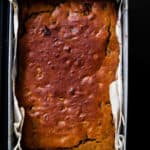 MOIST DATE CAKE WITH CASHEW-RAISIN AND NUTMEG.
CASHEW-RAISIN MOIST DATE CAKE- WITH CHUNKY PIECES OF DATES FOR YOU TO ENJOY, THIS SUPER MOIST DATE CAKE WILL BE THE IDEAL TREAT WHEN YOU NEED A SPICED UP CAKE.
Total Time
1
hour
5
minutes
Ingredients mentioned below use standard measuring cups and spoons.
350g pitted and chopped dates(2 cups)
1 and 1/2 teaspoon baking soda
1 teaspoon vanilla extract
Choose a 9″ inch baking pan, line the baking tray with baking parchment paper, lightly brush with butter and set aside.
Before you begin, have all the ingredients assembled and at room temperature.
Have the cashew nuts chopped and the dates, pitted and chopped fine. set aside.
In a small pan boil the raisins with 1 cup of water and a piece of cinnamon for 3-5 minutes over medium heat, then drain the water and set aside.
In a separate bowl stir finely chopped dates with baking soda and set aside.
Choose a large bowl to mix all the ingredients together, cream butter and sugar until light and fluffy.
Add vanilla, followed by gradually adding eggs(one at a time)and combining with the butter-sugar mixture.
Meanwhile, as you make the cake batter, preheat oven to 175C and have the baking pan ready.
Getting back to the cake batter, add flour and salt to the mixture followed by raisins and chopped cashew nuts, then dates and finally a pinch of nutmeg.
Gently fold and combine the ingredients with the cake batter, avoid beating or any fast mixing at this point, overmixing can cause the cake to become dense, so keep your mixing light. if you find a few lumps of flour gently break them with a fork.
Once you are done with the mixing, pour in batter into the baking pan, lift the baking pan and gently tap 3 to 4 times on the counter.
Bake the cake at 175 C for 45 minutes or until an inserted toothpick comes out clean.
Once the cake is done, set it out to completely cool before cutting the cake into required size.