Print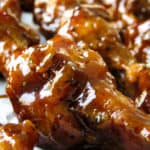 STICKY BARBECUE SAUCE-HONEY-MUSTARD DRUMLETS.
STICKY BARBECUE SAUCE-HONEY MUSTARD DRUMLETS-FINGER LICKING FOOD MADE RIGHT AT HOME. SWEET, TANGY, STICKY AND SPICED, GIVING THEM A BURST OF FLAVORS. A PLATTER OF THESE PARTY FOOD IS A MUST FOR YOUR GAME DAY GET-TOGETHER, BARBECUES AND PICNICS.
Ingredients mentioned below use standard measuring cups and spoons.
1 cup store-bought barbecue sauce
700g of chicken drumlets(with skin)
1 and 1/2 cup all-purpose flour
1 teaspoon salt(season as per your need)
1 teaspoon pepper(season as per your need)
3-4 cups of oil to fry the drumlets
To make the sticky barbecue honey mustard sauce.
Into a pan, add the barbecue sauce, honey, mustard, salt and combine well, then place the pan over very low heat. cook the sauce for a minute and immediately remove from fire. check the taste of the sauce and season according to your preference, you can add a bit of pepper as well. set aside.
Wash and drain the chicken drumlets, pat dry with paper towels.
Transfer the drumlets to a large bowl, add flour, salt and pepper.
Combine all the ingredients in the bowl, make sure that the drumlets are covered in dry batter and set aside for 12-14 minutes.
Place a deep pan over medium heat and pour in the oil, heat the oil for a few minutes until it reaches the correct temperature. to check if the temperature is right, drop a piece of flour, should it float and sizzle then start frying the drumlets in small batches.
Fry the drumlets for a few minutes until they turn golden in color. make sure you maintain a steady oil temperature, at no point, should the oil smoke as this would leat to the drumlets burning.
Place the fried drumlets in a plate covered in paper towels and continue frying the drumlets until you are done.
Transfer the deep-fried drumlets to a large bowl and pour in the barbecue-honey mustard sauce and gently but thoroughly, coat the drumlets with the sauce.