Print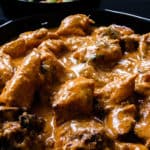 CREAMY-FRAGRANT BUTTER CHICKEN( INDIAN MURGH MAKHANI).
CREAMY-FRAGRANT BUTTER CHICKEN(INDIAN CHICKEN MAKHANI), A STEP-BY-STEP RECIPE GUIDE SHOWING YOU HOW EASY IT IS TO CREATE THIS RESTAURANT WORTHY POPULAR CURRY. A DELICIOUS DISH FOR ANY OCCASION FROM LUNCH TO DINNER OR GATHERING OF FRIENDS.
Ingredients mentioned below use standard measuring cups and spoons.
700g chicken(can be boneless or a chicken breast, read above post)
2 tablespoons of lime juice
1 tablespoon chilli powder
1 tablespoon of ginger paste
1 tablespoon of garlic paste
2 teaspoons of garam masala
5 green cardamoms slightly bruised
1/2 teaspoon chilli powder
2 tablespoons of sugar or honey
Handful of coriander leaves
Before you begin with the recipe, gather all the ingredients needed to make the dish.
For the marinade use a bowl large enough to hold the chicken and fit into the fridge.
Place chicken in the bowl, add Salt, butter, lime juice, yoghurt, ginger-garlic paste, chilli powder and garam masala.
Combine all the ingredients with the chicken, spend a few seconds on this so the chicken is coated with all the spices evenly.
Refrigerate the chicken for at least 6 hours or overnight(no less), longer the chicken marinates the better it tastes.
Once the chicken is marinated, take the bowl out and leave it out to reach room temperature, 15 minutes.
Meanwhile, cover a baking dish with foil and place the chicken pieces on the baking dish, brush them with oil.
Preheat oven to 200C and grill chicken on one side for 25 minutes and then turn the chicken and grill the chicken for a further 25 minutes(see notes above).
Making the Butter chicken gravy
While the chicken grills, you can start with the gravy.
Place a large pan over medium heat, add butter and leave it to heat for a few seconds.
Reduce heat to low, add Cinnamon, cardamoms, cloves, peppercorns, ginger, garlic and sauté for 2-3 minutes or until they release their aroma.
Add tomato paste to the pan, increase heat and cook the paste until it turns a deep red, 2-3 minutes.
Add the chilli powder, salt to season and pour in the water.
Let the gravy simmer over low-medium heat, 10-12 minutes.
Add the sugar or honey followed by nutmeg, taste and add salt if necessary, let the curry simmer for further two minutes.
You can shut the heat off if the chicken is still grilling by the time you are almost done with the gravy.
Once the chicken is grilled, heat the gravy over low fire and add them to the gravy.
Let the gravy with grilled chicken simmer over 5 minutes, then add fresh cream stir it into the gravy, the end result should be an aromatic thick sauce like consistency that coats the chicken well.
Remove from fire, add the coriander leaves,mix and serve warm.