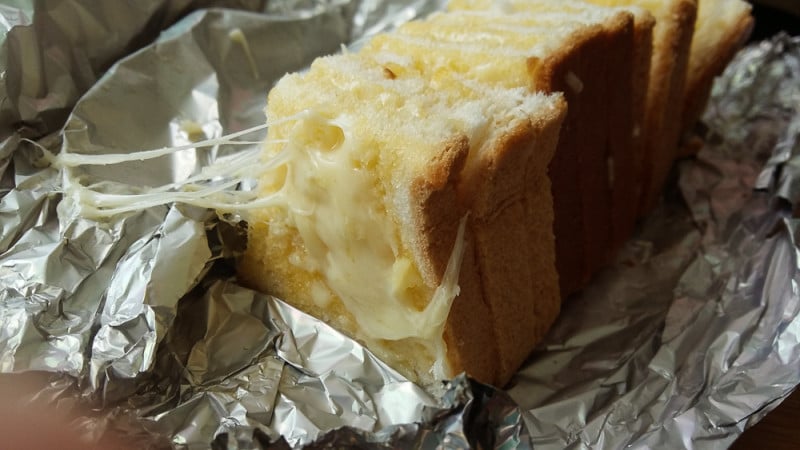 Soft, buttery and made in ten minutes using sandwich bread, it's so easy even the kids could make them.

Who doesn't love Garlic Bread ?
I make these no fuss, quick-fix garlic bread under Ten minutes. Five for prep and Five to bake .
These are made from the regular sandwich bread that I keep on hand in case the kidos need to have a bite between meals.
You'll find them soft and buttery than the usual garlic bread which have a crunch to them.
I make extra, foil wrap them and freeze for later use.
Take it out one hour before baking.
What you need:
A loaf of sandwich bread.
2 cloves of garlic minced.
1/2 a cup of butter.
1 cup of mozzarella cheese shredded.
Salt.
Chopped cilantro or parsley (optional)
How to make them
Add the grated garlic to the butter.
Follow it by adding the Mozzarella cheese. More the cheese the better.
Mix the Butter,Garlic, salt and cheese together.Make sure you taste the spread to check on the salt.You can add chopped parsley or cilantro at this point.
Apply the spread on each slice and stack them.
Cut them into squares.
Place them on foil with the crust on the bottom.
Once the bread is wrapped in foil, place them in the oven at 200 degrees C for 5 to 10 minutes.
et Voila!

[mpprecipe-recipe:8]