Sweet and spicy Mango curry.
A favorite"rice puller", made using raw mangoes.
It's one of many Sri Lankan side-dishes that makes regular rice and curry special. Gluten-free, vegan and vegetarian

O.k confession time,
I've probably surprised a few of my relatives who knew me when I was a teen especially when I started a food blog a year ago, why?
Because the person they knew when I was a teen, never spent a lot of time in the kitchen.
I preferred books to spices and curries, In fact, I hated the kitchen, after a few years of marriage and a bunch of kids later, I suddenly realized that food is just like books, they can open a doorway to other cultures, history and an awareness of flavors and it surprised me how much I've learned, picked up skills on cooking by being an observer.
One of the first dishes I've watched my grandmother make is this dish of Sweet and spicy Mango curry.
For example, I would have never known that I had to cook the Mangoes for such and such time till it reached a perfect golden amber if I had not watched her making it.

Growing up in a large family, this was my absolute favorite dish and I made sure to hang around my grandmother when she made it so I could get a few extra Mangoes before everyone rushed in for meals, a bit biased but I still think, no one makes a Mango curry like my grandmother.
I don't know if it was the type of Mango she used or the way she cooked the dish but it still is the best Mango curry I've ever tasted.
And might I add that when everyone says that their guilty pleasure is chocolate, mine has been this sweet Mango curry. don't get me wrong, I do have a few favorite dishes like the Pineapple chutney or Dhal curry.
But sitting down with a bowl of Mango curry, dipping a slice of bread in the spicy-sweet gravy and enjoying all that goodness is a pleasure on its own.

Now about the Mango curry itself, because of the different cultures here, there's always variations of the same dish.
We have our own Moorish Sweet and spicy Mango curry for the food lovers who really love the combination of sweetness with spice.
We also have the mango curry that is cooked with the skin on and has a slight sourness to it without which goes very well with a village type meal with red rice.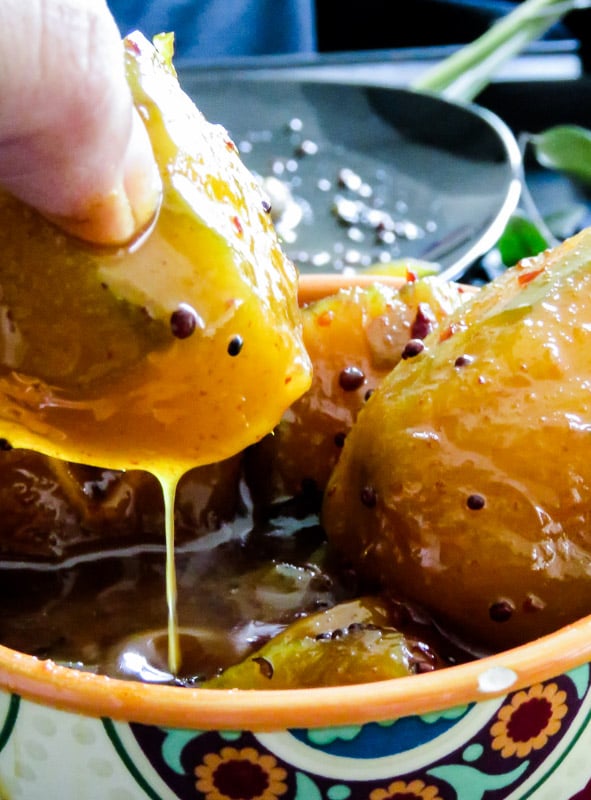 What type of Mangoes do you need for a sweet and spicy Mango curry?
You can't use overly ripe or just ripe mangoes, they have to be raw, green and hard to the touch.
What dishes go well with this sweet and spicy Mango curry?
This dish goes well with anything that has rice as a main dish, especially if it's fried rice or a Sri Lankan yellow rice.

SAVE THE RECIPE TO YOUR FAVORITE PINTEREST BOARD BELOW!
Sweet and spicy Mango curry.
Please make sure to read the recipe at least once to avoid mistakes.
Notes-
The Mangoes to be used have to be raw so that it doesn't loose its texture and shape when cooked.
I have to tell you the difficult part of making the Mango curry is getting it cut. you need to chop through the seeds to half it which needs to be done with the skin on so please make sure you use a cleaver. I'll write more about how to do it on the recipe itself.
Ingredients
4 tablespoons of oil
2 large Onions
A handful of Curry leaves
3-4 Cardamom pods
1 teaspoon of Mustard seeds
Pinch of Turmeric
2 teaspoon of chilli powder
1/2 teaspoon of chilli flecks(optional)
1/2 cup of Sugar(if you are worried that the sugar content is too much, keep adding a few tablespoons until you reach your preference on how sweet it should be)
4 Raw Mangoes, cut into four and peeled
1 and 1/2 cup of water
Salt to taste
4-5 Raw Mangoes, cut into four then peeled
Method
Preparing the Mango to be cooked- leave the skin on the Mangoes. keep in mind we are not slicing the Mango here but separating them into four or eight parts. this can only be done if the Mango is raw or it'll turn into mush.

Place the Mango on a hard durable surface, I suggest using a cleaver to cut through the seeds, I found it difficult to cut through it even with a cleaver, should this happen, use a pestle to hit on it until the knife passes through the seed.

Once you cut the Mango into four parts, dig out the seeds, peel the skin and wash them.
Cooking the Mango curry

Place a pan on medium heat, let it warm before adding the ingredients.
Pour in the oil, add the sliced Onions, Curry leaves, Cardamom pods, chilli and turmeric, cook the ingredients for three minutes or until the onion caramelizes, add the mustard seed just a minute before you move onto the next step.

Once the content on the pot has tempered, pour in the water followed by Sugar.
Leave it to cook for at least 10 minutes on medium heat. you'll notice the water and liquid become thick.

After 10 minutes add the Mango with Salt to taste and leave it to cook until the Mangoes turn soft and a mouth-watering amber, this should take at least 20 minutes or so.
Taste and serve it with your favorite chicken curry and rice.
Made this recipe?
Please don't forget to rate the recipe on the recipe card so other readers find it helpful and show me your recipe by tagging me #islandsmile178 on Instagram.
[mpprecipe-recipe:40]
Each recipe on this blog has been written with great care and love to the best of my ability with you in mind.
It's free and on the blog, for you to try anytime.
All I ask is that you do not save it on any apps, recipe boxes or online groups which will affect me as a food blogger and the growth of this blog. I would appreciate if you only share the link rather than the full recipe.
All images and text on this website are protected by copyright.
Save
Save
Save
Save
Save
Save
Save
Save
Save
Save
Save
Save
Save
Save
Save
Save
Save
Save
Save
Save
Save
Save
Save
Save
Save
Save
Save
Save
Save
Save
Save
Save
Save
Save
Save
Save
Save
Save
Save
Save
Save
Save
Save