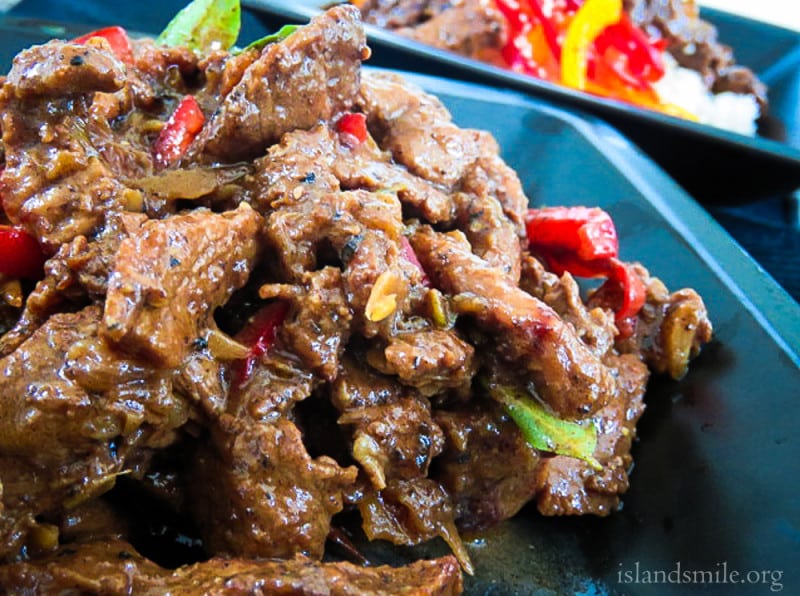 A  slightly crispy, Pepper Beef fry coated with a reduced gravy of spices which includes ginger garlic paste, Onions, Tomatoes and green chillies, giving it the perfect consistency for a bowl of rice or a slider.
Scroll down to Recipe time should you wish to avoid thoughts and life in general by Mama to the terrible four or you can read on..
Have you heard about the death stare?
No?
Funny, I seem to be getting a few remarks around here about a look I give them and as usual he(14)was helpful in coming up with a name. He's named it the Death stare and to answer your question what it looks like?
Clueless but according to them, it's not nice and I turn ugly(their words not mine)probably true because I can feel my facial muscles freezing and a twitch coming on, up until then I wasn't even aware it was worthy of a name. I assume they are referring to my "don't mess with me gaze". Frankly, I don't care what they call it, as long as they get the message, you have to understand, these four can easily gang up on me and it's my best defence against the never-ending clashes among the terrible four, also it gets the homework done, what more can I ask? besides, its way better than screaming( yes, I scream, they scream, we all scream until we sort our issues, it's a stress buster for all of us)

Writing about screaming, I have this image that pops into my head, it goes like this, I'm in a transparent, sound proof box(at least my head is)I've got my voice raised(there you go, sounds way better than screaming)and four pairs of eyes staring at me with varying expressions.
She's(15)giving me her cool, vacant, don't care look, he(14)has a smirk on his face, I bet it's because me in the box means he can do anything he wants and get away, He(10)has a happy smile on his face, I like to assume my raised voice is so not worth the effort to frown and miss fuss(4), I can't figure out what's running on her mind with all that cuteness on display.

Besides the cuteness, she with a fierce, in your face, honesty which I believe is the nature of all four-year olds, pointed out a habit I've picked on, what she boldly pointed out was my near deafness to everything around me when I'm on the phone
There was no mercy, with little fists,I felt it like a punch on my heart and I agree with her, my phone is becoming a distraction to what's important around here.

Before my blogging days(9 months ago)I hardly had any use of it except to communicate and the on and off, night-time browsing, now its a necessary tool I use for my blogging, writing down thoughts, keeping up with all the social media connected to the blog etc.
So as I was typing another post, totally focused on the words, one ear trained on the voice of her(4) telling me the dramas at school(apparently there's highschool in kinder garden too) and me nodding my head, showing her I was listening when two tiny, soft hands, suddenly grabbed my face and looked at me, nose to nose and my death stare is nothing compared to the look she was giving me and said,
She:"Mama!, listen to me, you're not listening to me!"
Me:"I am listening to you"
She:"No, you're not!, you are on the phone, stop using the phone!"
And that was that, there are no words to express how I felt and I still do because she still grabs my face for attention so I guess I'm still doing the deaf thing when I'm on the phone.
I'm going to try really hard to forget the phone(at least when the kids are around) yes I know how difficult that's going to be but try I must, I'll be dishing out my advice to myself,"Tune in to the living and tune out everything else". 
Recipe Time
Before you begin, please make sure to read the complete recipe at least once.
1 kg Beef cleaned and cut into thin strips
3-4  large Onions
Curry leaves
3-4 Garlic pods
2-3 grated Tablespoons of Ginger
1 large Tomato
2 Green chillies
1 Teaspoon Turmeric Powder
1 teaspoon of Cummin powder
1 and  1/2 teaspoon of Pepper powder
1 teaspoon honey(optional)
Salt to taste
1/2 a cup of Coconut milk
Make a rough paste of Onions, Tomatoes, Garlic, Ginger, Green chillies, you can use a blender here to make a paste but I prefer to pound my worries away.
On medium heat, pour in the oil, add the roughly pounded ingredients and include the turmeric and cummin powder leaving it to cook for 2-3 minutes.
Add the Beef strips into the mixture, fry and let the spices blend into the beef, DO NOT ADD SALT but let it fry for a few more minutes, as you will notice at no point was the meat marinated and if you should add the salt in the beginning the strips become hard and will not absorb the ingredients, the strips gradually turn from light brown to a darker color.
Once it reaches to the above stage with the edges slightly crisp, include the salt according to your taste buds.
Pour in the Coconut milk with the Pepper and let it simmer until milk is completely reduced and coating the Beef.

[mpprecipe-recipe:22]
Pour in the Coconut milk with the Pepper and let it simmer until milk is completely reduced and coating the Beef.