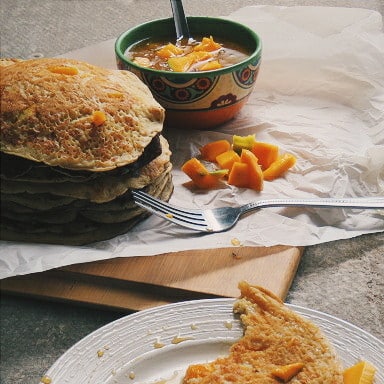 Previous night
The last thought before Sandman hits me with his dust was,"what's for breakfast tomorrow?".
Morning dawns,
I'm late, need to get something quick on the table, bread? eggs? sausages?, no, already done this week,
What else? what else ?(panic mode on).
Kiribath(milk rice)?
No, did that too, wait, Pancakes!!
But with what?, I see Mangoes, Treacle, Yoghurt in the freezer, sigh…. plain old pancakes it will be but I grab the Mangoes anyway,(maybe just maybe) and as the first steps of the recipe forms, down the stairs she walks, Princess Raaya,
"Mama I'm hungry, Can I have bread?"
"I'm making breakfast, drink your milk and then you can have something to eat"
"But I'm hungry mama, I want Nutella and bread I don't want milk!! "(at this point, I'm thinking of pesky mosquitoes that buzz close to your ear).
While cracking eggs into the pan, I say,"o.k, but for now go have your milk, it has Milo in it"and there she goes rushing upstairs to have her milk.
Pancakes mixture done about to clean the Mango, someone breathes down my neck, I glance behind me, Princess number two stands there peaking over my shoulder,(one of these days, she'll be the death of me with her ability to walk so quietly).
"Are you making Pancakes?", she asks and I nod.
"Can you make Chocolate pancakes? "(what's with these kids and chocolate in the morning?).
"No, I'm trying to make Mango Pancakes"
She makes a face, a pause,"maybe you can add chocolate with the Mango, it'll taste better with Chocolate".
"Hmm….maybe, go drink your milk, it has enough chocolate for now".
While making the Pancakes, I hear the fridge door open, he doesn't disappoint me, even before he(Nadeem) starts speaking, I say, "go have your milk, I'm making Pancakes for breakfast".
"Where's Waleed?"I ask,
"Still sleeping",(Thank god!!).
Half an hour later, The terrible four are at the table, sitting patiently for their breakfast while the breakfast, is taking center stage for some photos. I can feel how annoyed they are, any minute now, "mama are you done!!?, we are hungry!, can we have the Pancakes!?"
No, they don't disappoint me and I keep on clicking.
Few minutes later, I'm done and they are ready to tuck in when I suddenly remember,"wait !, wait !",
They look on as I grab Nadeem's half eaten plate of pancake to take more photos.
Apologies to my babies but this won't be the last time I grab plates while they eat.
Recipe time
Before you try this recipe, let's talk about Mangoes, for you to get the same results, you would need to use ripe mangoes. The one's I used here had a slight tartness that no amount of Sugar would take away, the kids loved it but if you don't, make sure to choose ripe and sweeter Mangoes. 
As for me, I need to make these again very soon with more Mangoes,
Makes 9-10 pancakes.
The Pancakes
2 ripe Mangoes
2 and 1/2 cups of flour
2 Tablespoons of Sugar 
1 Teaspoon Baking Powder
1 Teaspoon of Baking Soda
Salt
3 cups of milk
3 Tablespoons of Yoghurt
For the Mango compote
1 Mango
2-3 tablespoons of Sugar
1 cup of water
1 tablespoon of Butter
Pinch of Salt
Method
In a bowl add the dry ingredients, Flour, Sugar, Salt, Baking Soda, Baking Powder.
In a separate bowl add the wet ingredients, Milk, whisked eggs and Yoghurt.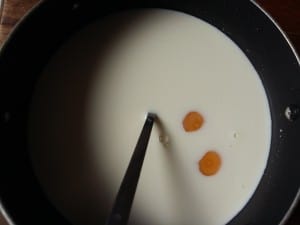 Take off the skin of the Mango and then chop until you have a beautiful mess.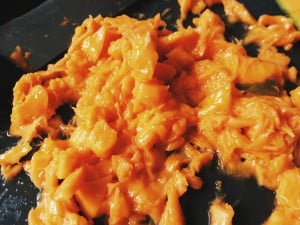 Now, add the wet ingredient to the dry, at this point, if your three-year old turns up asking to whisk the Batter, try your very best not to give in, the reason you add Baking Soda and Baking Powder is to make those Pancakes rise and become fluffy but if you fail to keep your three-year old from battering the batter so much that you feel the table shake, well expect slightly deflated Pancakes like mine.
Please do all your mixing and whisking before the dry and wet is mixed together, the scientific reason behind this is that the more you beat the batter the more the gluten comes out in the flour making the Pancakes slightly tough. Once the batter is made add the Mango to the mixture.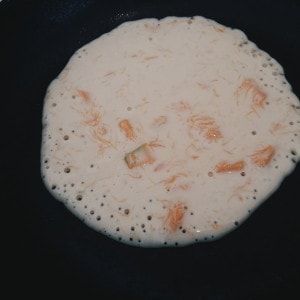 Heat the pan, if you love crispy edges to your Pancake add a pinch of oil, if not leave it as it is. Pour enough Batter to make a Pancake, leave it to Bubble and slightly Brown before flipping it.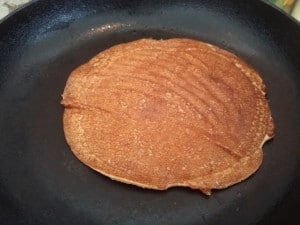 Continue making the Batter into Pancakes.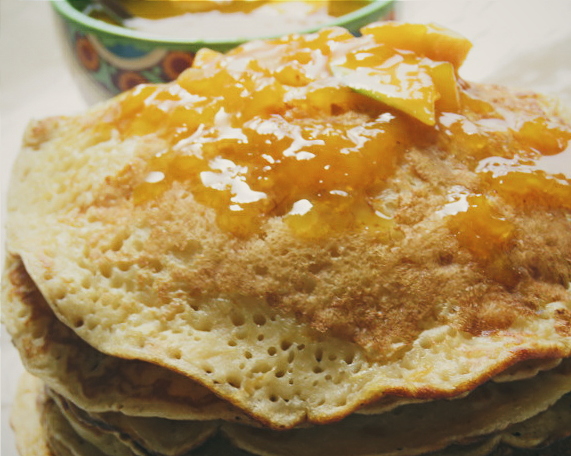 Until you have a stack of Pancakes, we are not done yet, what about a Mango compote?
Mango Compote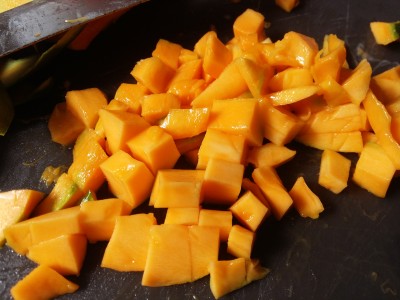 Dice the Mango into Cubes and divide them into two portions.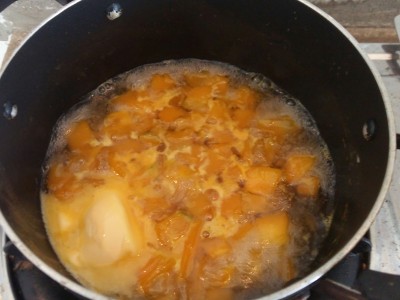 In a pan, pour 1 cup of water, Sugar and turn on the heat, add a portion of Mango and cook until the water reduces, leaving you with a slightly thicker consistency, add a tablespoon of butter, cook for a few minutes and add the leftover mango cubes, cook for a few more minutes and let it cool. Make sure you taste the compote for sweetness.
If you've liked the recipes and posts so far please consider subscribing to the blog by clicking on the subscription box on the side bar.
Your can also follow me on Instagram islandsmile178.