Breakfast is hard-boiled quail eggs, Tomato, Cucumber topped cheese toast with Papaya and Yoghurt juice.
Lunch is a bowl of rice with dhal curry, Beef rendang, Tomato, Cucumber and Yoghurt salad with an easy Kankung stir fry.
Breakfast Bowl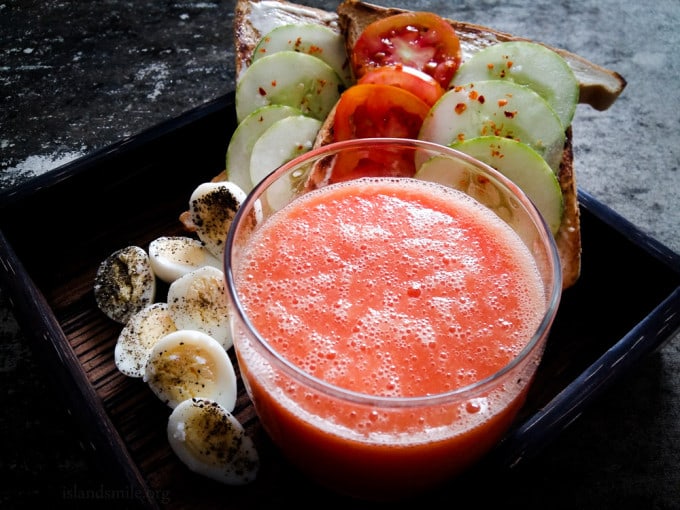 I felt like doing two bowls today, anyone whose here for the first time, Monday has a theme, my happy bowls, where I plate up meals with links to recipes that are already here. It's also the day I write fewer words because it's Monday and I'm saving my energy for the week ahead of. Enjoy!
let's begin with the Breakfast bowl, 15 minutes is all it takes to plate up..
Quail eggs boiled exactly 3-4 minutes. if you are a fan of runny yolks, 2.5 minutes should do. Pealing these eggs should be done with extra care. Toasted or not bread with cheese, tomatoes and cucumber then seasoned with salt and pepper.
Complete this with a refreshing Papaya juice and yoghurt drink.
How to-add three to four tablespoons of yoghurt to the Papaya pulp, pinch of salt, sugar to taste and blitz and your breakfast is done.
Lunch Bowl
let's move on to lunch..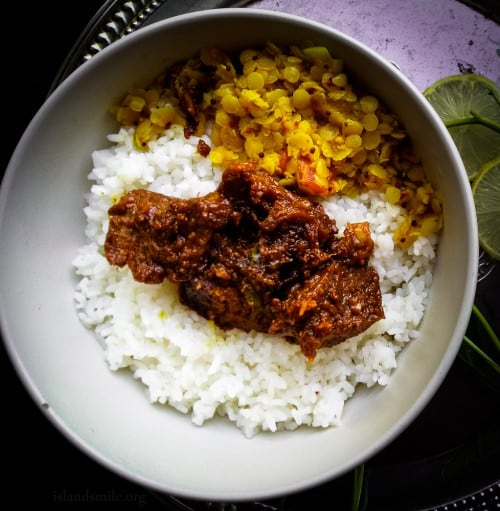 Recipe for rice find here
Dhal or lentil curry, find recipe here
Beef rendang, find recipe here
Followed by a quick kankung stir fry done in five minutes. let me show you how,
what you will need
A bunch of kankung ( more if serving a large family)
Finely sliced Garlic and Onions
Chilli flecks(optional)
2 tablespoons of Soya sauce
3 tablespoons of oil
Method
Wash the kankung and pick out the leaves, stems you want to cook, chop if that's the way you like it.
Using medium heat, Pour in the Soya sauce with the Garlic and Onion slices, cook for a minute or so.
Add oil and turn in the kankung, cook with the remaining heat once you turn off the fire. the idea is to just wilt them.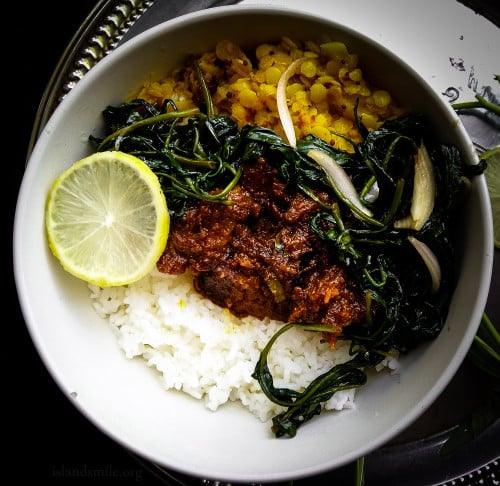 Serve the kankung on the bowl.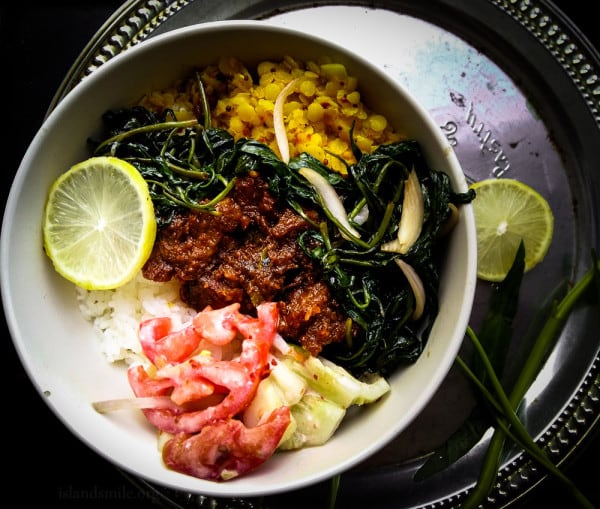 Followed by a very simple salad made from leftover slices of cucumber and tomato with Yoghurt, salt and pepper to taste.
Tune in every Mondays for meals in a bowl.
If you've enjoyed the recipe post so far and would like to receive notification as I post, add your email address to the subscription box on the side bar of the blog or follow me on instagram, islandsmile178.