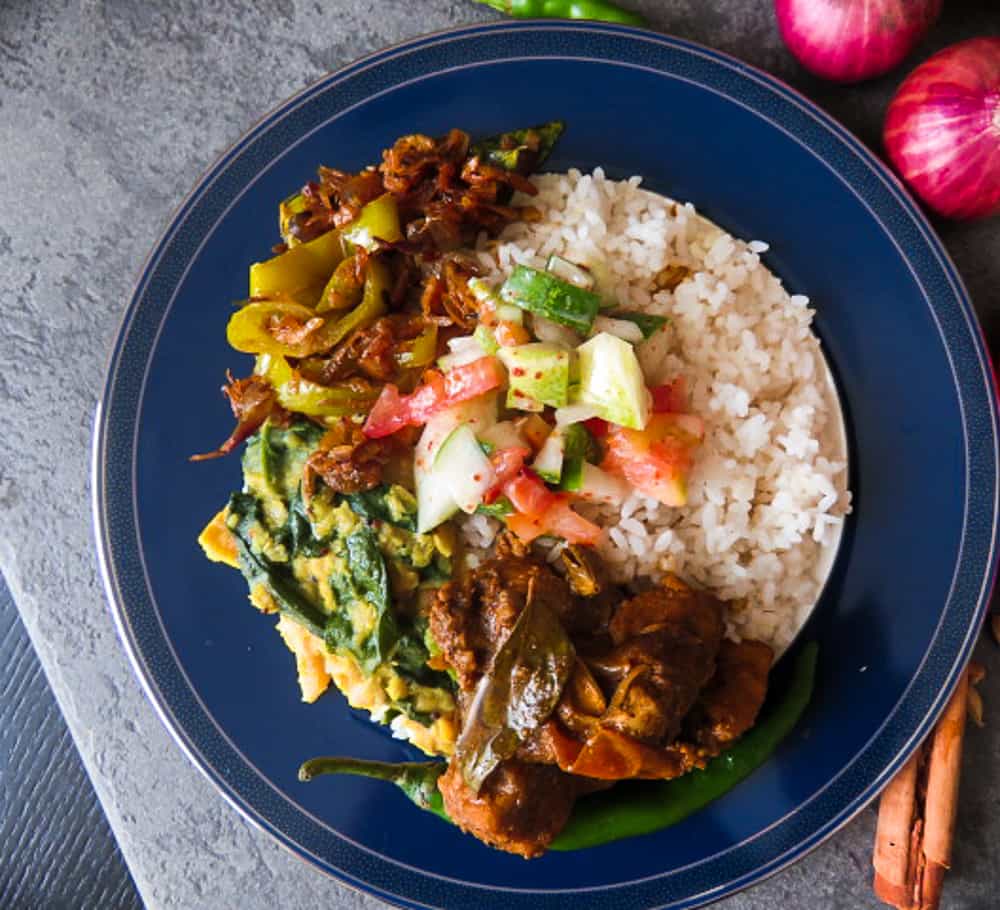 A Srilankan meal with Spinach in Dhal, chicken cooked with spices and yoghurt, a curry of capsicum, onion and dried shrimps with a cucumber salad.
Scroll down to Recipe time should you wish to avoid thoughts and life in general by Mama to the terrible four or you can read on..
Glad you could drop by today, I know, I Know, you might have noticed my absence last week but life has a way of throwing unexpected curve balls, I'll not bore you with the details because if I do, this post will definitely become one of those mommy rants. Please don't go imagining the worst just think of those curve balls as soft one's though some can really bleed the simple joys in life.
On a different note, who else would like to join me on a mini rant over traffic, the endless rows of vehicles in front of you?
It's pure torture, I've got bikes on both sides wanting to creep through whatever space they can find and the tuc-tuc drivers seem to think and drive with their own set of road rules, one of their all time favorite scare tactic is to eyeball, once those eyeballing terrified me but no more, I've become quite good at doing the same, there's a certain thug element to their driving, if you are a Srilankan I'm sure you'll understand what I mean by this. My worst fears is sharing road space with a few selfish humans, I usually put them into groups ranging from the careful to the one's who shouldn't be in front of a steering wheel", if you want to read about the various types, go ahead and search"types of drivers you'll see on the road"(after you finish reading me though).I'm thinking of writing my version of the list with the spotlight on Srilankan driving and the types just for the fun of it.
What type of driver am I?
I fall in the middle of two types, that is the Pop star, singing along to the music and playing a beat when driving and stuck in traffic, in full view of other cars around me, I'm immune to what others think of me, this is one concession I make for myself, it's like what funny guy says"my car, my petrol"plus its way too much fun to care and the learner, the word is self explanatory but in my defence I'm carrying precious cargo with me(slightly adapted from the given link below)

Ask the terrible four they might also include Road rager.
If you want to find what type of driver you are, I used this list here. So what type of driver, are you?
Let me move on to the home front and begin with my troublemakers, the boys, there's been a break through, they've come to an understanding, this is according to him(10)who can never keep a secret(he can't, thank god for that, I'm hoping he'll be my spy for a few more years) anyways, I'm not certain about the turn of events that lead to this decision but it seems they've agreed not to argue, tease or be the cause of any type of trouble, pause here with me and*imagine me doing my laugh with a touch of sarcasm*, they promise to bring a certain amount of Zen into the house(my words, not theirs). Hmmm… what do you think?
Any bets on how long this Zen is going to last? 
I'm giving it a week and then boredom, a push or a simple word is going to cause all that week of Zen in to, WAR!(all that pent up energy has to come out someday)thinking of that day to come and waiting for the moment when these two finally get down to their usual mischief is bringing on that twitching I mentioned on my last post meanwhile let me stock up on a few meds to keep that headache away. I have a feeling this very same paragraph will find its way every few months, I'll go bonkers if I don't write myself into reminding that boys need to do that bit of rough tumbling and quarreling to adapt themselves to this big bad world.
Then I had my"what, where, when and how"moment, that's the only way I can explain my reaction listening to words of advice from one terrible four to another. I felt like I was in the movie "click", doing a time pause when I heard her(4)with all the wisdom she's collected for the past four years advising him(14)about Diabetes.

"Don't put so much Sugar. you'll get Diabetes", she said to her brother while he was adding extra sugar to his milk. Now where and how does a four-year old learn these things? 
Listening to her pronunciation of the word with a drawl and accent, I'm inclined to think it was from watching something of the subject on T.V but the only times I've seen her totally focused on it, is when Sophia the princess is on or when she hears her two favorite songs(this week), Bieber singing"what do you mean"AND Adele's"Hello", my attempt to record or video her singing have failed but if I do manage to get it on video, I think she just might go viral since Cuteness has no idea of the lyrics and conveniently adds her own words to stay in tune with the songs.

Again Diabetes?
Recipe Time
Lets plate up with Rice, find recipe here. Follow it by adding Dhal with Spinach, once you've cooked the lentils just add the washed spinach and mix it in(I turn off the stove before including them). Find recipe here.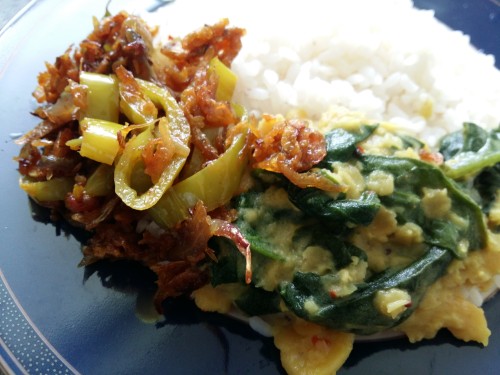 A spoonful of tempered dried shrimp in Capsicum and Onions will definitely add flavor to your plate. recipe to follow.
Include your own Salad or just follow us with our cucumbers and Tomatoes and left over Yoghurt, a favorite with the kids.
Love, love the flavors of a Chicken curry cooked with spices and Yoghurt,