A dense flat bread with a slightly crusty surface with herbs and salt sprinkled on top, then stuffed with minced chicken and Mozaralla. It makes a great substitute for Pizza.
Scroll down to Recipe time should you wish to avoid thoughts and life in general by Mama to the terrible four or you can read on.
A moment of reflection on being a mom to growing kids,
If someone ever tells you being a mom gets easier as the kids grow, don't believe them, it's an outright, in your face lie, come to think of it, I may have even proclaimed it myself(snooty voice and supercilious smile attached). knowing what I know now, I prefer crying babies, diapers, countless milk bottles and sleepless nights over growing teens.

It's exhausting to keep up with them, one minute they'll be having the best day of their life and a second later, they'll be moping around the house, there's constant mood swings, they talk and talk just to get their way, the clashes of wills, the"I don't know's"and"I'm bored", can seriously screw your head(did I say that right?). I guess what I'm trying to say is, for the time being, I'm stuck in a vortex of teen-hood and since this is my first time, I'm absolutely clueless.

And having a stubborn streak that's helped, not to give in when life tends to get a bit crazy around me can be the very cause to having mini clashes with teens who're just growing up to their own individual personalities.
The tiny humans I gave birth to don't come with a guide-book on how to take care of their emotional needs,each one is so different that what works for one may not work for the other, what everyone forgets is that it's a learning process for us moms as well and behalf of moms around the world, I'm asking you to give us a break, give us room to make mistakes and stop expecting us to understand everything(it needed to be said).
Have I been a bad mom?
In the eyes of the terrible four I just might have.
Do I feel guilty?
All the time.
What's with all that words up there?
A cleansing of the soul and asking myself to breathe easy.
Recipe time
Finding facts and a well documented history about the food I love recreating at home, is kind of my thing. Here's a few interesting snippets about the Italian bread, Foccacia.
The following facts have been quoted from History of everything.com for a detailed read, here's the link.
Focaccia is a style of bread made popular in Italy, and spreading around the world wherever Italian settlers and traders have formed communities.
Most historians believe Focaccia originated with either the Etruscans of North Central Italy prior to the Roman Empire forming but identifying a specific culture responsible for the first focaccia loaves is almost impossible.
In fact focaccia style breads were used extensively to feed slaves in the Roman Empire and a stigma still exists today in some countries.
In Spain, pan de hogaza, the peasant's staple bread which is made in a similar way to Roman panis focacius is also known as pan rustica, a homemade bread typically made in the countryside amongst the very poor.
We do know that the name Focaccia is directly derived from the Roman words "panis focacius". Panis simply means bread, and shouldn't be confused with the modern English word pan, which whilst used to bake bread is actually derived from the Latin word patina meaning dish. Focacius is the Latin word for center or fireplace. Focaccia in Roman times was cooked in the ashes of a fire rather than on a tray above the fire, so the translation seems correct.
So we're making poor man's bread and any guesses on how the word for bread in Singhalese "Paan"comes from?
Now you know.
Recipe time
The following recipe is adapted from the book Ultimate bread(2004) by Eric treuille & Ursula Ferrigno.
Moving on to the recipe, there are a few things to keep in mind.

Make sure you read the yeast sachet instructions before using it, some yeast need a teaspoon of sugar to activate and if you're working with yeast for the very first time, the temperature of the water shouldn't be hot but mildly warm.
Working with the dough, you'll be required to rest it for a few hours, start early if you need them done for any parties,you can make the dough the night before wrapped in cling film and take it out of the refrigerator a few hours before baking the bread but depending on the yeast brand you use,I can't guarantee the bread will rise as it should.

Before you begin, please make sure to read the complete recipe at least once.
What you will need
3 and 3/4 cup flour
2 teaspoon yeast
3 tablespoons olive oil or vegetable oil
1 and 1/2 teaspoon Salt
Rosemary or curry leaves
For the filling
250g minced chicken
2 large Onions
2 Tomatoes
salt
1/2 a teaspoon turmeric
1/2 a teaspoon chilli powder
oil
salt
Method
For the filling
This is a basic filling, you can customize or do your own favorite,
Using medium heat in a pan, pour 3 tablespoons of Oil, add sliced Onions, Tomatoes, garlic pods, minced meat, turmeric, chilli powder and cook for 3 minutes until the meat is cooked.
Making the dough
sprinkle the yeast in a cup of water and let it rest for five minutes, certain yeast brands require 1 teaspoon sugar so make sure to read the instruction on the sachet.

Mix the flour with remaining water, add as per need, the dough will start sticky and then become smooth.
knead the dough for 10 minutes working on a pull and push motion, sprinkle a bit of flour if you find the dough still sticking to your hand.
Place the dough on a well oiled bowl, cover and leave it in a warm place to proof for 1 and 1/2 hours, I usually keep it in the oven.
After 1 and 1/2 hours you will find the dough has risen to twice its size, punch it in, and divide, I divided it into four, making two of these stuffed bread.
Place the flattened dough in a baking dish, I'm using a 9 inch round baking dish, oiled.
Add half of the filling to the dough and spread evenly, follow it by your choice of cheese, I'm using mozzarella.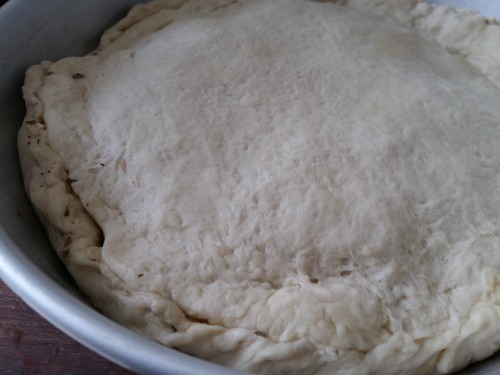 Cover it with the another flattened dough pinching the ends. leave the bread to rise for 30 minutes making sure it doesn't open while baking.
Using your fingertip and gently make indentations on the surface of the dough and press in Rosemary or in this case curry leaves, the reason for curry leaves is, it can easily be found in any Srilankan garden and Rosemary is not. I definitely got the subtle flavors of the curry leaves. sprinkle salt and brush with oil.
Make sure the sides of the dough is pinched properly.
Preheat oven and then bake in 400F (200C) for 30-45 minutes or until golden, take it out and immediately brush it with oil.