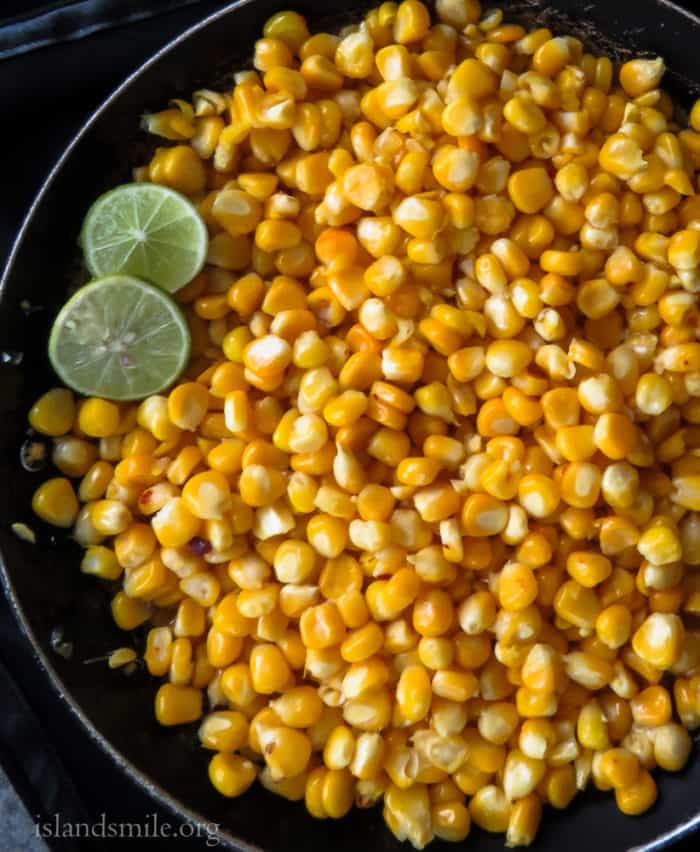 You can't say no to Sweet corn with lime and butter for a quick snack, especially when you know, how much the kids would love it.
Can I have 10 minutes of your cooking time?
Summer is here and I'm sure some of you are planning to have your barbecue and grilling on the weekends and if you're thinking of kids, what to let them snack on until the hot dogs and burgers are prepared, this corn with lime butter and a tiny amount of sweetness should be just perfect for them, even the tiniest of the lot will not have a problem loading his/her cup of this buttery corn without supervision.

A little prep work getting the kernels off the cob and you're ready to serve these in minutes.

One of the best perks of having the terrible four around is that by now, I just instinctively know what they'll eat and enjoy and what needs a bit of persuasion, who's going to complain and who'll go for seconds.
I know there's a lot of moms out there who find feeding kids a chore, there was a time when, at least one child of mine, who'll put on the pouts over a plate of food, he/she didn't like, I can honestly say, I've faced every type of tantrum, some have actually left me in tears and most of them brought on by a plate of food that one of them didn't like or want to eat.

If you're reading this and you're a mom, then you know when I say,"kids hate any food that is green", time and time again this point has been proven to me by my very own, I need to be super inventive or as usual use a little bit of mafia mom tactics(this is what I call my threats to cut down on their fun time)if they don't eat the green monsters on their plate(except for Cucumbers, though).

But take the food group that runs into colors of Red, orange, yellow most especially yellow, I know it's going to be a good day for the kids and me when it comes to food.
This homemade sweet corn with butter and lime is one such dish, sometimes I make them as a snack and some times I just leave it on the table with the meals they are having.
I'll be perfectly honest with you, there's hardly a recipe here but more of a how to, I've been wondering should I or should I not post it as a recipe, the reason I wanted it on the blog, is because I would like to remind myself and you, that sometimes just one ingredient with a bit of dressing can be a simple, filling snack and be prepared at home with the least amount of effort.
Now, I'm not a fanatic about making everything from scratch, unless it's necessary to learn and useful or I find it's a substitute for the food we eat outside, like this corn with lime and butter, you'll find them at every mall and park.
The kids go through five or six cups of them including funny guy but I'm always concerned about the level of hygiene and how long the kernels have been on those pans or how often they wash the pans or if the ingredients they use are within the expiry dates, I've seen them use the artificial lime so I decided to make these lime butter corn at home showing the kids how easy it is to prepare.

I'm going to repeat what I've mentioned on the blog before, the food we give our kids have to be balanced. let them have the sweet stuff, the junk food but please teach them to balance it by offering a choice of healthy, nutritional meals as well.
I really don't want this to sound like a lecture but when it comes to food, we really need to educate them about food at a young age, because what they eat now, will shape their eating habits when they are older.
By far, I'm not a strict, healthy food fanatic but love to mix up food that can be referred as junk, desserts that are often overloaded with sweet as well but I do balance it off with two meals that are Srilankan which have a variety of leafy salads, vegetable and meat curries with spices.
This reminds me, I see a trend on Pinterest that now promotes Turmeric and Coconut milk, news flash, majority of the
Sri lankan food includes these two essentials, like the Potato curry  or the Srilankan chicken curry which use these two ingredients and other spices that have great health benefits.
And if you like another corn recipe this, Sweet corn soup is a light dinner recipe substitute. I know, I know, my 10 minutes are almost up so let's move onto our recipe.
Recipe Time
Homemade Sweet corn with butter and lime, a kids snack, made at home.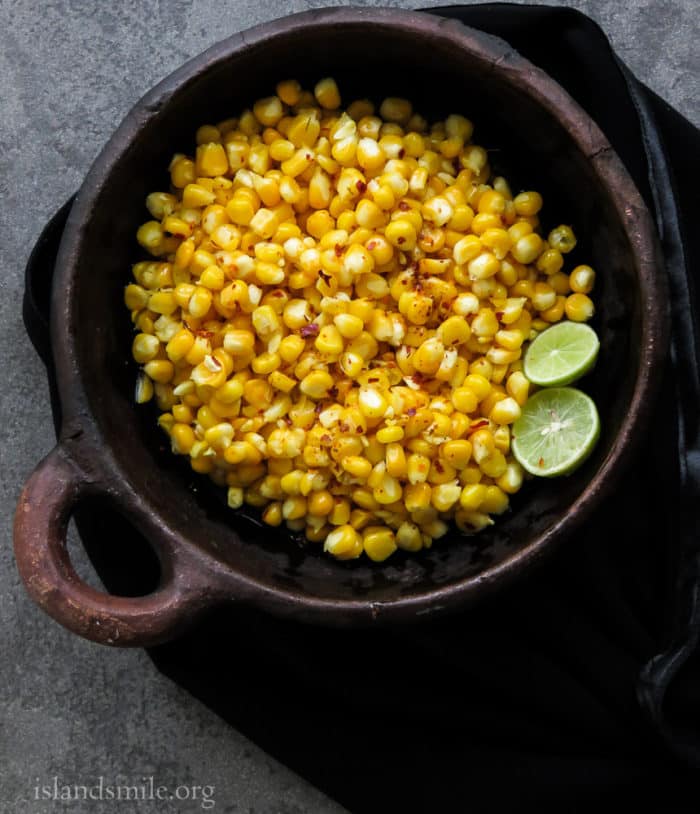 What you will need
4-5 corn cobs
1/2 a cup of Butter(you can adjust as per your need)

2 limes( squeeze the juice out)
Salt to taste
2 teaspoon of Sugar
Method
If you are in a rush you can use the Canned corns but once in a while try the semi-manual method I'm going to use here where the corn has been cleaned and packaged.
Use a pan that can hold all the corn with enough space for the cobs to be submerged.
Fill the pan with water and let it boil, make sure not to add salt at this point as it will only toughen the corn.
Bring the heat down and add the corn into the boiling water, turn the heat up and boil for 4-5 minutes(for softer kernels you might need to keep it in for another 3-4 minutes) remove the corn immediately from the water after 5 minutes.
Let them cool and take off the kernels off the cobs, either by using a knife or prying it off using your fingers. This part of preparing the corn will be a test of your patience. you'll find a few videos on how to do it in an efficient way on you tube and if you find something that works for you please let me know too.
Once the kernels are removed, pat them dry and store them in the fridge until it's time to serve.
Five minutes before serving time, in a pan on medium heat, melt the butter, once it's melted, add the Sugar and then the kernels into the pan, keep the heat as low as possible.
Pour in the lime juice until you reach the tangy taste you prefer and add salt to taste.
I would recommend that you serve corn immediately.

[mpprecipe-recipe:31]


Save
Save
Save
Save